The Dáil reconvenes after its summer recess on Wednesday, September 20th, and there are already a number of issues in the spotlight.
Here, BreakingNews.ie takes a look at what to expect.
Budget 2024
Budget 2024 is right around the corner, due to be unveiled on Tuesday, October 10th.
Unsurprisingly it was central to the party think-ins during the week.
The Government has set its budgetary envelope at €6.4 billion, with additional public spending measures worth €5.2 billion and taxation changes costing an extra €1.1 billion.
Income tax cuts, more cost-of-living supports and tax cuts for small landlords to keep them in the market are among the measures that have been mooted.
At the Fine Gael think-in, Taoiseach Leo Varadkar also said mortgage interest relief will be a possibility to help homeowners.
Amid the cost-of-living and housing crisis, the Opposition will undoubtedly call for more to be done.
However, the Irish Fiscal Advisory Council (IFAC) has said the economy is in "an unusually strong position" and called on the Government not to "repeat past mistakes" on spending.
Speaking at her party's think-in, Sinn Féin leader Mary Lou McDonald said housing will be "absolutely key" in any post-election government negotiations.
New electoral constituencies
The creation of four new constituencies and 14 additional seats in the Dáil have been recommended following a major review of Ireland's electoral map.
The Electoral Commission review follows an 8 per cent increase in the population since 2016.
Just seven of the current 39 constituencies will remain untouched.
The largest parties - Fianna Fáil, Fine Gael and Sinn Féin - will likely either be helped or unchanged by the revisions.
However, the likes of the Green Party, Labour, the Social Democrats and Independents may suffer as the increase in three-seat constituencies could see them lose out.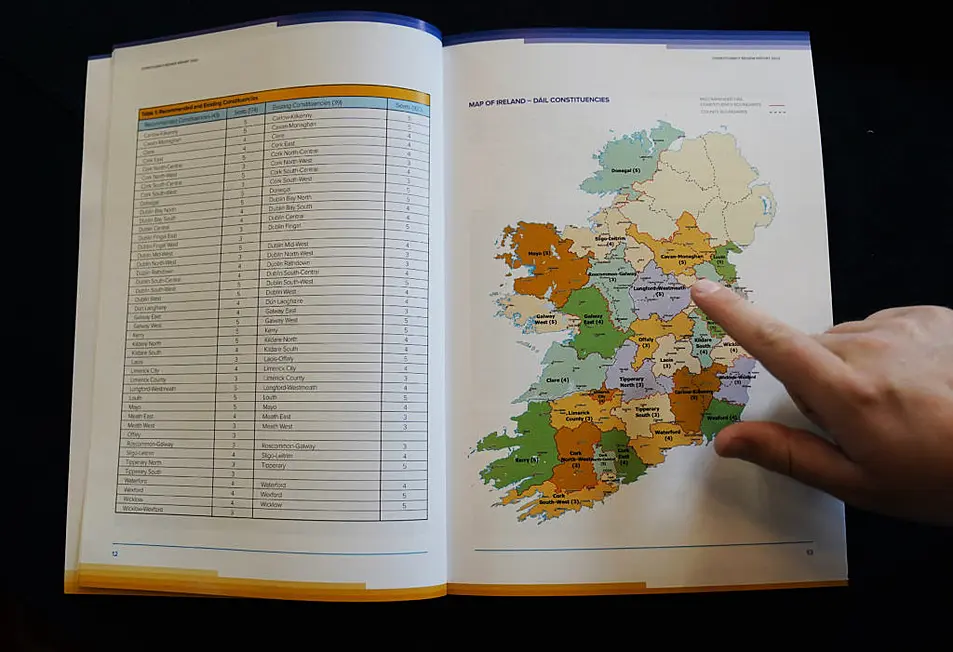 There has also been controversy over some of the new constituencies, such as the new Wexford-Wicklow constituency.
Taking land from the south of Wicklow and north of Wexford, the new constituency will comprise 41 electoral districts with a population of 49,743 from north Wexford and 31 electoral districts with a population of 35,708 from south Wicklow.
Gorey, Co Wexford, and Arklow, Co Wicklow are the two biggest towns in the new constituency.
Disability services
A new report has shown thousands of children are waiting for initial contact from Children's Disability Network Teams (CDNTs).
Waiting lists for health services are always hotly-debated topics in the Dáil, and this is likely to be no different, especially given the report showed children are waiting over 12 months for initial contact on disability services.
Abroad
An alleged Chinese spy in Westminster is dominating UK political discourse, with British prime minister Rishi Sunak likely to face calls from Conservatives and Labour MPs to respond forcefully.
In the US, Republicans have announced an impeachment inquiry into US president Joe Biden.
It came after pressure on US House speaker Kevin McCarthy from hardline Republicans. Even if it passed the House, it would be highly unlikely Mr Biden would be found guilty in an impeachment trial in the Democratic-controlled Senate.
Political analysts in the US have said the impeachment inquiry, over business dealings involving Mr Biden's son Hunter, is one of the weakest to date.