Campaign group Stonewall believes Jordan Henderson has an opportunity to "create a new blueprint" for discussion about LGBTQ+ rights after his controversial move to Saudi Arabia.
The England midfielder was viewed as a huge ally to the LGBTQ+ community during his time as Liverpool captain so his switch to Al-Ettifaq in a country where homosexuality is illegal and punishable by death has understandably attracted widespread criticism.
Stonewall's director of external affairs Robbie de Santos hopes the attention the move has attracted will help shine further light on Saudi Arabia.
"We are watching with interest because what comes next is the most important thing," De Santos told the PA news agency.
A leader 💪🏻 A warrior ⚔️

We're simply thrilled to have him ❤️💚

Henderson is ETTIFAQI 🟢✨#HendersonEttifaqi pic.twitter.com/GIj8kggxtn

— Ettifaq Club (@Ettifaq_EN) July 27, 2023
"Does he continue to be an ally and what does that look like in the context of playing in Saudi Arabia? It feels to me that this is the most high-profile, global conversation we've had about a footballer moving to Saudi Arabia.
"I think this is an opportunity to create a new blueprint for doing that because Jordan has been such a passionate advocate for LGBTQ+ rights. Other players who have gone over have not had that kind of record.
"Jordan has an incredible opportunity to break that cycle and to be outspoken about LGBTQ+ rights because no-one can pretend he hasn't done that.
"He is of a different generation from someone like David Beckham, who is a very apolitical character and hasn't said anything outside of convention whereas Jordan Henderson has."
However, the signs are not encouraging as the colour and black-and-white montage video Al-Ettifaq used on their social media channels to announce Henderson saw any image of him wearing a rainbow captain's armband greyed out.
"I was shocked but not surprised at such blatant erasure of the LGBTQ+ community through that and it shines a light on just how systematic the Saudi authorities and the prevailing culture is, eliminating and eradicating the visibility of our community there," De Santos added.
Considering the backlash to Henderson's move it is possible other footballers may think twice about giving their full backing to LGBTQ+ rights to avoid being accused of hypocrisy if they eventually take the multi-millions on offer from a move to Saudi.
Stonewall's Rainbow Laces campaign, in support of LGBTQ+ inclusion in sport, fitness and physical activity, was launched in 2013 and receives high-profile backing from Premier League footballers but there will be a redoubling of efforts this season.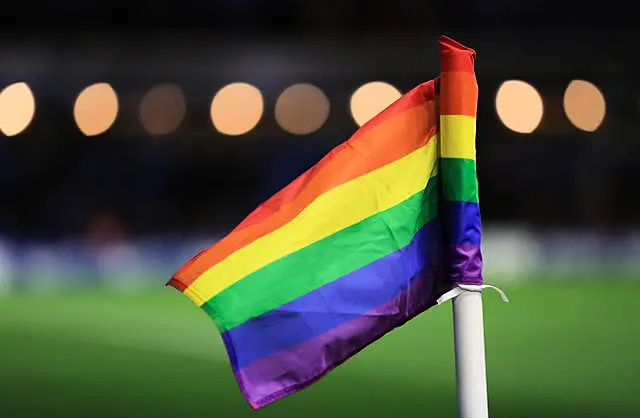 "I am sure there will be some people who will be making that calculation," said De Santos.
"But what we are seeing is football is changing as these different generations come through. This is a generation who is growing up with LGBT friends and family and it creates a different kind of accountability.
"Our message this year is very much we have to keep it up. We will be directly speaking to that risk of complacency. Just because players have worn rainbow captains' armbands or worn rainbow laces it doesn't mean the job is done.
"It doesn't mean that LGBT people in sport have full equality so all we can do as a campaigning charity is to keep up the sense of urgency and keep appealing to footballers to use their incredible position and incredible power in society for the good of our community."