Seven-time champion Ronnie O'Sullivan said he "didn't put up any resistance" after crashing out of the World Championship with a 13-10 defeat to Luca Brecel.
O'Sullivan, resuming 10-6 ahead in his quarter-final, lost seven successive frames as Brecel reached the last four in extraordinary circumstances.
Defending champion O'Sullivan failed to make a single break over 30 as his Belgian opponent set up a semi-final date with either Anthony McGill or Si Jiahui.
Woooooow.#CazooWorldChampionship | @CazooUK

— World Snooker Tour (@WeAreWST) April 26, 2023
"I didn't put up any resistance but you've still got to pot the balls," O'Sullivan told the BBC.
"I wasn't playing well enough to have any impact on the game.
"If it was a boxing match they would have stopped it very early on. I was just pinching frames and hanging on.
"There's only so much hanging on you can do at the Crucible. It catches up with you at some point, and someone will eventually put you away."
Brecel, winner of two major rankings tournaments – the 2021 Scottish Open and 2022 Championship League – immediately imposed himself on O'Sullivan after both players had opportunities to win a scrappy initial frame.
O'Sullivan then inexplicably missed a black off its spot and Brecel split the pack of reds to take advantage with a 112 clearance.
The next frame followed the same pattern as O'Sullivan, stretching over a long red, let in Brecel again.
Brecel capitalised with a 64 break and, although he missed a red that would have left O'Sullivan requiring a snooker, he eventually reduced arrears to 10-9.
The scores were level when O'Sullivan lost position again and Brecel got among the balls for a 72 break.
O'Sullivan was in desperate need of the interval, but contributions of 61, 78 and 63 ended the contest in quick fashion and put the 47-year-old out of his misery.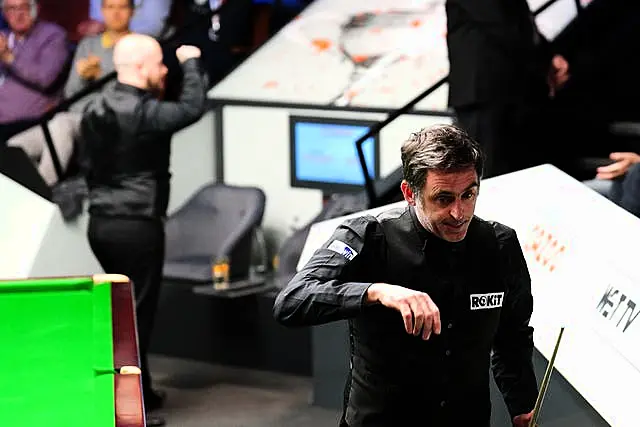 "He played unbelievable," O'Sullivan said. "He's such a good player, I love watching him play.
"His cue action, he gets through the ball so well. It's incredible. The whip he gets on the white, the top spin, the thud he hits the ball with.
"He's such a dynamic player, probably the most talented snooker player I've ever seen.
"I'd love to see him go and win it because that's how snooker should be played. He's a phenomenal talent and player."
Mark Allen reached the semi-finals for just the second time in his career with a hard-fought win over qualifier Jak Jones.
Allen was far from his fluent best and made just one break over 70, but took advantage of a nervy display in the final session from debutant Jones to secure a 13-10 victory.
𝗔𝗟𝗟𝗘𝗡 𝗥𝗘𝗔𝗖𝗛𝗘𝗦 𝗧𝗛𝗘 𝗢𝗡𝗘 𝗧𝗔𝗕𝗟𝗘 𝗦𝗘𝗧𝗨𝗣 🙌

Mark Allen has beaten Jak Jones 13-10 to reach the Crucible semi finals for the second time!

The Pistol will face Mark Selby or John Higgins. #CazooWorldChampionship pic.twitter.com/PuxNYKoEmB

— World Snooker Tour (@WeAreWST) April 26, 2023
"It was never in doubt was it?" a relieved Allen joked after reaching the last four at the Crucible for the first time since 2009.
"It was a complete slog to be honest. The first session was really good but I was awful after that and it was just a matter of digging deep, trying to stay as positive as possible and trying to get 13 frames. That's what I did.
"I felt like as the match went on he was getting more edgy but I wasn't playing well enough to capitalise, so it was just a matter of staying patient and taking my chances when they came.
"It wasn't pretty, I'm sure it wasn't pretty to watch but I couldn't care less. I'm in the semis.
"I don't mean this to sound bad to Jak, but that was like a three or four out of 10 performance. That really wasn't good. But mentally I was like a 12 out of 10 and ready for anything."