Champagne will be falling from the skies of Manchester rather than rain after Manchester City's Champions League victory, according to celebrity fan Noel Gallagher.
The former Oasis guitarist watched the 1-0 win over Inter Milan with fellow fans in a bar in San Diego, California, where he was on tour – his brother Liam having previously tweeted the volatile band would reform if City completed the third leg of their trophy treble.
"Tonight, the Manchester rain will taste like champagne," he told BT Sport, predicting this was far from the end of the club's silverware collection.
"This is the end of the beginning," he added. "This is only the start."
The club's owner Sheik Mansour, watching only his second competitive match since his consortium bought City in 2008, was among around 20,000 blue-and-white clad fans in the Ataturk Olympic Stadium in Istanbul with thousands more watching in bars around the city.
They were rewarded with a winning goal from Rodri, the final whistle sparking celebrations from fans and players alike.
The club took to social media, with a video of the players celebrating in the dressing room and singing in praise of the Spanish goal hero, who was named man of the match, and a picture of Ilkay Gundogan and Kevin de Bruyne admiring the famous trophy.
"Rodri's on fire!" 🔥#ManCity | #UCLfinal pic.twitter.com/wtkDnslH2O

— Manchester City (@ManCity) June 11, 2023
Several of the players, including captain Gundogan, also tweeted pictures of themselves with the trophy with midfielder Bernardo Silva saluting what he called "the best team in the land and all the world".
England midfielder Jack Grealish tweeted a picture of himself in the changing rooms holding the trophy and describing the club's success as "the stuff I couldn't even dream of."
Meanwhile, full-back Kyle Walker apologised to England manager Gareth Southgate ahead of a boozy night of celebrations and Kevin de Bruyne posted a picture of himself wearing the trophy on his head.
Another England star, Phil Foden, tweeted a picture of himself holding the trophy alongside a picture of himself in a Manchester City kit when he was young.
Champions of Europe!!!! This club man, what a dream come true 🤩🩵🏆 pic.twitter.com/QqjWAB449Y

— Phil Foden (@PhilFoden) June 10, 2023
Fans lit flares and danced in the streets around Taksim Square as they celebrated – Eddie Lilley, 18, from Scotland, wiping tears from his face alongside his father Jimmy as he told the PA news agency he was worried they would not win.
"Always doubts when Manchester City are playing," he said. "But it's done now, that's it over."
Strangers hugged and kissed each other after the final whistle as the street adopted a festival atmosphere.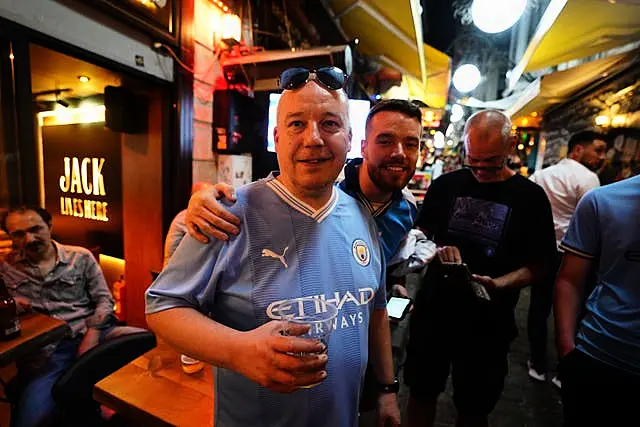 Lee Webster, 51, from Blackley, Manchester, said he would not have believed his team could be capable of winning the Champions League final when he watched them in the lower divisions of England football.
He said: "It's like a dream come true, it's unbelievable. I used to go when we were in the third division.
"If you said 25 years ago, when we were relegated against Stoke, that within 25 years we would have won the league seven times, three FA cups, and now Champions League, the treble, it's a dream come true."
Dylan Morgan, 23, from Manchester, told the PA news agency he "burst into tears" at full-time.
"Football is our religion," he said. "Man City will never ever be taken away from me.
"I burst into tears at full time, I did, I burst into tears.
"Football is beautiful, I don't think it ever gets better than this."
Continuing celebrations will centre on Manchester on Monday when the team will hold an open-top bus parade to mark their treble – only previously achieved by city rivals Manchester United in 1999.