Some of Jenson Button's friends listen to Rage Against the Machine before a race. But for the British racing driver, that would be the worst thing he could do.
"I listen to reggae instead, a bit of Bob Marley. I would rather be relaxed because the adrenaline can be so high. If I listen to something crazy like that, it's like having too much caffeine," says Button.
The 43-year-old – whose dad used to race in rallycross and bought him his first kart just before his eighth birthday – has spent time honing his routine. Normally, he has the same thing every day for breakfast, then it's a 20-minute run, just to "shake the body out", some reaction work with his physiotherapist and then a massage.
"I know, racing drivers are spoilt," Button admits coyly. "We get massaged in the morning, before practice, after practice, before qualifying, after qualifying, before the race and then after the race.
"You get aches and pains because the body is always moving in the car, even though you're strapped into this seat that [has been] fitted to you. There's such high g-force that the neck gets so tired. There are vibrations. That's why we get massaged a lot."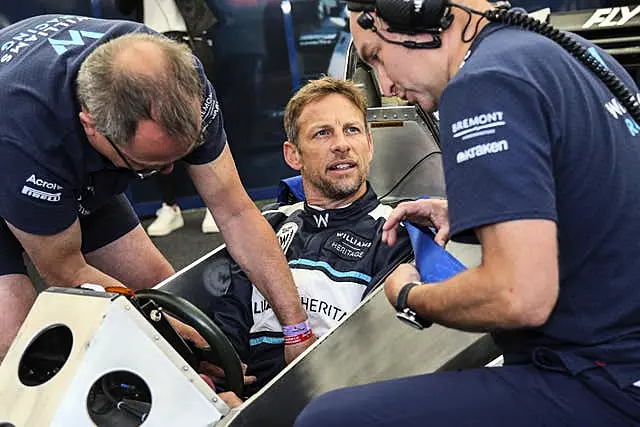 Button feels the real heat of competition when he drives to the holding paddock, where all the other racing cars and drivers are held. But once his noisy machine arrives at the circuit lining, up on the grid, and the lights go red and then out, his nerves have no choice but to subside. There is silence, passion and dedication all pointing in one direction to go faster and faster.
There are moments in his career that have tested his limits – like when Button won the 2009 Formula One World Championship and drove for the Brawn GP team, which the new Disney+ documentary series Brawn: The Impossible Formula 1 Story, fronted by Hollywood's Keanu Reeves, is all about.
"That season itself was the toughest year of my racing career. And most people say, 'What? Weren't you in a car that could win races?' Yes, so you put so much pressure on yourself to achieve, especially when the start of the season is so strong – I won six out of seven races – because everything else feels like a failure," Button reflects.
"So when things started to go wrong – the car wasn't performing and I wasn't performing – it got tougher and [things] spiralled out of control. If you watch the documentary, it's the perfect scenario, the team that didn't exist was bought for a pound. They win loads of races, have a tough spell, and then win the championships at the end. But living it was stressful.
"When I won the World Championships, it wasn't excitement I felt but relief that we had actually achieved it. That year, the season was amazing, with so many [different] emotions, but it definitely strengthened me physically and mentally, and gave me more confidence in what I do. And I needed it. I was going up against Lewis Hamilton and McLaren. I was at my best after the Brawn year, I think I became a better driver."
Though Button retired from Formula One between 2016 and 2017, he still races in other categories. But during his tenure, mental health wasn't something racing drivers spoke about openly, often in case it was seen as a sign of weakness.
"I bottled everything up inside," says Button now. "I didn't want people to know when I was down or disappointed about my performance. But I really love to see drivers coming out now, like Lando Norris saying he struggled with mental health throughout his racing career and didn't think he was good enough. And as soon as you get that out in the open, a weight is off your mind already. It's important to have great family and friends around you, especially in high-pressure environments."
Button, who now lives in California, by the ocean, with his wife Brittny and two children, Hendrix, four, and Lenny, three, also loves to go cycling in the mountains – a hobby he picked up after living in Monaco for some years. He sometimes does it with friends, but mostly alone. "It's where I can get away and create some time to think. I do quite like a bit of boxing with pads, too. It takes me away from the crazy world of motor racing."
But does he miss the iconic heritage and atmosphere of London?
These are the characteristics that inspired Hackett's fragrances Essential (Button's favourite) and Bespoke, which first launched in 2022 in collaboration with Button, who is ambassador for the brand, to capture the clothing brand's deep connection with the city. Absolute is the latest addition to the line-up.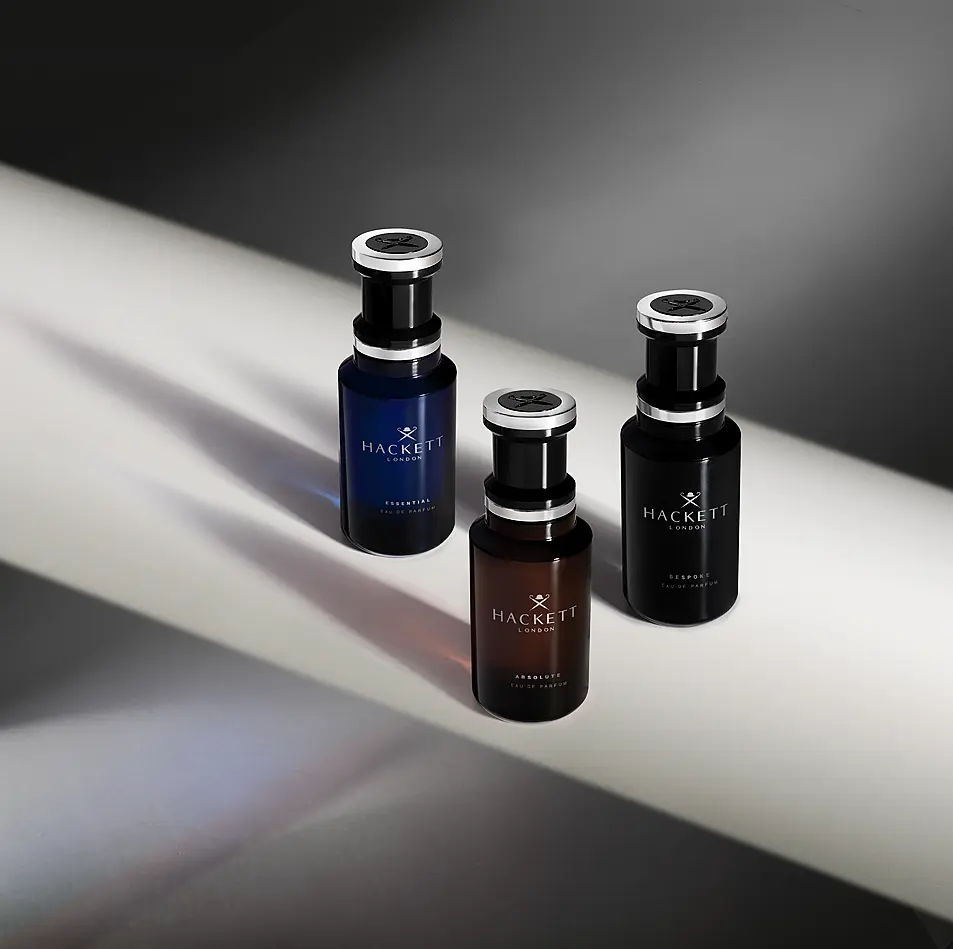 "Yes, definitely. I miss London a lot," says Button. "It's a great city to walk around and visit family and friends. Would I want to live there? No. I'm very happy where I am. When you spend so much time there, it's easy to forget how beautiful it is. I grew up in Frome – very close to Bath – I love the architecture there. I think that's why the fragrance really works. And the pub life? We don't have any pubs in California."
Now just 15 minutes away from Malibu, he loves how much living near the water impacts his day-to-day life. On most days, after picking up his children from school, they will head to the coast, where there is a playground nearby, eat some food and run around the beach playing games.
"It's just perfect. I feel very lucky to be able to live here. And I just want my kids to grow up in that environment of freedom, outside living," says Button, who'll turn 44 in January but still feels like he's in his 20s.
"I smell young," he adds, laughing. "But I definitely ache a bit more after training than I used to. Recovery takes a lot longer."
Jenson Button is ambassador for Hackett Absolute, a fragrance inspired by the unique atmosphere of London. Available now from Boots.