Elina Svitolina urged tennis to focus on the suffering in Ukraine rather than issues the war is causing within the sport after reaching the second round of the French Open.
One of Ukraine's highest-profile sports stars, Svitolina is playing her first grand slam since the Australian Open last year after giving birth to baby Skai in October.
She has been away from the locker room tensions caused by the decision to allow Russian and Belarusian players to continue competing and has been a prominent figure in campaigning for help for her country.
Glad to have you back, @ElinaSvitolina 😁#RolandGarros pic.twitter.com/nvIPGvpP3Y

— Roland-Garros (@rolandgarros) May 29, 2023
A day after Ukrainian Marta Kostyuk was booed by the Roland Garros crowd for refusing to shake hands with Belarusian Aryna Sabalenka, Svitolina called for attention to stay on the bigger picture.
She said of her return to the sport: "What I found, I don't know a nicer way to say, but a lot of rubbish is happening around the situation where we have to focus on the main point of what is going on.
"A lot of people, Ukrainian people, need help and need support. We are focusing on so many things like empty words, empty things that are not helping the situation, not helping anything.
"I want to invite everyone to focus on helping Ukrainians. To help kids, to help women who lost their husbands, because they are at the war and they are fighting for Ukraine. The kids, they're losing their parents, they're losing parts of their body.
"There is so many things that we can do and help in different ways. You can donate a couple of dollars, it might help and save lives. Or donate your time. We are missing the main point of all of that and talking, talking, talking about nothing."
Svitolina came into the tournament on the back of her first title as a mother in Strasbourg and impressed in a 6-2 6-2 victory over 26th seed Martina Trevisan.
She is donating all her prize money from Strasbourg to Ukrainian children and has her own foundation that helps her homeland.
"I think war changed me in so many ways," she said. "I think I treasure more my family, my time with my family, my time just on a daily basis.
"I really try to understand that how lucky I am to be where I am and to have a voice, as well. Also to play in such big events, to motivate the young kids of Ukraine, to have this opportunity.
"In so many ways, I'm just grateful that my life turned like that, so that's why right now I just want to give this little part to the people who need it the most."
Fifth seed Caroline Garcia is the main French hope for this fortnight and she survived a scare in her opener, beating China's Wang Xiyu 7-6 (4) 4-6 6-4.
Four top-16 seeds fell, with lucky loser Elina Avanesyan knocking out 12th seed Belinda Bencic 6-3 2-6 6-4, while former finalist Sloane Stephens beat 16th seed Karolina Pliskova 6-0 6-4.
Late in the day, 10th seed Petra Kvitova lost in the first round in Paris for the first time since 2010, going down 6-3 6-4 to Elisabetta Cocciaretto, and 11th seed Veronika Kudermetova was trounced 6-3 6-1 by Anna Karolina Schmiedlova.
Afterwards, Stephens was asked about the racist abuse she experiences on social media after the tournament partnered with an AI app to try to filter out offensive messages.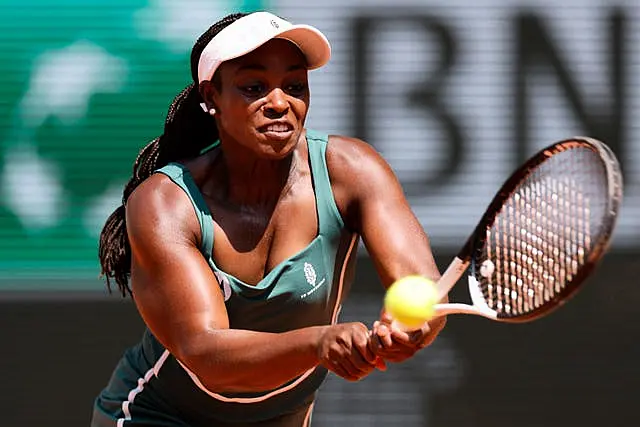 "It's obviously been a problem my entire career," said the American. "It has never stopped. If anything, it's only gotten worse. I did hear about the software. I have not used it.
"I have a lot of key words banned on Instagram and all of these things but that doesn't stop someone from just typing in an asterisk or typing it in a different way, which obviously software most of the time doesn't catch.
"When there is FBI investigations going on with what people are saying to you online, it's very serious. People online have the free rein to say and do whatever they want behind fake pages, which is obviously very troublesome."