Most people know Kate Silverton from her time as a BBC newsreader, or possibly from when she took part in Strictly Come Dancing.
But that's the old Kate Silverton. The new Kate Silverton is a qualified child therapist – so what made the mum-of-two swap such a successful media career to help children instead?
"The love of it! My academic background is in child psychology, and becoming a mum really inspired me too," she says.
She's worked with a number of children's mental health charities over the years, and explains: "My journey has really been decades long, both in understanding more about children's mental health, and as a parent really benefiting from all the interviews and access to advice that I was given by incredible people."
View this post on Instagram
Currently working in a primary school supporting young children with complex needs, Silverton (52) admits that when she competed on Strictly in 2018 (she was paired with professional dancer Aljaž Škorjanec and finished eighth), it was with a view of leaving journalism to train as a child therapist. "And that's what I did," she declares proudly.
"My interest has been long-held, and I've now qualified, and it's absolutely my life's passion. So I'll be using journalism and all my presenting experience to raise awareness around children's mental health and really to support parents.
"I've had an incredible life in journalism [presenting BBC News at One and BBC Breakfast, among other high-profile TV and radio roles], and many, many years that have been really fulfilling. I think you're always drawing upon the experiences you've picked up before, but as a mum especially, for me, this is now where home is, and will become my life's work."
Silverton's two children, Clemency and Wilbur, are now aged 11 and eight, and were conceived naturally after Silverton and her husband, Mike Heron, tried IVF but it wasn't successful.
She continued to work as a journalist after Clemency was born, but took two years off when she had Wilbur in 2014. "I was freelance, but it got to the point where I thought I can't physically do this – you know, I'm an older parent as well.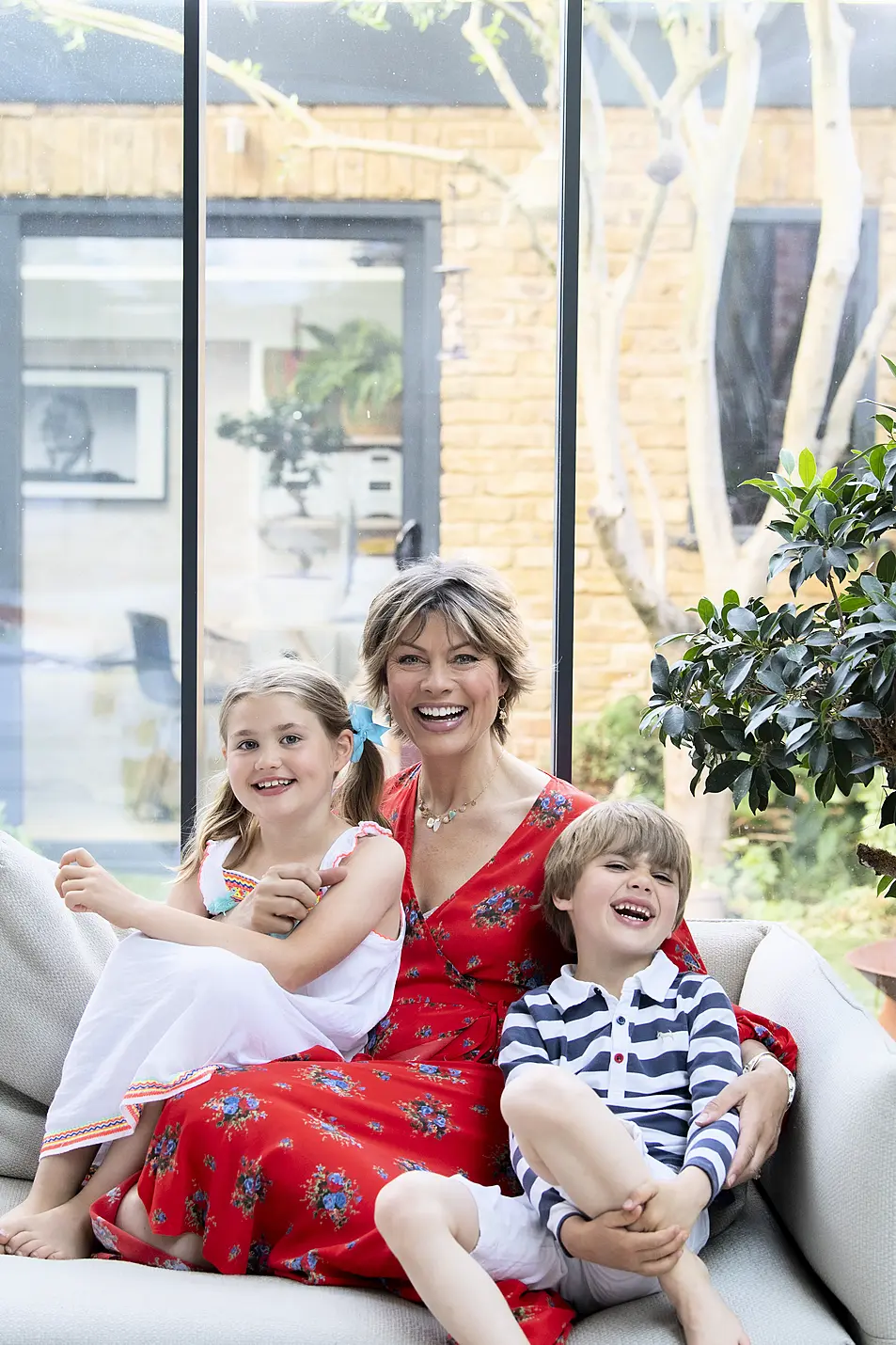 "I had to make a judgement call – and I can only ever speak for myself, there's no judgement for others. But I took two years out because I just couldn't see any other way of doing everything, and doing it the way I hoped to.
"It's really, really hard for parents now, and I say to a lot of the parents I speak to in my clinical work, 'Please, please, please do not berate yourself, we are living in a very challenging time'. We're pulled in so many ways, we're still doing a lot of work at home, and we're expected to be present either at work, and/or at home.
"So there's no easy answer. But I think we owe it to our children to start asking, is this really working for us as parents? And is it working for our children?"
Was she worried that taking two years out might affect her career?
View this post on Instagram
"I was the main breadwinner," she says, "And my husband and I made a decision between us that things would change. And I think a lot of families do that – they have to find themselves having really difficult conversations. And certainly, there are no easy answers.
"But what I found is I've changed my career, and I see it as a second act, if you like, and maybe that's thanks to having children. So sometimes, what can seem a really difficult decision and one that we might worry about, you kind of think, actually, maybe it wasn't the right place for me, after all."
She returned to journalism after her two years out, but was working at weekends doing the Saturday night news while her husband looked after the kids. "Ultimately, I thought I don't want to be doing this, I don't want to be in the newsroom on a Saturday night when my children are at home with my husband," she says.
"We all make these decisions based on our own personal circumstances, and for me at the time, I was ready to follow my heart and retrain, as that had been in my mind for a very long time. So I guess the decision made itself, really."
Silverton is now determined to help make family life work not only for herself, but for other parents, and as well as her work in a primary school and writing the book There's No Such Thing As 'Naughty' (Piatkus, 2021) – a parenting guide which explores how children's brains develop and how it influences their behaviour – she's teamed up with the children's furniture brand Stokke to explore parents' worries about child development in the under-fives.
New Stokke research has found 29 per cent of parents of children aged zero to five years are concerned about their child growing up shy, and nearly a third (31 per cent) of parents identify confidence as the most important characteristic for their child to gain during their early years.
"First and foremost for children, especially under five, we want to ensure the foundations being built in their brain are strong," explains Silverton. "And parents are the best people to build those foundations for future mental health."
In practical terms, what do parents need to do to help their children learn to be confident and mentally strong?
"Be with them," advises Silverton. "Our presence is really crucial, because when our children inevitably navigate more challenging experiences, having us nearby to model the behaviour that's appropriate can give them the confidence to know they can eventually go off alone.
"I'd love parents to feel more confident to follow their instincts when it comes to being with their children. Our children don't necessarily need to be doing in these early years, they simply need to be. And by that I mean being with and alongside us as their guide. Because parents really are more powerful than they know."
She stresses it isn't about buying young children expensive educational toys or doing anything complicated. "It's the little things that mean so much – putting the phone down and actually engaging with our children face-to-face, getting down on the floor and playing with them, spending time with them, letting them know we value them and we want to spend time with them, we love and we delight in their presence. These are the things that build confidence, because they're building a sense of self-worth."
Although she's stepped back from her high-profile broadcasting career, Silverton's still very busy with child therapy and writing her second book, which she hopes will be published in the autumn. But, as she says herself, "We're told we can have it all – well, actually, you can have it all, but not at the same time."
"Being a busy parent who's also trying to work, I suppose the victim is my own wellbeing," she reflects. "It's not like I'm terrible, but it does get squeezed more than I'd like."
However, she does find some time to look after herself. "Whether it's bouncing on a little trampoline, or going to walk your dog or doing yoga, anything that's patterned, repetitive, rhythmic, is actually very soothing for our brain stem, and absolutely vital for our health," she explains.
"I am really mindful of my health, and I'd love to carve out more time, and certainly when I've got book two finished, I will be doing a lot more of it. But I pretty much keep in balance, and I'm fairly good at recognising when my body's out of kilter and then doing something about it. So I haven't learned this much without applying a few good principles myself!"