Jodie Kidd is the first to admit her schedule is a little "ridiculous" right now.
The supermodel-turned-presenter, TV personality, racing driver and pub landlady is involved with a string of new businesses and brand partnerships. There's also her Kidd In A Sweet Shop YouTube motoring channel – and a wedding to plan (she and former Royal Marine Joseph Bates got engaged in late 2021).
"I mean, it's ridiculous, really. I'm like: 'Dee-dee-diddle-iddle'," Kidd exclaims over Zoom, making frantic-running-around motions with her arms.
She's also "a little bit emotional" today as her son Indio ("Indie") just had his final assembly at primary school. "There was a lot of tears and a lot of goodbyes. I didn't know it was going to be that emotional… It suddenly really dawned on me, like wow, that's the end of a massive era. My baby's not a baby anymore, he's going to big school. I'm not ready!"
It's a lot of plate-spinning, but she isn't complaining. Kidd lights up talking about Indie ("he is just a superstar, I'm so proud of him") and all of her work projects, which include eco-conscious fashion brand Manava, Skin & Tonic skincare and Indios Foods – her new nutritious 'pot meals' range named after her son.
She also recently teamed up with Kia on the launch of their new flagship electric vehicle, the EV9. The campaign shoot involved Kidd taking part in a death-defying stunt, wearing a protective chainmail Faraday suit while sitting on a coil emitting more than a million volts of electricity.
"We obviously had mega health and safety," she says – while still admitting the element of danger did make it both "fun and terrifying".
"I had full-on lightning bolts coming out of my fingers. It's definitely something I will remember forever – and I've done some crazy things in my life, especially in photoshoots."
A survey of 2,000 adults commissioned by Kia found 26% of parents have been encouraged to buy an electric vehicle by their kids, with 36% of these putting it down to their children learning about environmental issues at school.
"I've learned so much from Indie," says Kidd. "Schools are really on it, they're really teaching the younger generations to be aware, and doing it in a non-terrifying way – just a really supportive, loving the planet kind of way."
Becoming a parent has made her "a million per cent" more eco-conscious, she says. "I know I fly a lot, but I try and balance it with doing good things and planting trees. And with my family, it's really important that we just do little things every day, like using reusable glass bottles, recycling, not using plastic bags."
She's been able to take on more projects lately as her pub – the Half Moon in West Sussex – "is running itself now" and thriving after a tough few years (Brexit and the pandemic hit the food and drinks industries hard).
"I've got a brilliant team, a great general manager and cook and kitchen team, they're smashing it. We've got two [AA] Rosettes and we've just had our best April/May in seven years. So that is such a joy, because it certainly hasn't been easy," she reflects.
Buying the pub in 2017 marked a new chapter. Kidd had already been shifting things up for a number of years, stepping back from London and what she's previously described as a "chaotic" lifestyle. After being 'spotted' on a beach at age 15 by fashion photographer Terry O'Neill, she had rapidly become one of the world's most high-profile supermodels. But behind the glamour and success, Kidd later talked about the severe anxiety and panic attacks she'd experienced, eventually leading her to reassess.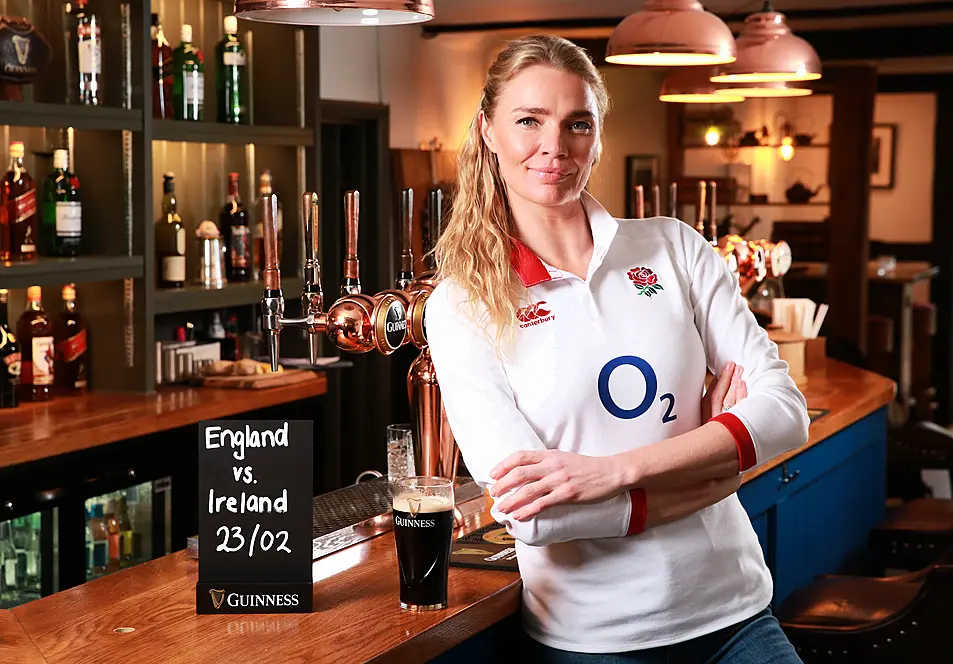 "Everything seems to be just gelling, which is wonderful," she continues now. "Having a lot of [new companies] does take a lot of effort, but we love to be busy, we're a really dynamic family and I've never been anything but creative. It's really lovely creating your own things – and some will work and some won't. Everything I'm doing, I'm trying to be positive and create lovely, good things."
What about switching off, does she find time to relax?
"Whenever I possibly can, it would definitely be a glass of red wine with Joe [Bates], watching a series, or watching a movie with Indie. That's peace for me.
"But we make things work," she adds. "And I think if you do things that you really love and you're so passionate about, it's just a joy. I really have got to a point now where I'm excited to go to work, it's in a good place – touch wood – but who knows what next week will bring?
"Life will always throw something at you. So, live in the moment, enjoy the now, and be very grateful – that's kind of how I'm living life."
Has she always had this outlook, or is it something she's learnt?
"Oh, definitely learnt – and possibly the hard way," Kidd says, laughing. "In our younger years, I think we're all there just to make a complete mess of everything, and to learn and grow and move on and adapt and change. That's the wonderful course of what we all know as life. I'm sure me along with everyone else out there, has learned through that kind of route.
"I'm in my 40s now, 44, and I think everything does just settle down a bit too, your mind is a little bit more focused and settled. So, it's something that happens with age, and also learning the hard way."

Once work is less busy and "Indie is at his next school", she says she and Bates will crack on with their wedding planning ("I've got a venue, I know who's making the dress, all those things – we've just got to actually get a date"). But they haven't felt in a huge rush: "We're both so lovely and happy and settled."
It will be Kidd's third marriage. She was 26 when she married internet entrepreneur Aidan Butler in 2005 (they split 18 months on) and 35 when she wed former British military commander and author David Blakeley in 2014 (they split four months on). She was with Indie's father, Argentinian polo player Andrea Vianini, for a few years until 2013.
She talks philosophically and compassionately when it comes to relationships. Of being happy with Bates, she says: "We have a wonderful balance. He's incredibly supportive. What I found with previous relationships is that there was often quite a big bit of jealousy around, because I do get to go and do cool things – race around in cars, fly fighter jets and do crazy things – and I found a bit of jealousy has been a big thing in a lot of my ex-relationships.
"That's just one thing Joe hasn't got. He's immensely strong in himself and he knows who he is, and he's incredibly loving, thoughtful, and family is number one. We feel incredibly safe and that together we can do anything, which is a lovely powerful feeling to have. We're just a good team, that has a huge amount of respect for each other, and kindness and love."
She's remained on good terms with some of her exes though, noting she still sees a couple of them.
"But there's certainly been some horrors," Kidd adds, laughing again. "It's a learning curve. And then when you find absolute angels, like Joe, you suddenly go, wow, what was I up to for all those years?"
Jodie Kidd teamed up with Kia on the launch of their new flagship electric vehicle, Kia EV9.