A jury in the trial of four men accused of taking part in an attack on security men at a repossessed farm in Co Roscommon have been shown footage recorded at the property five days before the alleged incident.
The jury at Dublin Circuit Criminal Court was told that at around 5am on December 16th, 2018, a group of approximately 30 armed men, some wearing balaclavas, arrived at a repossessed rural property at Falsk, just outside Strokestown, Co Roscommon, and attacked four of the security guards present.
Patrick Sweeney (44), of High Cairn, Ramelton, Co Donegal; Martin O'Toole (58), of Stripe, Irishtown, Claremorris, Co Mayo; Paul Beirne (56), of Croghan, Boyle, Co Roscommon, and David Lawlor (43), of Bailis Downs, Navan, have pleaded not guilty to 17 charges each at Dublin Circuit Criminal Court.
Each man is separately charged with false imprisonment of and assault causing harm to four security personnel at Falsk on December 16th, 2018. Each defendant is also charged with aggravated burglary, as well as four charges of arson concerning a car and three vans allegedly set alight.
The four men are also each charged with criminal damage to a door of the house, violent disorder, robbery of a wristwatch from security guard John Graham and, finally, causing unnecessary suffering to an animal by causing or permitting an animal to be struck on the head.
Sgt Enda Daly told the court on Thursday, that Roscommon District Court convicted a person, not one of the accused, of the assault of Ian Gordon of GS Agencies on December 11th, 2018, and fined them €200. He confirmed that an appeal is listed to be heard before Roscommon Circuit Court later this year.
Breach of the peace
Sgt Daly told Blaise O'Carroll SC, defending Mr O'Toole, that the only role of gardaí at the Falsk property on December 11th, 2018, was to ensure there was no breach of the peace. He said they had no part in the execution of the High Court order.
Sgt Daly agreed he remained outside the premises until he was called to the property's gate due to an alleged incident.
Mr O'Carroll asked the sergeant why he did not intervene in this incident, as gardaí were there to prevent a breach of the peace. Sgt Daly replied: "People were executing a High Court order" and it was "reasonable to remove people from the premises".
He added that while it was "not a nice scenario to be in", "reasonable force" was used to remove people from the premises.
Sgt Daly agreed with Mr O'Carroll that he investigated a complaint made by Mr Gordon that he was "grabbed" by another person, who also complained he was assaulted by Mr Gordon. He said he prepared files for both complaints which were later forwarded to the Director of Public Prosecutions (DPP).
Sgt Daly said the DPP directed this individual was to be invited to receive an adult caution in relation to the incident with Mr Gordon and if this was refused, a summons was to be issued.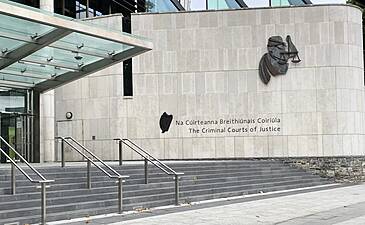 Ireland
Woman tells trial of five family members that gran...
He confirmed the individual pleaded not guilty at Roscommon District Court, and body-cam footage from December 11th, 2018, was played when the case was heard. This footage was shown to the jury.
Sgt Daly said the DPP directed no prosecution in relation to the complaint against Mr Gordon.
Under cross-examination, Sgt Daly agreed Mr Sweeney was co-operative with gardaí following his arrest. He confirmed Mr Sweeney's fingerprints were not recovered from the scene.
He agreed with Patrick McGrath SC, defending, that his client has one previous conviction of a minor nature, dating from 2009. The trial continues before Judge Martina Baxter and a jury.