Fianna Fáil TD Barry Cowen has said Minister for Public Expenditure Paschal Donohoe "should not be hounded out of office".
"I don't believe he should be sacked," the ex-minister told RTÉ radio's Today with Claire Byrne.
Mr Donohoe has been under pressure over his failure to declare 2016 election expenses paid by a friend, businessman Michael Stone.
The Fine Gael politician gave a statement in the Dáil on Wednesday, after which he did not take questions, and on Thursday morning said he was seeking another opportunity to make a further statement regarding election expenses.
Mr Cowen said Mr Donohoe's actions should be examined in a different context from his own situation when he was sacked by Micheál Martin. He had always found Mr Donohoe to be "fair and steely" and his abilities had been recognised by two Taoisigh and the Eurogroup of finance ministers. "Measure that and park it."
Mr Donohoe should not be exonerated of any wrongdoing, but it should be measured against what he had done for the country, the only thing he appeared to be guilty of was that he had not been fully apprised of his election spending.
Had he paid the expenses himself, his return would have been correct, said Mr Cowen.
"Is it a sacking offence? No I don't believe it is."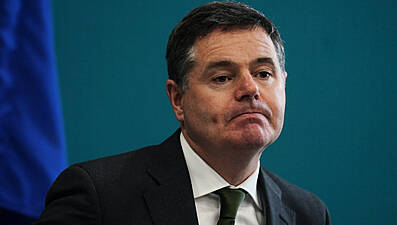 Ireland
Paschal Donohoe says sorry to Dáil: Honesty and in...
Mr Cowen said he accepted that Mr Donohoe had to clarify what had happened and if necessary there should be some form of sanction for his actions, but he should not be hounded out of office.
"He did wrong, he made a mistake, but haven't we all?"
Mr Cowen said that in all his dealings with Paschal Donohoe he found him to be above reproach. However, there should be accountability and there should be provision in any new ethics legislation for some form of sanction when there was wrongdoing.
"For this offence there is no way he should be hounded out of office. I am not getting calls from constituents about this. I don't believe he should be sacked. There should be some mechanism by which he could receive a rap on the knuckles."