Minister for Public Expenditure and Reform Paschal Donohoe has apologised during a short statement to the Dáil that had been requested by opposition politicians.
"Honesty and integrity matter above all in public life, and I'm very sorry that this has happened," he told TDs.
The Fine Gael TD gave an eight-minute statement at 5pm before short statements were made by the opposition.
Over the weekend, it emerged that Mr Donohoe had not declared a payment made by an individual – businessman Michael Stone – to six people to hang up election posters ahead of the 2016 general election.
He said that six people were paid by an individual to hang up posters over "four dates" during the campaign, both before and after polling day, with the work done before polling day valued at €917.
He said he was not aware before a full review in December, following a recent complaint to ethics watchdog Sipo, that the workers had been paid in a "personal payment" by Mr Stone.
He also admitted that he should have amended his election expenses in 2017 after he became aware that a corporate van had been used to hang the posters up, which he has estimated to be worth €140.
"Neither myself nor any of my campaign team intentionally misinformed Sipo or knew that a form was incorrectly submitted to them at that time," he told the Dáil on Wednesday.
"In light of the information that has now been made available to me, I have taken the steps to address the issue as fully as I can.
"I also want to provide as much additional information as I can to the house. Mr (Michael) Stone has made no donations to me personally.
"However, in 2020 and 2021, Mr Stone made a donation to Fine Gael by the purchase of superdraw tickets which (were) sold by me. The donation was to the Fine Gael party centrally and within the legal limits.
"It is not required to be disclosed, however, as stated, I want to be fully transparent to the house.
"In 2020 it was five tickets, with a donation value of €334, and in 2021 was 22 tickets, with a donation value of €1,382."
He added: "Mr Stone is a man of the very highest standards. He has spent much of his life giving back to the community from which he came and I am obviously also so proud to represent. He has done so much for the north-east inner city, and I, Ceann Comhairle, am so sorry that he has become involved in this matter of public interest."
Mr Donohoe said he was aware of a complaint to the ethics watchdog Sipo and as a result he said he would not be commenting on this matter again after Wednesday evening.
He told Dáil Éireann: "I am conscious that there is a complaint to that commission, who will decide what steps, if any, need to be taken.
"And Ceann Comhairle, I will engage and co-operate fully with any process that they undertake in this matter, and to avoid any undue influence in that process following today's questions, I won't be commenting further.
"I have worked tirelessly in any public office that I have held. I have always been committed to the public interest, to the common good. Honesty and integrity matter above all in public life, and I'm very sorry that this has happened.
"I sincerely regret this situation and the role I played."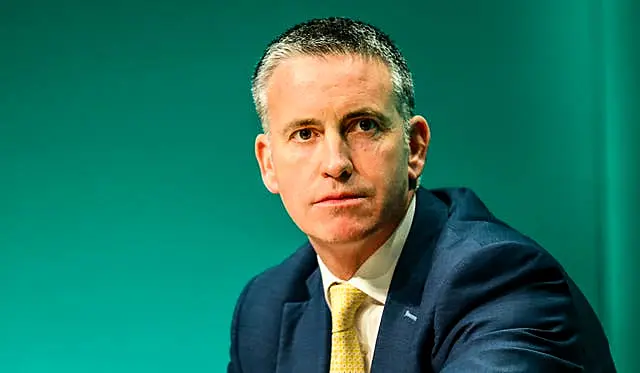 His statement follows a request from the opposition party whips for the minister to make a statement to Dail Eireann "at the earliest opportunity", which was granted by Ceann Comhairle Seán Ó Fearghaíl.
Earlier in the Dáil chamber, a row ensued between the opposition and the Taoiseach Leo Varadkar about the format of the minister's statement to the Dáil, with the opposition also calling for the minister to answer questions.
Social Democrats co-leader Róisín Shortall rolled her eyes in response to the Ceann Comhairle at one stage, after arguing that each opposition party should have the option of a "back and forth" with Mr Donohoe in the interest of accountability.
"It's the back and forth that's required," she said, asking Mr Varadkar to consider it.
Mr Varadkar said that he did not think the chamber should be turned into "a court of law".
The latest row comes after the resignation of Damien English as junior enterprise minister following revelations that he did not declare already owning a property in a planning application to Meath County Council.
Government ministers have backed Mr Donohoe, arguing that he has explained his actions sufficiently and that the matter now lies with Sipo.
Responsibilities for ethics legislation and for the ethics watchdog Sipo, which fall under Mr Donohoe's department, are being transferred to the Minister for Finance Michael McGrath.