A mobster who directed a 20-strong member gang thanked gardaí for arresting him and had felt suicidal over his drug-debts, the Special Criminal Court has heard.
Sligo native Barry Young (38) pleaded guilty in March to directing the activities of the gang, which had an international character but operated in the Sligo, Donegal, Leitrim and Galway areas where it was involved in drug-dealing, intimidation and money laundering.
The court heard that drug seizures linked to the gang totalled over €628,000, while Young himself had €40,000 in ready cash despite his only stated income being social welfare payments.
'Head the balls'
Young also dispatched enforcers that he described as "head-the-balls" and "Dirty Harrys" to collect on drug debts, today's sentencing hearing was told.
At the three-judge court on Tuesday, Detective Garda Inspector Ray Mulderrig told Fiona Murphy SC, for the State, that Young was arrested by detectives from Sligo at Dublin Airport on January 11th of this year on his way to Spain in a bid to escape his life of crime and drug-debts.
Det Insp Mulderrig told Ms Murphy that gardaí seized Young's phone and discovered thousands of messages, images, videos and calls relating to Young's criminal activities in running the Sligo-based gang.
Det Insp Mulderrig said Young had 81 previous convictions at the time of his arrest and had been twice sentenced for drug-dealing, with the last conviction for that offence coming in 2006 when he was sentenced to six years' imprisonment.
Ms Murphy said that gardaí examined the phone which was found to contain thousands of "local, national and international" interactions used for directing the criminal gang in relation to the sale and supply of drugs through Young's "known associates".
The barrister said the phone revealed a group of "at least" 20 members who operated in a "controlled, hierarchical command structure with directed sub-cells who then directed their own subordinates through a chain of command directed by Barry Young who was ultimately informed of the results".
Ms Murphy said phone activity revealed messages about drug-seizures, drug-debt enforcement, intimidation, cash lodgements and movements, and the collection and distribution of drugs.
Phones
The court heard the investigation revealed a high level of communication regarding drug-debt enforcement and the names and addresses of debtors. Det Insp Mulderrig said that while violence and threats were used, violence was the option "least preferred by Barry Young".
The detective said that investigations of five phones associated with Young led to the arrest of 16 people, six of whom are before the courts, with three of those facing charges of organised crime involvement and money laundering directly attributed to the gang.
Det Insp Mulderrig said four of Young's accounts were frozen which had a cumulative balance of over €40K, despite Young's only stated source of income being social welfare payments.
The detective said that in October 2019, a seizure of 2kg of cannabis from a UK associate of Young's took place in Ballina, Co Mayo. The associate was sentenced to three years' imprisonment on foot of the seizure. Ms Murphy said this caused Young to embark on a path of "panic, fear, agitation and anger" in a "damage-limitation" exercise.
The two kilos of cannabis were valued by gardaí at €40K and Det Insp Mulderrig said that mobile evidence revealed that Young made two calls to the associate two days before the seizure and had sent messages to another associate to deliver "two Spanish", referring to the cannabis.
Another associate of Young's caught with €100K of cannabis and €18K in cash in January 2020 had a phone number attributed to Young in his phone saved under "Boss".
A third associate, who was caught with €328K worth of cannabis and had a "huge" drug-debt of his own, was used as a courier for cash and drug deliveries in Sligo, Leitrim and Dublin, said Ms Murphy.
After Young's January 2022 arrest in Dublin Airport, searches in the Sligo area found €36,360 in cash, €145,250 worth of cannabis, €11K worth of cocaine and €4,500 worth of valium and diazepam linked to the gang.
Vehicle recovery business
Phone data also revealed that drug-debt enforcement involved Young sending individuals to private homes to commit criminal damage and demand money in Sligo and Galway. Young described the debt collectors in messages as "head-the-balls", "Dirty Harrys", "Russian fellas", "mental" and "crazy" dispatched to "fix" debts owed.
A search of Young's home by Sligo gardaí saw the seizure of banking and vehicle documents, along with business papers for a vehicle recovery business called 'BY Recovery', though garda investigations found that no facility or yard for the business existed.
Det Insp Mulderrig said Young was moving money through the business' account to a Spanish account held in Young's name in February and April 2019. The transfers totalling €35K were made ahead of his planned departure from Ireland.
Det Insp Mulderrig agreed with Michael Bowman SC, for Young, that his client had been "cordial, mannerly and pleasant" in his interactions with gardaí.
Mr Bowman said his client came from a decent, working class family in Sligo and that Young developed a "significant drug difficulty" that led to his drug-debt issues.
Mr Bowman said Young had been under "enormous pressure" to pay his debts and had been looking for "a way out of the life he made for himself", adding that Young was preparing to move out of Ireland when arrested.
Det Insp Mulderrig agreed with Mr Bowman that there had been a legitimate threat to Young's life due to his debts and that his client's mental health had suffered as a result.
Depression
Mr Bowman said Young had become depressed and suffered anxiety over his debts and his situation that led him to go to counselling where he admitted he had sought to "end it all".
The barrister said the "enormous" pressure on his client to pay monies back to those above him caused Young to "seek a way out and he sought to take his own life".
Mr Bowman said Young did not display any "over-trappings of wealth" associated with criminal activity and said his client rented a "nondescript" residence without "fancy clothes, jewellery or foreign holidays".
The barrister said Young had engaged in counselling and drug and alcohol addiction services before his arrest as far back as 2018 due to the "parasitic nature of the drug trade".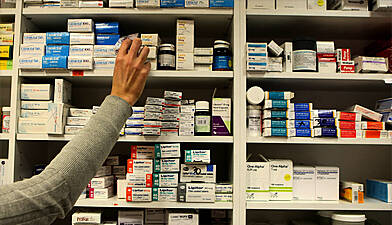 Ireland
Doctor's prescribing levels to drug addicts was 'o...
Mr Bowman said his client described the day of his arrest as a "happy day" and that Young had thanked gardai for catching him because "every day he was trying to find peace with what he has done".
Mr Bowman said Young had been a "big fish in a small pond" but was answerable to "layers upon layers" of individuals operating above him.
Father-of-two Young, with a previous address at Geldof Drive, Cranmore, Co Sligo, pleaded guilty at the non-jury court that he, between October 4th, 2019 and January 15th, 2022, both dates inclusive, directed the activities of a criminal organisation both within and outside the State, contrary to Section 71 A of the Criminal Justice Act, 2006, as inserted by Section 5 of the Criminal Justice (Amendment) Act, 2009.
Mr Justice Tony Hunt adjourned sentencing to July 31st for the offence, which carries a maximum of life imprisonment.