An additional €1 billion has been diverted to state efforts to accommodate Ukrainian refugees in Ireland.
The supplementary estimate agreed by the Government will help the Department of Integration cover the costs of housing Ukrainians and other people seeking international protection.
Tens of thousands of Ukrainians have relocated to Ireland since the outbreak of the war last year.
More than 70,000 are being housed in state provided accommodation.
Minister for Integration Roderic O'Gorman and Minister for Public Expenditure Paschal Donohoe announced the funding agreement after cabinet discussed the issue on Tuesday.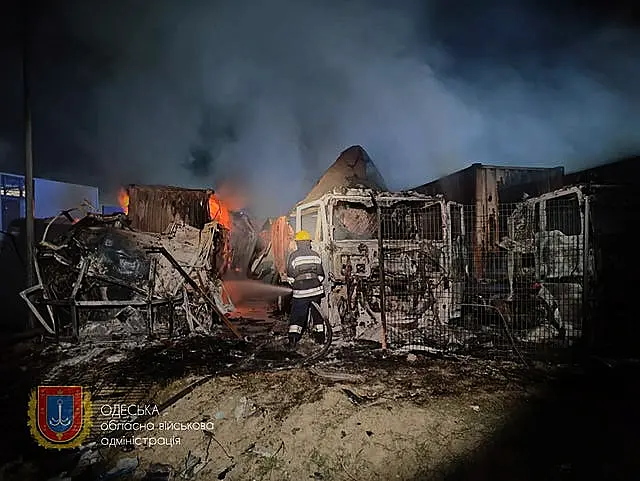 Mr Donohoe made clear that provisions for the supplementary estimate had already been factored in when last year's budget was announced and the sum diverted to the department was within the estimate of what would be needed, albeit at the higher end of the estimate.
Fielding questions from reporters, Mr O'Gorman said continued pressure on accommodation supply meant a small number of Ukrainians would continue to be housed in tents – an arrangement that is set to remain through the winter.
Mr Donohoe said: "Today I have agreed an additional one billion euro for the Department of Children, Equality, Disability, Integration and Youth to support the Department in meeting costs associated with accommodating Ukrainian people fleeing the war and those seeking international protection.
"The Government set aside funds in Budget 2023 to meet non-core pressures, such as this, and this supplementary estimate will be met through that contingency.
"This funding will continue to support the state's humanitarian response to the Ukraine crisis.
"The state has had to work extremely hard to manage the significant influx of people from Ukraine since the onset of Russia's invasion of Ukraine.
"Minister O'Gorman and his officials have played a central role in this response in terms of the provision of accommodation.
Frontline situation, enemy plans, our offensive and defensive operations, frontline supplies, increased domestic arms production, particularly drones, and the state of the Russian army and military-industrial complex. These were the key subjects of today's meeting of the Staff.

— Volodymyr Zelenskyy / Володимир Зеленський (@ZelenskyyUa) September 26, 2023
"The number of people in state-provided accommodation is now over 70,000."
"The past year and a half has also seen a significant increase in the number of people arriving into the country seeking international protection.
"In January 2022, our international protection accommodation system had 8,600 people in it. It now has 23,200.
"This is a trend being experienced across the EU with over half a million asylum applications being received by EU countries, in the first half of 2023."
Mr O'Gorman said Ireland was involved in a "significant humanitarian effort" to house Ukrainian refugees.
"We are currently providing accommodation to more than 70,000 people from Ukraine, increasing weekly by around 550 people," he said.
"With further supply constrained, it is likely that the provision of accommodation will remain challenging for the foreseeable future, and there will be an ongoing reliance on contingency measures."