The Central Bank has said Ireland's inflation outlook is broadly unchanged from three months ago but warned the Government it risks keeping prices even higher for longer if it goes ahead with further planned stimulus in next month's budget.
The Central Bank on Tuesday nudged up its 2023 forecast for inflation, as measured by the Harmonised Index of Consumer Prices (HICP), to 5.4 per cent from 5.3 per cent in June, but cut its forecasts for 2024 and 2025 slightly to 3.2 per cent and 2.5 per cent respectively.
That kept Ireland broadly in line with forecasts for the euro zone as a whole, although the Central Bank sees core inflation, which excludes unprocessed food and energy prices, remaining higher in Ireland at 2.7 per cent in 2025.
Upside risks to inflation are more pronounced than they were in June, the bank added.
The Government has said since June that it intends to hike core public spending by 6.1 per cent next year, breaking its own budget rule to cap expenditure growth at 5 per cent for the second successive year.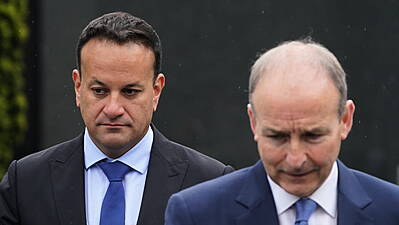 Ireland
Politics watch: Budget 2024 and new constituencies...
Ministers plan to add an unspecified number of one-off fiscal supports on top of that to help alleviate cost-of-living pressures.
"This would amplify demand in an economy already operating at capacity, and risks leading to inflation being higher in Ireland for longer than would otherwise be the case," the Central Bank said of the one-off measures.
The Bank also trimmed its forecasts for wage growth to 2025, saying there were signs of moderation in labour demand. August job postings were 25 per cent above pre-pandemic levels versus a recent peak of 54 per cent and year-on-year wage growth for those jobs slowed to a 15-month low of 3.8 per cent.
The Central Bank also cut its forecast for modified domestic demand – it and the Government's preferred way of measuring the strength of the economy – but said this was primarily due to growth being revised higher for 2022.