France, Italy, Britain, Switzerland, Spain, Portugal, Greece, Cyprus and Malta all registered record numbers of new Covid-19 cases over the past 24 hours as the Omicron variant sweeps across Europe.
France is seeing a "dizzying" rise in cases, French health minister Olivier Veran told lawmakers, with 208,000 reported on Wednesday - a national and European record.
France has been breaking infection records repeatedly over the past few days, with Tuesday's 180,000 cases already the highest for a country in Europe, according to data on Covidtracker.fr.
"This means that 24 hours a day, day and night, every second in our country, two French people are diagnosed positive," Mr Veran said. "We have never experienced such a situation."
"I'm not ill, I just have a dry throat," added Mr Veran, who repeatedly coughed during the hearing, triggering nervous laughter from those sitting next to him.
Germany under-reporting
In neighbouring Germany, health minister Karl Lauterbach said on Wednesday that the number of new cases has been under-reported and the actual incidence rate of infections is about two or three times higher than the officially reported figure.
The country's seven-day incidence rate was reported as 205 cases per 100,000 residents, the lowest figure since early November. This translated into 40,043 new cases over the past 24 hours.
"The figures now are certainly under-reported," Mr Lauterbach told the media group RedaktionsNetzwerk Deutschland.
The figures now are certainly under-reported
A spokesperson for the German health ministry said earlier Wednesday that the government expects a clearer picture of the infection situation early next year.
Further south in Switzerland, new infections hit a record high of 17,634 within the past 24 hours on Wednesday.
Malta also registered a record number of infections on Wednesday as the United States added the Mediterranean island to its highest-risk category for travel and urged its citizens not to visit.
Health authorities said 1,337 new cases were detected, marking a record high for the second day in a row. It is the fifth time in eight days that the number of new daily infections hit a national record, on the island where 95 per cent of residents have received two doses of a vaccine.
Britain, Spain, Italy, Greece
Britain meanwhile saw another record rise of daily Covid-19 cases in the latest figures from Tuesday, with 138,831 reported in England, Scotland and Wales alone.
British prime minister Boris Johnson on Wednesday said 90 per cent of patients ending up in intensive care had not received booster vaccines, which medics say is the best protection against Omicron.
Patients with the virus occupied 10,462 beds in English hospitals on Wednesday, up by 916 on the day before.
In Spain, demand for free testing kits from the Madrid regional government far outstripped supply, with long queues forming outside pharmacies.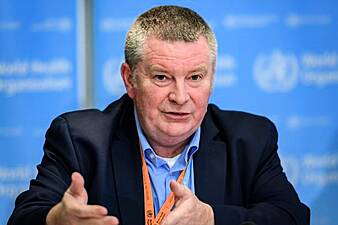 World
Dr Mike Ryan: Acute phase of Covid pandemic could...
Italy was expected to relax some quarantine rules on Wednesday, worried about grinding to a halt because of the number in precautionary self-isolation. Cases there doubled within a day to 78,313.
Italian prime minister Mario Draghi has already tightened Covid-19 rules for the holiday period, banning concerts and open-air events and shutting down discos until January 31st.
Greece is also introducing new restrictions on the hospitality sector from Thursday, bringing forward measures planned for early January as infections surge.
The decision came a day after authorities announced a new daily record of 21,657 cases, more than double compared to Monday. Authorities said the Omicron variant, which is highly contagious, appeared to be dominant in the community, barely a month after it was first detected.