Leaders of a world fractured by war, climate change and persisting inequality have gathered under one roof to hear the UN chief summon them to take united action on humanity's huge challenges – and to start delivering their own assessments on the most global of stages.
"Our world is becoming unhinged. Geopolitical tensions are rising. Global challenges are mounting. And we seem incapable of coming together to respond," Antonio Guterres told the people who run the world's nations on Tuesday.
He said the United Nations — and the ways that countries co-operate — must evolve to meet the era.
"The world has changed. Our institutions have not," Mr Guterres said before the opening of the UN General Assembly's General Debate.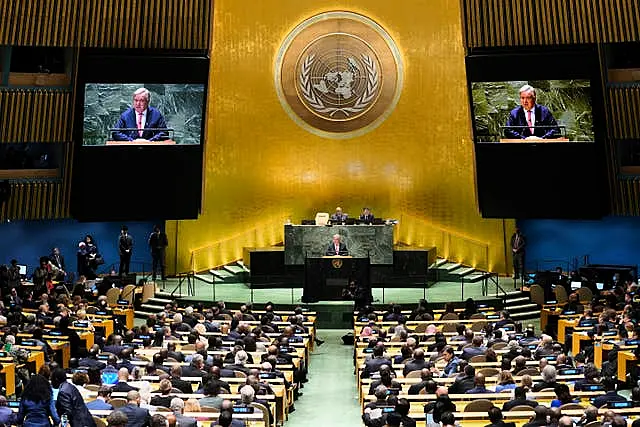 "We cannot effectively address problems as they are if institutions don't reflect the world as it is. Instead of solving problems, they risk becoming part of the problem."
He said the world needs action now – not merely more words – to deal with the worsening climate emergency, escalating conflicts, "dramatic technological disruptions" and a global cost-of-living crisis which is increasing hunger and poverty.
This year's week-long session, the first full-on meeting of world leaders since the Covid pandemic disrupted travel, has 145 leaders scheduled to speak.
It is a large number, reflecting the multitude of crises and conflicts.
But for the first time in years, US president Joe Biden, who will speak soon after the UN chief, will be the only leader from the five powerful veto-wielding nations on the UN Security Council to address the 193-member assembly.
China's Xi Jinping, Russia's Vladimir Putin, France's Emmanuel Macron and Britain's Rishi Sunak are all skipping the UN this year.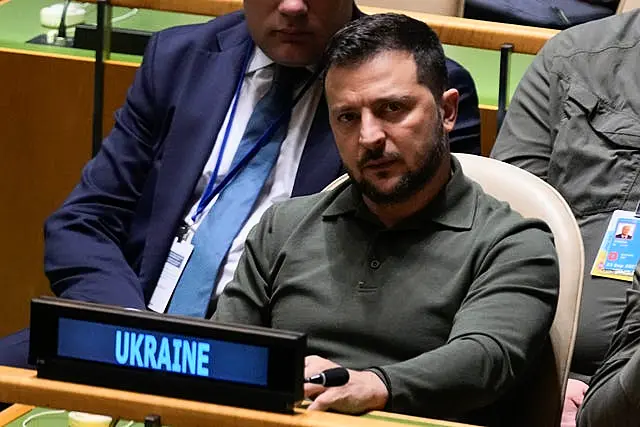 That should put the spotlight on Ukraine's president Volodymyr Zelenskiy, who will be making his first appearance at the assembly's podium later on Tuesday, and on Mr Biden, who will be watched especially for his views on China, Russia and Ukraine.
The absence of leaders from the four Security Council powers has sparked grumbling from developing countries who want major global players to listen to their demands – including for money to start closing the growing gap between the world's haves and have-nots.
The G77, the major UN group of developing countries that now has 134 members including China, lobbied hard to make this year's global gathering focus on the 17 UN goals adopted by world leaders in 2015.
Those are badly lagging at the halfway point to their 2030 due date.
At a two-day summit to kick-start action to achieve the goals, Mr Guterres pointed to grim findings in a UN report in July.
He said 15% of some 140 specific targets to achieve the 17 goals are on track.
Many are going in the wrong direction and not a single one is expected to be achieved in the next seven years.
The wide-ranging goals include end extreme poverty and hunger, ensure every child gets a quality secondary education, achieve gender equality and make significant inroads in tackling climate change — all by 2030.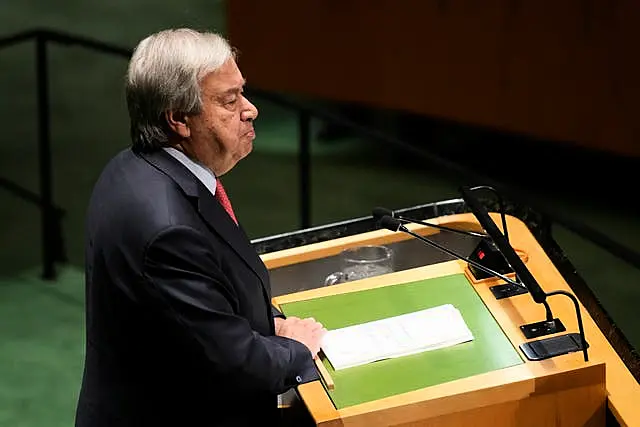 At the current rate, the report said, 575 million people will still be living in extreme poverty and 84 million children will not even be going to primary school in 2030 – and it will take 286 years to reach equality between men and women.
Mr Guterres told leaders at Monday's opening of the summit he called to rescue the 17 sustainable development goals (SDGs) that they promised in 2015 to build "a world of health, progress and opportunity" for all people – and to pay for it.
Soon after he spoke, leaders from the 193 UN member nations adopted a 10-page political declaration by consensus which recognises that the goals are "in peril".
But it reaffirms more than a dozen times, in different ways, leaders' commitment to achieve the SDGs, reiterating their individual importance.
The declaration is short on specifics but Mr Guterres said he was "deeply encouraged" by its commitment to improving developing countries' access to "the fuel required for SDG progress: finance".
He pointed to its support for an SDG stimulus of at least 500 billion US dollars (about £403.2 billion) a year, aimed at offsetting challenging market conditions faced by developing countries.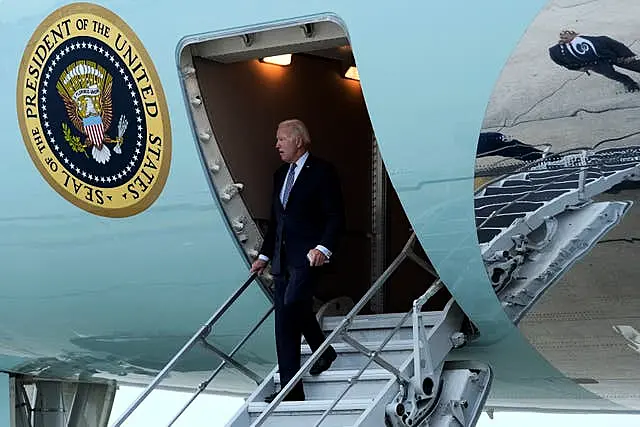 At the summit, leaders are supposed to make pledges to meet the SDGs.
As an example, Nepal's prime minister Pushpa Kamal Dahal, who chairs the UN group of least developed countries, said they need "massive scaling up of affordable finance", including through the SDG stimulus.
He said foreign investment to the least developed countries fell about 30% in 2022 compared to 2021, and he urged developed countries to be more generous in helping the world's poorest countries.
There are also hundreds of side events during the high-level week.
The European Union's top diplomat Josep Borrell told reporters after a closed meeting to try to revive the decades-old peace process between Israel and the Palestinians that there was "a strong commitment to the two-state solution".
He said there were 60 participants at the meeting organised by the EU, the Arab League and several other countries, and called it "a good starting point".
There was "an injection of new political will", Mr Borrell said.