Donald Trump described a Pentagon "plan of attack" and shared a classified map related to a military operation, according to a sweeping 37-count felony indictment related to the mishandling of classified documents which could reshape the 2024 presidential race.
The indictment paints a damning portrait of Trump's treatment of sensitive information, accusing him of wilfully defying Justice Department demands to return documents he had taken from the White House to his Mar-a-Lago and enlisting aides in his efforts to hide the records and telling his lawyers he wanted to defy a subpoena for the materials stored at his Florida estate.
"I don't want anybody looking through my boxes," one of Trump's lawyers described the former president saying, according to the indictment.
He also asked if it would be better "if we just told them we don't have anything here".
The newly unsealed indictment is built on Trump's own words and actions as recounted to prosecutors by lawyers, close aides and other witnesses.
Totalling nearly 50 pages, the detailed charging document — with allegations that Trump not only intentionally possessed classified documents but also boastfully showed them off to visitors — is likely to be harder for fellow Republicans to attack than an earlier New York case criticised by some analysts as weak.
The indictment includes 37 counts, including wilful retention of national defence information, obstruction and false statements, that taken together could result in a years-long prison sentence.
Trump is due to make his first court appearance on Tuesday in federal court in Miami, where the case was filed.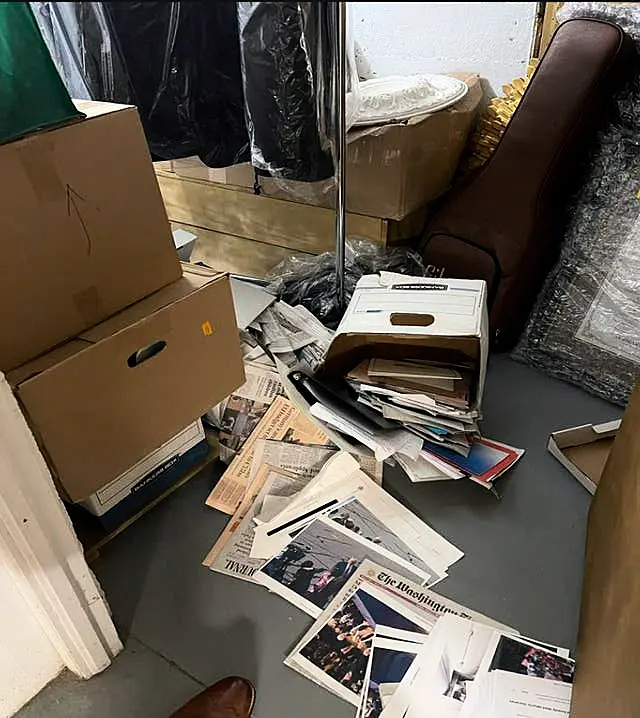 He was charged alongside Walt Nauta, an aide and close adviser who prosecutors say brought boxes from a storage room to Trump's residence for him to review and later lied to investigators about the movement.
A photograph included in the indictment shows several dozen file boxes stacked in a storage area.
The case adds to deepening legal jeopardy for Trump, who has already been indicted in New York and faces additional investigations in Washington and Atlanta that also could lead to criminal charges.
Legal experts — as well as Trump's own aides — had long seen the Mar-a-Lago probe as the most perilous threat and the one most ripe for prosecution.
Campaign aides had been bracing for the fallout since Trump's lawyers were notified that he was the target of the investigation, assuming it was not a matter of if charges would be brought, but when.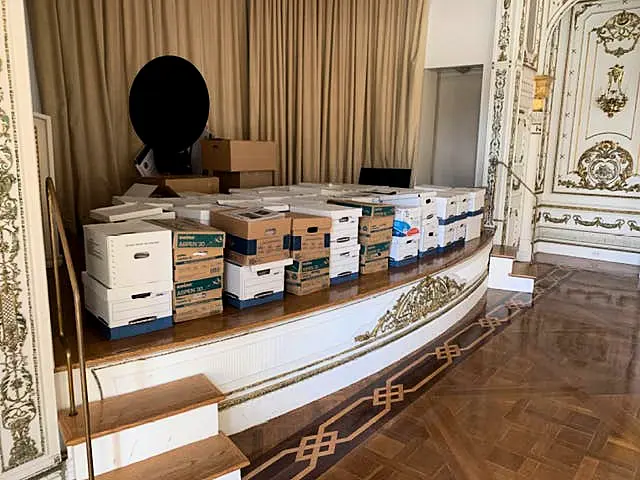 Enumerating the defence and foreign intelligence-related information included in the documents, prosecutors wrote that their "unauthorised disclosure… could put at risk the national security of the United States, foreign relations, the safety of the United States military, and human sources and the continued viability of sensitive intelligence collection methods".
Noting the "tens of thousands of members and guests" who visited the "active social club" of Mar-a-Lago between the end of Trump's presidency in January 2021 until the August 2022 search, prosecutors said Trump had "nevertheless" stored the documents there, "including in a ballroom, a bathroom and shower, and office space, his bedroom, and a storage room".
The indictment claims that, for a two-month period, some of Trump's boxes were stored in one of Mar-a-Lago's gilded ballrooms. A picture included in the indictment shows boxes stacked in rows on the ballroom's stage.
Photographs also show boxes spilled over in a storage room, including a document marked "SECRET/REL TO USA, FVEY", which means information releasable only to members of the intelligence alliance of Australia, Canada, New Zealand, the UK and the US.
Jack Smith, the Justice Department special counsel who filed the charges, said the country has "one set of laws" and they apply to everyone, adding that prosecutors will seek a speedy trial.
Senate majority leader Chuck Schumer and House leader Hakeem Jeffries released a statement saying Trump's indictment must "play out through the legal process, without any outside political or ideological interference".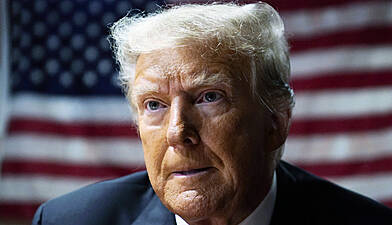 World
Explained: What the Trump indictment means for his...
"We encourage Mr Trump's supporters and critics alike to let this case proceed peacefully in court," they said.
But the House speaker, Republican Kevin McCarthy, suggested that the nation's core legal values were being undermined.
"This is going to disrupt this nation because it goes to the core of equal justice for all, which is not being seen today. And we're not going to stand for it."