Allegations that a tabloid publisher was involved in unlawful information gathering is a "true crime story" with sources "terrified" of being identified, a journalist has told a London court trial.
Graham Johnson drew a parallel with the activities of drug gangs and what he claimed was "organised crime" involving Mirror Group Newspapers (MGN).
The publisher of the Daily Mirror, Sunday Mirror and Sunday People is contesting claims brought by Britain's Prince Harry and other individuals over allegations its journalists were linked to voicemail interception, securing information through deception and hiring private investigators for unlawful activities.
MGN says board members have denied knowledge of such activities and claims there is "no evidence, or no sufficient evidence, of voicemail interception" in any of the four claims chosen as "representative" cases.
Continuing to give evidence to a trial in London on Thursday, Mr Johnson, who previously pleaded guilty to phone hacking, said that as a journalist he had investigated drug gangs in Liverpool and other criminal activity.
"The Mirror is no different to an organised crime group in that respect," he alleged. "This is a true crime story which is constantly evolving.
"By any definition it can be defined as an organised crime group because it was involved in systemic crime over many years, involving hundreds of people, involving a hierarchy of people."
Mr Johnson added that the alleged activity involved "millions and millions of pounds" spent on private investigators.
Andrew Green KC, representing MGN and cross-examining the journalist for a second day, suggested to Mr Johnson that he was "just letting the court be your newspaper".
Mr Johnson, who claims to have exposed "a large variety of methods of unlawful information gathering" through his investigations into newspapers' practices, said he approached the BBC, ITV and newspapers about "this organised crime story" but they did not want to write about it or make documentaries about it.
The journalist has alleged that MGN senior executives and lawyers "had been aware of the widespread organised crime and involved in its subsequent cover-up".
But in cross-examination Mr Green has challenged his evidence, suggesting he was "making up" parts or had "utterly, utterly embellished" his accounts.
On Thursday Mr Johnson faced more questions over his claims, which included that the hacked emails of Hugh Grant were used for stories in the Sunday Mirror and Daily Mirror about the actor and Eimear Montgomerie, the ex-wife of golfer Colin Montgomerie.
The court heard how Mr Johnson relied on confidential sources for information about the alleged work of private investigators on such stories.
Mr Johnson said: "One of the reasons sources will not come forward and be identified is because they will be punished for it.
"They are relentlessly attacked in the newspapers – they are blacklisted."
He said people could lose work, face threats at their homes, experience abuse online or be sued.
"They are absolutely terrified of giving their names to you and your client," he told Mr Green.
Mr Johnson has claimed to have experienced "abuse" and "threats" from alleged blagger Christine Hart – who has denied his claims that she spied on celebrities at The Priory rehab clinic – and alleged that private investigator Gavin Burrows had written "abusive" tweets about him.
"It was difficult," he said, adding: "It's not unusual on this story, these were the type of people which were employed by the newspapers to do their dirty work.
"If you do ask them questions, they turn nasty.
"The Mirror Group encouraged these people to behave like this because they behave in a similar way with these smears that they make."
Mr Johnson, who was a senior reporter and then investigations editor from 1997 to 2005 at the Sunday Mirror, has told the court he was instructed in 2001 by then deputy editor Mark Thomas, with the knowledge of then editor Tina Weaver, to "intercept the voicemails" of actress Denise Welch.
He later went to the police, admitted that he "only ever hacked phones on a few days in 2001", and ultimately received a suspended prison sentence for phone hacking in December 2014.
Mr Johnson has rejected Mr Green's suggestion that he had confessed to phone hacking as a "self-confessed professional liar bent on self-preservation", adding on Thursday that it was "a genuine act of admission".
The journalist, who describes himself as a "whistleblower", questioned why certain journalists, alleged information blaggers and private investigators were not giving evidence at the trial.
"None of these people will give evidence and I'd like to know why," he said, adding: "I'd like to know why Piers Morgan isn't here to give evidence."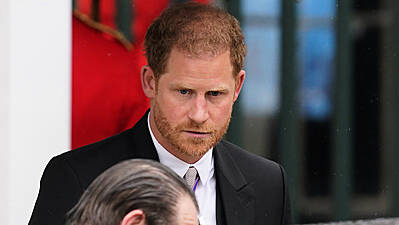 World
Harry biography author denies having 'vested inter...
Mr Morgan, who was the Mirror's editor between 1995 and 2004, has previously denied involvement in phone hacking.
Coronation Street actors Michael Turner and Nikki Sanderson and comedian Paul Whitehouse's ex-wife Fiona Wightman are also named as "representative" cases for the seven-week trial.
The hearing before Mr Justice Fancourt continues.