The two top contenders to replace Nicola Sturgeon in leading the Scottish Nationalist Party have clashed over abortion buffer zones in the second televised debate of the contest.
Health Secretary Humza Yousaf put pressure on Finance Secretary Kate Forbes over her views on the issue as a Bill is set to be introduced at Holyrood that would introduce buffer zones outside abortion clinics.
Ms Forbes has repeatedly said she would support the principle of the legislation, being proposed by Green MSP Gillian Mackay, but she refused to say if she felt abortion was morally wrong during the Channel 4 debate on Thursday.
Mr Yousaf, on the attack after a tense exchange with the Finance Secretary in a previous debate on Tuesday, intimated Ms Forbes had been equivocal on the issue.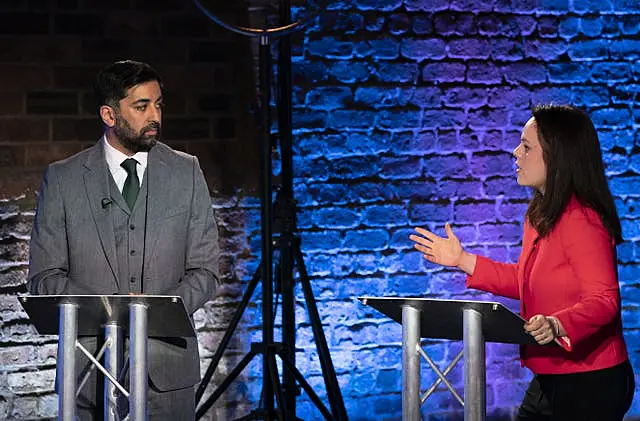 "When Kate was asked this question (about her support for buffer zones) the other day at a hustings, you said 'with balance'," he said.
"What I didn't understand is what you mean by that balance?"
He added: "I think it's right to ask what do you mean by that balance, would you allow, for example, prayer vigils?"
In her response, Ms Forbes hit out at the Health Secretary, saying: "This is an example where we see another candidate trying to poke holes and trying to erode the honest and solemn commitments I have made.
"It boils down to a question of honesty – does Humza accept my word when I say that I will uphold those legal protections and support buffer zones or not?"
Mr Yousaf said the question had, in fact, been asked by abortion rights group Back Off Scotland, who wrote to all candidates calling for them to support the legislation.
Immediately following the debate, the group said on Twitter Ms Forbes had "lied" during the debate in claiming she had replied, posting again minutes later to say a member of Ms Forbes' campaign staff had responded.
According to her campaign manager Michelle Thomson, the response was signed off two days ago but due to her error was not sent until Thursday evening.
Mr Yousaf took a further swipe at the Finance Secretary's statements on social issues, saying he had heard from "hundreds" of members who were dissatisfied with Ms Forbes' previous comment.
Speaking to journalists after the debate, Ms Forbes said claims from the Health Secretary he would not "sling mud" in the leadership race had "disintegrated", while Mr Yousaf was at pains to stress he was seeking clarity on her policy position, rather than attacking her personal views.
The tension in the race was ratcheted up by another fiery exchange between the two on Tuesday during the first debate on STV, where Ms Forbes took aim at Mr Yousaf's record in government.
Given the opportunity to apologise for the exchange, which Scottish Tory leader Douglas Ross said would feature on his party's election leaflets, the Finance Secretary did not.
"We're electing here, a future first minister, who will have to deal with some very weighty matters," she said.
"The SNP hasn't had an election contest for 20 years, and I think we need the time and the space for robust, frank exchanges.
"I'm proud of the track record of our SNP government, I'm proud of the exceptional leaders we have, I'm proud of the team members that we have around the cabinet table.
"But in an election contest, people don't want to hear that we're just going to do what we've always done.
"If we just do what we've always done, then we'll get the same outcomes, and all of us here are agreed on the need for reform."
Meanwhile, former minister Ash Regan pitched herself as the candidate that would push quickest for Scottish independence, saying: "This is the time for brave hearts, not faint hearts."