North Korean leader Kim Jong Un has ordered unspecified steps to further develop relations with Russia after his visit to the country, according to state media.
It comes as his foreign rivals warn any cooperation on military weapons would be dangerous and bring consequences.
Experts speculated North Korea and Russia likely discussed banned arms transfer deals and other co-operation measures during Mr Kim's six-day trip last week.
They say the two countries are serious about sharply boosting ties while they are engaged in separate confrontations with the West.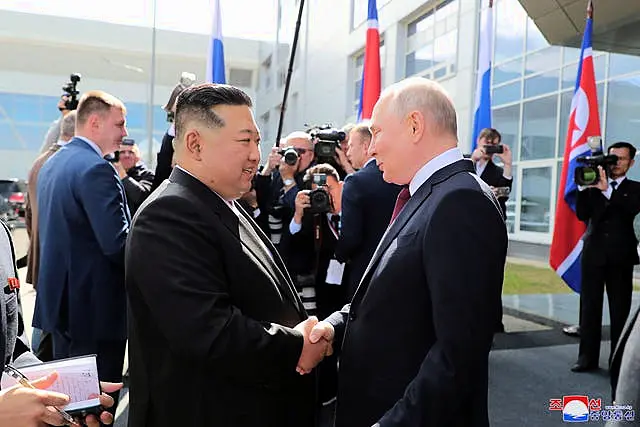 During a Politburo meeting on Wednesday, Mr Kim arranged for work to be done on further developing bilateral ties at "a new high level at the practical stage" to consolidate "the success" of his Russia trip, the official Korean Central News Agency (KCNA) said on Friday.
KCNA said Mr Kim underscored the need to expand bilateral co-operation in every field, making a substantial contribution to the promotion of the well-being of the people of the two countries.
While traveling in Russia's Far East, Mr Kim met with President Vladimir Putin and visited key Russian military and technology sites. The two suggested they would co-operate on defence issues but gave no specifics, which left South Korea and its allies — including the United States — uneasy.
Observers say Mr Kim could ship ammunitions to refill Mr Putin's exhausted arms stores to back his war efforts in Ukraine in return for receiving sophisticated weapons technologies and economic aid.
The US, South Korea and their partners have warned Russia and North Korea would pay a price if they proceed with deals in breach of UN Security Council resolutions that ban any weapons trade with North Korea. Russia, a permanent member of the UN Security Council, voted for those UN resolutions.
Speaking before the UN General Assembly on Wednesday, South Korean President Yoon Suk Yeol said any action by a permanent UN Security Council member to circumvent international norms would be dangerous and "paradoxical."
Mr Yoon said South Korea, together with its allies, "will not sit idly by" over a possible Pyongyang-Moscow weapons deal that he said would pose a threat to not only Ukraine but also South Korea.