Lachlan Murdoch, the eldest son of media titan Rupert Murdoch, was named the sole chairman of News Corp and will continue as the chair and chief executive of Fox Corp, the companies said on Thursday, settling for now the issue of succession in one of the world's most powerful media empires.
The younger Murdoch will preside over influential news brands such as the Wall Street Journal, Fox News and the Sun – in Australia, the United States and UK – as well as Fox Sports, Fox Entertainment and others.
Lachlan Murdoch (52) is the third-oldest of Rupert Murdoch's six children. Born in London to Murdoch and his second wife, Anna, he grew up steeped in the media business. In an interview with the Australian Broadcasting Corporation's Dynasties programme, he said that every morning, before catching the school bus, he and his siblings would read the morning papers – The New York Post, The New York Times, the Daily News and the Wall Street Journal – with his father flagging stories of interest, ordering: "Read that."
The best way to capture their father's attention in the evenings was to talk about media or politics, according to Paddy Manning's 2022 biography, The Successor. As Lachlan Murdoch got older, he would spend summers working in the family business, cleaning the presses for Sydney's Daily Mirror, or working as a cub reporter for the San Antonio Express-News.
A rivalry between Lachlan and his younger brother, James, played out from an early age, where even family Monopoly games "were intense and everybody was prepared to cheat," according to one published account.
Lachlan Murdoch and his siblings attended Dalton, a private school on Manhattan's Upper East Side, and other elite schools, including Trinity School, where he formed the Trinity Conservative Society "in an attempt to create a healthy balance between all points of view," according to one yearbook entry cited by Manning.
After graduating in 1994 from Princeton, where he majored in philosophy, he entered the family business, spending three years in Australia, ascending the corporate ladder to become chairman of News Limited.
In 1999, Lachlan Murdoch assumed responsibility for print operations in the US. He rose to deputy chief operating officer at News Corp, overseeing the company's US television stations group and publishing assets, including the New York Post. Many saw him as being trained to assume the corporate reins as his father's successor.
He abruptly resigned in 2005, creating questions about who would succeed Rupert Murdoch at the helm of the media empire he had assembled from a single newspaper in Australia. Lachlan Murdoch founded Illyria Pty, a private investment company, whose acquisitions included a network of Australian radio stations. In 2015, he returned to the family business, sharing the title of co-chairman of 21st Century Fox with his brother, James.
The sale of Fox's entertainment assets to Walt Disney in 2019, in a $71-billion transaction, shrank the size of the Murdochs' once-vast media holdings. The newly constituted Fox was reduced to a handful of assets, including the Fox broadcast network, Fox News, Fox Sports and Fox Business, with Lachlan Murdoch serving as its executive chair and chief executive officer.
Brother James Murdoch left Fox with the close of the Disney transaction.
As chief executive of Fox Corp since 2019, Lachlan Murdoch has presided over the media properties during seismic change in the industry, as viewers cut their cable subscriptions in favour of streaming services. Even so, Fox News has largely maintained its rating dominance, in part because of its appeal among politically conservative-leaning American viewers.
Lachlan Murdoch doesn't speak publicly about his politics, according to an article in the New York Times magazine, which cited the 2016 memoir Making Headlines, by Chris Mitchell, the longtime editor of The Australian, as describing "Lachlan's conservatism is more vigorous than that of any Australian politician" and that his views were usually to the right of his father's.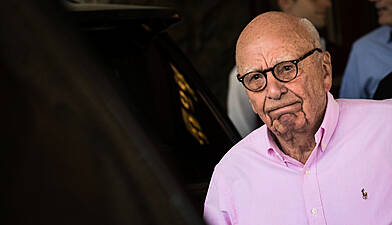 World
Read Rupert Murdoch's letter to staff as the billi...
A Fox spokesperson called that "just speculation," adding "it wouldn't be fair to categorise him as a conservative."
Fox's loyalty to those viewers became a hot-button issue during discovery for Dominion Voting Systems' lawsuit against Fox, in which the voting technology firm claimed that Fox perpetuated falsehoods about its voting machines in an effort to appease the network's base of supporters of former US president Donald Trump. Fox settled the lawsuit for $787.5 million in April, avoiding a trial in which Lachlan and his father were expected to testify.
In public remarks in the weeks following the settlement, Lachlan said that Fox had been acting as a news organisation reporting on the newsworthy events of the day, and recommitted to Fox's programming strategy.
While Rupert Murdoch built his legacy pursuing the television, movie and newspaper businesses with equal abandon, Lachlan's legacy is still taking shape. In calls with investors, he often becomes animated when speaking about Tubi, an ad-supported streaming service that the company acquired for $440 million in 2020, and which is now valued at $3 billion.