Newcastle United fans are raising money in support of a children's charity in memory of Christian Atsu, the former player who died in the Turkey-Syria earthquake.
The popular winger was an ambassador for the Arms Around the Child charity, which is aiming to build a school in his native Ghana.
The fans group Talk of Tyneside said supporters wanted to show their appreciation for the ex-player whose death was confirmed on Saturday, 12 days after the devastating quake struck.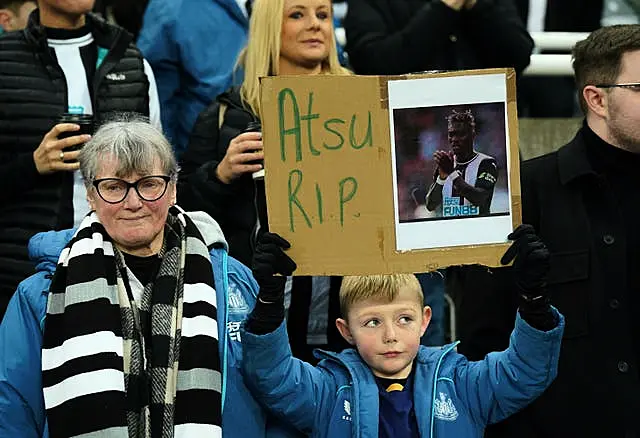 The 31-year-old had been playing for Turkish Super Lig side Hatayspor, but still has family living in the north east of England.
A spokesperson for Talk of Tyneside said: "Christian Atsu was a well-loved figure on Tyneside and this has been highlighted by the scale of tributes paid to him by Newcastle United Football club and its fans.
"Following his passing, we were hoping to find a way to give supporters a way to show appreciation for his service to the club, and raising money for a fantastic charity that he worked with feels like the perfect way to do so."
Ellie Milner, from Arms Around The Child, said: "Christian touched the lives of so many with his charity work, we are determined to keep his legacy alive by raising funds to finish the school buildings in Senya Beraku – and support the children he loved so much."
Following the passing of Christian Atsu this week, we have been speaking with & started a fundraiser for Arms Around The Child, a great charity that Christian was an ambassador for.

We hope that you can make a small donation in Christian's memory. #NUFChttps://t.co/dF8udAXUFD pic.twitter.com/CqlgiLFntd

— Talk of Tyneside (@TalkofTyneside) February 19, 2023
Atsu's experience of growing up in Ghana with very little meant he never forgot his roots.
He once said: "You never forget the person you were before you left. I survived but I don't forget,".
To donate to the fundraiser, visit https://armsaroundthechild.enthuse.com/pf/talkof-tyneside