Storms that dropped possibly dozens of tornadoes have killed at least 21 people in small towns and big cities across the US South and Midwest.
The storms tore a path through the Arkansas capital, collapsing the roof of a packed concert venue in Illinois, and causing widespread damage throughout the region.
Confirmed or suspected tornadoes in at least eight states destroyed homes and businesses, splintered trees, and lay waste to neighbourhoods across a broad swathe of the country.
The dead included seven in one Tennessee county, four in the small town of Wynne, Arkansas, four in Illinois, and three in nearby Sullivan, Indiana.
Other deaths from the storms that hit Friday night into Saturday were reported in Alabama and Mississippi, along with one near Little Rock, Arkansas, where the mayor said more than 2,000 buildings were in one tornado's path.
Stunned residents of Wynne, a community of about 8,000 people 50 miles west of Memphis, Tennessee, woke on Saturday to find the high school's roof shredded and its windows blown out.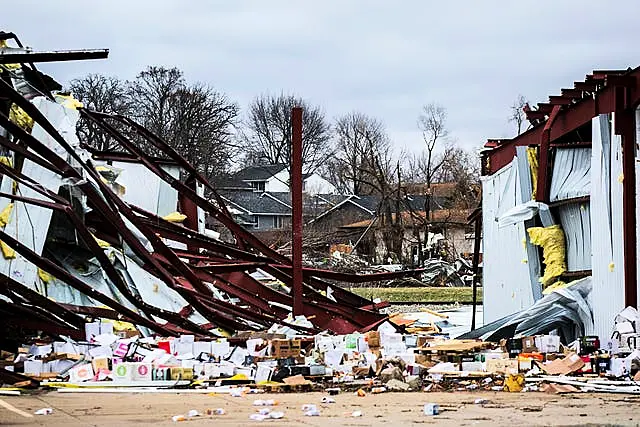 At least seven people died in Tennessee's McNairy County, east of Memphis along the Mississippi border, said David Leckner, the mayor of Adamsville.
"The majority of the damage has been done to homes and residential areas," Mr Leckner said, adding that although it appeared all people were accounted for, crews were going door to door to be sure.
In Belvidere, Illinois, some of the 260 people attending a heavy metal concert at the Apollo Theatre pulled a 50-year-old man from the rubble after part of the roof collapsed; he was dead when emergency workers arrived. Officials said 40 other people were injured, including two with life-threatening injuries.
The venue's Facebook page said the bands scheduled to perform were Morbid Angel, Crypta, Skeletal Remains and Revocation.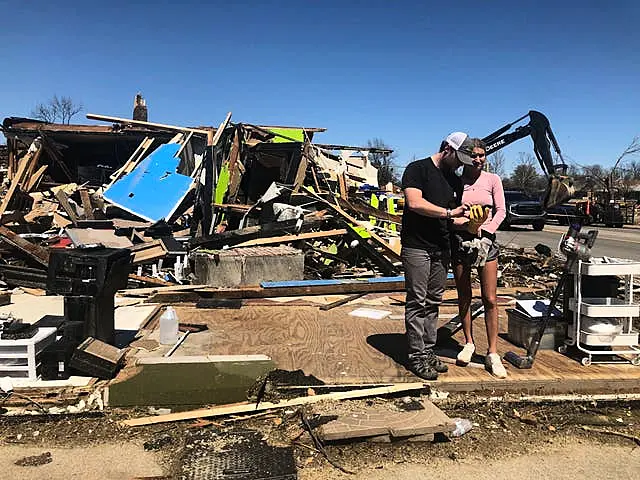 Crews worked on Saturday to clean up around the Apollo, with forklifts pulling away loosely hanging bricks. Business owners picked up shards of glass and covered shattered windows.
In Crawford County, Illinois, three people were killed and eight others injured after a tornado hit around New Hebron, according to Bill Burke, the county board chair.
That is not far from where three people were killed in Indiana's Sullivan County, about 95 miles south-west of Indianapolis.
Sullivan mayor Clint Lamb said at a news conference that an area south of the county seat of about 4,000 "is essentially unrecognisable right now" and that several people were rescued from rubble overnight.
There were reports of as many as 12 people injured, he said, and search-and-rescue teams combed damaged areas.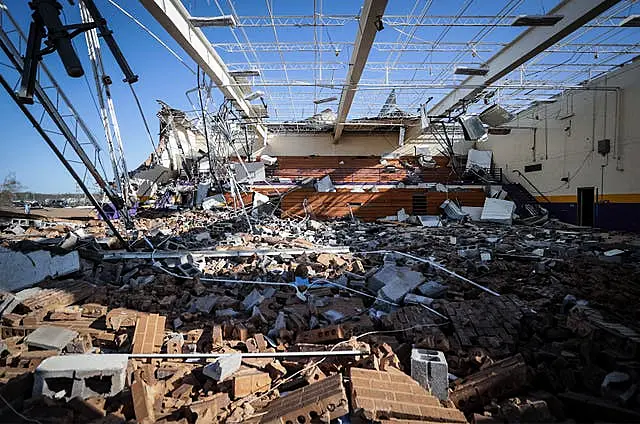 "Quite frankly, I'm really, really shocked there isn't more as far as human issues," he said, adding that recovery "is going to be a very long process".
In the Little Rock area, at least one person was killed and more than two dozen were hurt, some critically, authorities said. Little Rock Mayor Frank Scott said that 2,100 homes and businesses were in the tornado's path, but that no assessment had been done on how many were damaged.
The National Weather Service said the tornado was a high-end EF3 twister with wind speeds up to 165 mph and a path as long as 25 miles.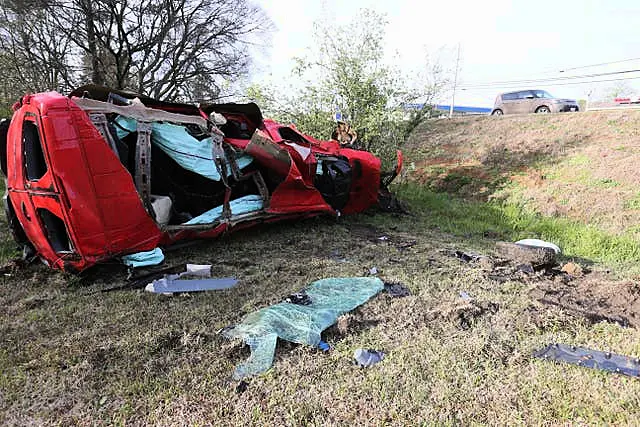 Arkansas governor Sarah Huckabee Sanders declared a state of emergency and activated the US National Guard to help local responders.
A suspected tornado killed a woman in northern Alabama's Madison County, said county official Mac McCutcheon. And in northern Mississippi's Pontotoc County, officials confirmed one death and four injuries.
The storms struck just hours after US President Joe Biden visited the Mississippi community of Rolling Fork, where tornadoes last week destroyed parts of town.
It could take days to determine the exact number of tornadoes, said Bill Bunting, chief of forecast operations at the Storm Prediction Centre. There were also hundreds of reports of large hail and damaging winds, he said.