Scottish Labour has condemned a "festering culture of secrecy" within the SNP after a £33,000 salary boost for a former Westminster leader was not made public.
Angus Robertson received the salary enhancement after the SNP's landslide victory in Scotland during the 2015 general election, when it won 56 out of 59 seats and became the third-largest party.
The now Scottish Government Constitution Secretary led his party in the House of Commons for a decade until 2017.
It is customary in Westminster for the Leader of the Opposition – currently Sir Keir Starmer – to receive the top-up.
According to the Times, the SNP's group executive at Westminster decided to boost Mr Robertson's salary using the same model.
Mr Robertson, who was not present at the meeting, had his salary boosted by £33,207 – the equivalent of a junior minister at the time.
But the Times reported that senior figures in the SNP – including party heavyweights in Edinburgh – were not informed of the wage increase.
It was funded using short money – taxpayer funding which is made available to all opposition parties based on the number of seats and votes they have.
Now Scottish Labour's deputy leader, Jackie Baillie, has urged the SNP to explain why the salary top-up was never registered.
It comes as the SNP faces questions over how more than £600,000 in party donations earmarked for independence campaigning was spent.
Both former chief executive Peter Murrell – who is married to former first minister Nicola Sturgeon – and former treasurer Colin Beattie were arrested and questioned before being released without charge while the investigation continues.
Ms Baillie said: "This is another example of the culture of secrecy and cover-up that has been allowed to fester at the heart of the SNP.
"It is unbelievable that the SNP and Angus Robertson both failed to declare that Mr Robertson's wages were topped up with public money.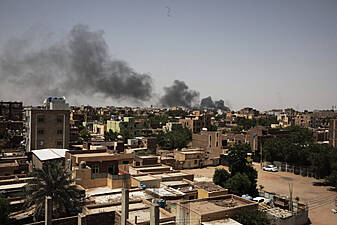 World
US embassy staff evacuated from Sudan by special f...
"There must be urgent clarification about why this payment was never registered and why senior figures in the SNP went to such extreme lengths to keep it a secret not just from the public but from other figures in their party.
"Scotland deserves better than the arrogant and sleaze-ridden SNP."
The SNP has been approached for further comment; however, a party spokesman previously said that "senior leadership remuneration followed the SNP becoming the third party at Westminster and was pegged below comparative UK Government and opposition positions".