Two Just Stop Oil activists have appeared in court charged with criminal damage and aggravated trespass after allegedly forcing a stoppage in play during Saturday's Gallagher Premiership final at Twickenham.
Samuel Johnson, 40, of Reydon, Suffolk, and Patrick Hart, 37, of Brislington, Bristol, invaded the pitch midway through the first half of the match between Saracens and Sale, Wimbledon Magistrates' Court was told on Monday.
Hart appeared in court wearing an orange T-shirt bearing the slogan Just Stop Oil, while Johnson wore a grey jumper.
They spoke only to confirm their name, age and address.
Vijay Khutan, prosecuting, said Johnson and Hart's intention was to obstruct the rugby match.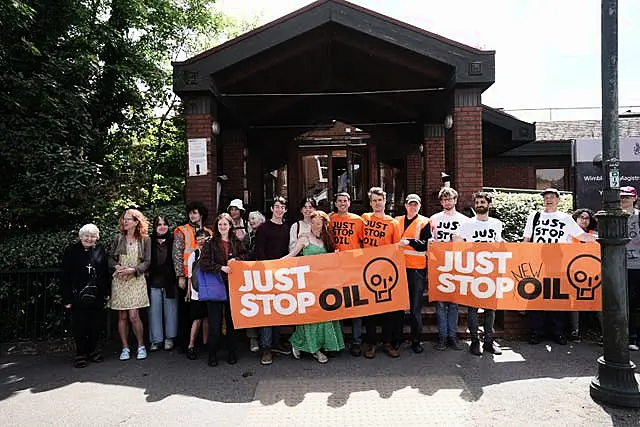 The pair threw orange cornflour on to the pitch, the court heard.
They were then subdued by stewards and led off the grass, Mr Khutan said.
Orange powder remained on the field as the match resumed.
Saracens went on to win 35-25.
The main cost of the criminal damage, which has yet to be calculated, was the clean-up of the powder, Mr Khutan said.
Depending on the cost, criminal damage carries a maximum of 10 years imprisonment upon conviction.
Magistrate Helen Jones sent the matter to be tried at a crown court.
Johnson and Hart will appear at Kingston Crown Court on June 26.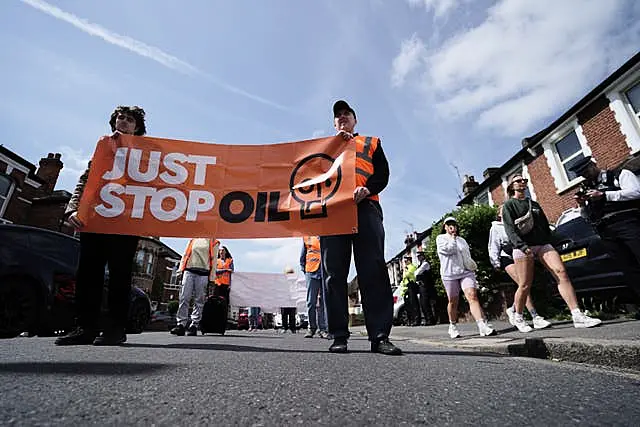 Speaking outside the court after the hearing, Hart, who works as a GP in Bristol, said the group will continue to disrupt sports events until its demands are met.
"Currently we are in a climate crisis," he said.
"We are looking at absolute hell on Earth, which awaits us much sooner than people realise, if we do not end all new fossil fuel projects immediately.
"We have been demanding this for a year now.
"We have been repeating our demands very clearly and making it absolutely clear that we are going to keep disrupting sports events, and causing disruption, until our demands are met."
The protest is similar to one that took place at the World Snooker Championship at the Crucible in Sheffield in April.
A man tipped orange paint on a table during the match between Robert Milkins and Joe Perry before a woman was prevented by referee Olivier Marteel from doing the same thing on the opposite table.