Boris Johnson delivered a withering attack on Rishi Sunak as he quit the British Parliament, saying there was a need for a "properly Conservative government".
In a rallying call to his followers, Mr Johnson, who hinted at a comeback even as he walked away from the Commons, hit out at repeated tax hikes and a failure to deliver on the opportunities of Brexit.
Mr Johnson's decision to quit Parliament rather than face the consequences of the Privileges Committee probe into partygate leaves Mr Sunak with the immediate prospect of a tricky by-election in Uxbridge and South Ruislip.
But the former UK prime minister's strongly-worded resignation statement made clear that he has little sympathy for the predicament he has handed his successor, with Mr Sunak blamed by Mr Johnson and his allies for ousting him from No 10.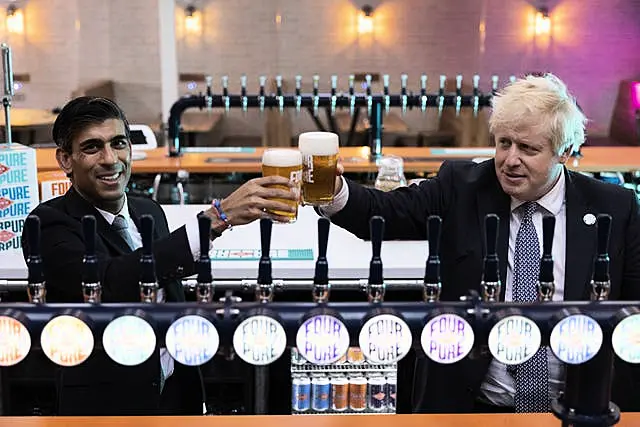 Mr Johnson left office after repeated scandals including the partygate row over lockdown breaches in Downing Street, the Owen Paterson lobbying affair and his handling of complaints against Chris Pincher.
But he defended his record and took aim at Mr Sunak's policy agenda.
"When I left office last year the government was only a handful of points behind in the polls.
"That gap has now massively widened," Mr Johnson said.
"Just a few years after winning the biggest majority in almost half a century, that majority is now clearly at risk."
The average poll shares for the week ending July 10th, 2022 when Mr Johnson announced his resignation as British prime minister had the Tories on 30 per cent, 12 points behind Labour on 42 per cent.
The seven-day average for June 9th, 2023 had a 13-point gap between Labour on 43 per cent and the Tories on 30 per cent, although the gap has been wider than that in recent months.
Mr Johnson said: "Our party needs urgently to recapture its sense of momentum and its belief in what this country can do.
"We need to show how we are making the most of Brexit and we need in the next months to be setting out a pro-growth and pro-investment agenda.
"We need to cut business and personal taxes – and not just as pre-election gimmicks – rather than endlessly putting them up.
"We must not be afraid to be a properly Conservative government.
"Why have we so passively abandoned the prospect of a free trade deal with the US? Why have we junked measures to help people into housing or to scrap EU directives or to promote animal welfare?
"We need to deliver on the 2019 manifesto, which was endorsed by 14 million people.
"We should remember that more than 17 million voted for Brexit."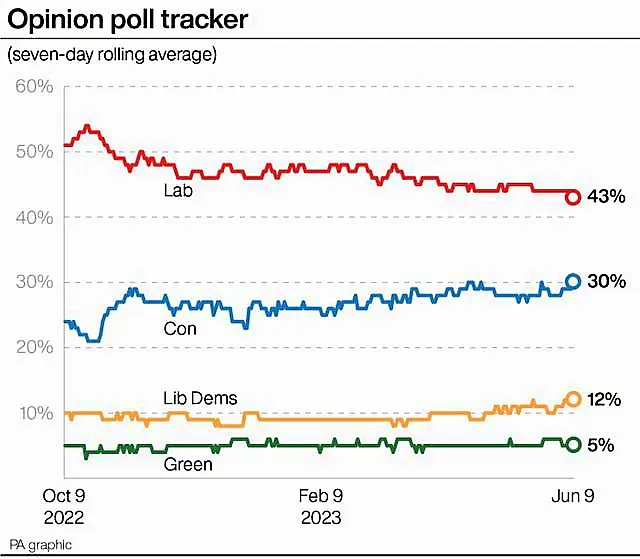 But he said the Conservative Party "has the time to recover its mojo and its ambition and to win the next election".
Mr Johnson said he was leaving Parliament "at least for now", suggesting he does not believe his political career is over.
It had long been suspected he could abandon Uxbridge and South Ruislip, where he had a majority of 7,210 in 2019, in favour of a safer seat.
His resignation came just hours after leading ally Nadine Dorries resigned her Mid Bedfordshire seat, which has a majority of more than 24,000, fuelling speculation that Mr Johnson could target that safer constituency for a comeback.
But both seats will be heavily targeted by opposition parties seeking to deal a blow to Mr Sunak ahead of the UK general election expected next year.
Defeat in either seat would pile pressure on Mr Sunak to change course, with allies of Mr Johnson likely to be among the most vocal critics.