Hungary has signed new agreements to ensure its continued access to Russian energy – a sign of the country's continuing diplomatic and trade ties with Moscow which have confounded some European leaders amid the war in Ukraine.
Speaking at a news briefing in Moscow, Hungarian foreign minister Peter Szijjarto said Russian state energy company Gazprom has agreed to allow Hungary, if needed, to import quantities of natural gas beyond the amounts agreed to in a long-term contract that was amended last year.
The price of the gas, which would reach Hungary through the Turkstream pipeline, would be capped at €150 per cubic meter, Mr Szijjarto said, part of an agreement that will allow Hungary to pay down gas purchases on a deferred basis if market prices go above that level.
Mr Szijjarto's trip to Russia's capital was unusual for an official from a European Union (EU) country.
Most members of the 27-nation bloc have distanced themselves from Russian president Vladimir Putin over his invasion of Ukraine and sought to wean their countries off Russian fossil fuels.
The Hungarian government has lobbied heavily in the EU to be exempted from any sanctions imposed on Russian gas, oil or nuclear fuel, and has also threatened to veto proposed EU actions against Moscow.
Mr Szijjarto is one of the only officials from an EU country to have met with Russian officials in Moscow since the war in Ukraine began more than a year ago.
A February trip also made the minister the first senior official from an EU country to visit Belarus since the nation's authoritarian president, an ally of Mr Putin, initiated a harsh crackdown on opposition in 2020.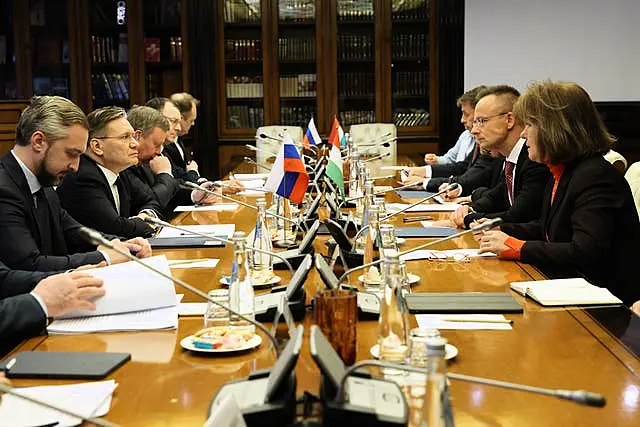 While in Moscow, Mr Szijjarto met with Russian deputy prime minister for energy Alexander Novak and the chief executive of Russian state nuclear energy company Rosatom, Alexey Likhachev.
During the press briefing, he insisted access to Russian energy supplies is crucial for Hungary's security regardless of political considerations brought on by the war.
"As long as the issue of energy supply is a physical issue and not a political or ideological one, like it or not, Russia and co-operation with Russia will remain crucial for Hungary's energy security," Mr Szijjarto said.