Eva Fahidi-Pusztai, a Holocaust survivor who spent the later years of her life warning of the re-emergence of far-right populism and discrimination against minorities across Europe, has died aged 97.
The International Auschwitz Committee said Ms Fahidi-Pusztai died in Budapest on Monday. A cause of death was not given.
"Auschwitz survivors all over the world bid farewell to their fellow sufferer, friend and companion with deep sadness, gratitude and respect," the group said in a statement on its website.
Ms Fahidi-Pusztai was born in 1925 in Debrecen, Hungary, into an upper middle-class Jewish family. Her family converted to Catholicism in 1936 but that did not shield them from persecution.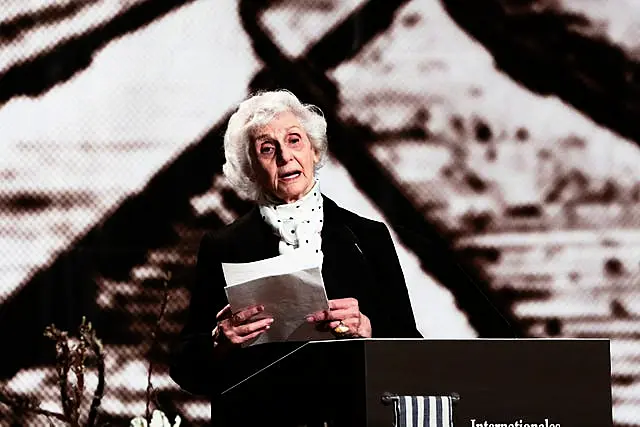 After the occupation of Hungary by the German Wehrmacht in early 1944, the family was forced to move to a ghetto.
In June 1944, the Jewish population was rounded up in a brick factory and deported to the Nazis' Auschwitz death camp in several transports.
Ms Fahidi-Pusztai was 18 years old when she and her family were deported in the last transport to Auschwitz on June 27th, 1944.
Her mother and little sister Gilike were murdered immediately after their arrival. Her father succumbed to the inhumane camp conditions a few months later, the Auschwitz Committee said.
Six million European Jews were murdered by Nazi Germany and its henchmen across Europe during the Holocaust — including 49 members of Ms Fahidi-Pusztai's family, Germany's news agency dpa reported. She was the only one who survived.
She was deported from Auschwitz to a subcamp of the Buchenwald concentration camp in the town of Allendorf, in Hesse province. For 12 hours a day, she had to work as a slave labourer in an explosives factory at the Muenchmuehle concentration camp there.
In March 1945, only weeks before the end of the Second World War, she managed to escape on a so-called death march taking concentration camp inmates to the west as Soviet soldiers approached from the east. It was then that she was freed by American soldiers.
"It was only many years after her liberation, that Eva Fahidi began to speak about her memories of the murder of her family and her existence as a slave labourer," Christoph Heubner, executive vice president of the International Auschwitz Committee, said in Berlin.
"Her life remained marked by the loss of her family, but nevertheless, with an infinitely big heart, she persisted in her joy of life and trusted in the power of memory," Mr Heubner added.
After the war, Ms Fahidi-Pusztai moved back to Hungary. She later wrote two books about her experiences and visited schools in Germany to share her traumatic experiences from the Holocaust with students and warn of the re-emergence of far-right populism in Europe.
She also worked closely together with the Buchenwald Memorial at the former camp site near the city of Weimar in eastern Germany, to ensure that especially the fate of Jewish women is not forgotten.
"Eva Fahidi's books, which show her to be a great stylist and clear-sighted storyteller, will remain as will her fears and warnings in the face of populist tirades and right-wing extremist violence against Jewish people and Sinti and Roma not only in her native Hungary but in many European countries," the International Auschwitz Committee wrote in its farewell message.
Sinti and Roma minorities were also persecuted during the Nazi era.