Another attempt to pull free a Bahamas-flagged luxury cruise ship carrying 206 people that ran aground in the world's northern-most national park in Greenland has failed after trying to use the high tide, authorities said.
It was the third attempt to free the MV Ocean Explorer.
Earlier this week, the cruise ship made two failed attempts to float free on its own during high tide.
The cruise ship ran aground above the Arctic Circle on Monday in Alpefjord, which is in the Northeast Greenland National Park.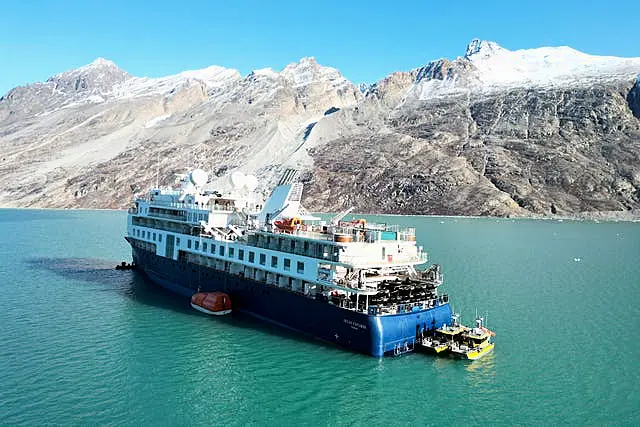 The park is almost as much land as France and Spain combined, and approximately 80% is permanently covered by an ice sheet.
Alpefjord sits about 149 miles away from the closest settlement, Ittoqqortoormiit, which itself is around 870 miles from the country's capital, Nuuk.
The Greenland Nature Institute's fisheries research vessel Tarajoq attempted to pull the Ocean Explorer free at high tide on Wednesday morning.
"Unfortunately, the attempt was not successful," said the Danish Joint Arctic Command, which was co-ordinating the operation to free the cruise ship.
In a statement, the Arctic Command's "first priority" was to have its larger inspection vessel Knud Rasmussen reach the site, saying the ship was expected on Friday evening as it had to "slow down a bit" on its way because of the weather.
The cruise ship is operated by Australia-based Aurora Expeditions and has passengers from Australia, New Zealand, South Korea, the UK and the US.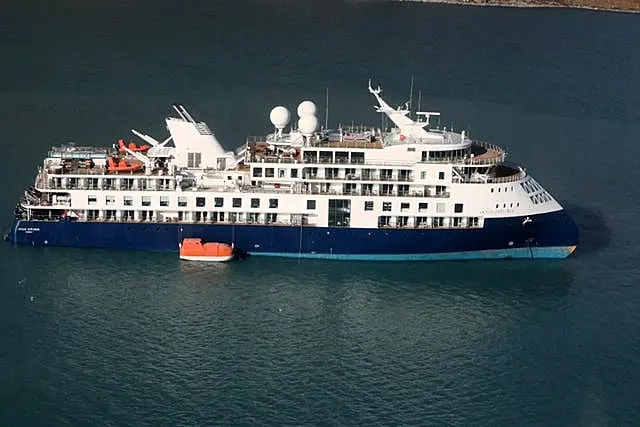 It has an inverted bow, shaped like the one on a submarine. It has 77 cabins, 151 passenger beds and 99 beds for crew, and several restaurants.
Australian newspaper the Sydney Morning Herald quoted a retired couple from Australia, Steven Fraser and Gina Hill.
On board there are "a lot of wealthy older people" and "everyone's in good spirits", Mr Fraser was quoted as saying by the daily. "It's a little bit frustrating, but we are in a beautiful part of the world."
Mr Fraser said "we do have a couple of cases of Covid, but there's a doctor on board", adding he himself had come down with Covid on the ship.
The Arctic Command earlier had said there were other ships in the vicinity of the stranded cruise liner.
So are members of the Sirius Dog Sled Patrol, a Danish naval unit that conducts long-range reconnaissance and enforces Danish sovereignty in the Arctic wilderness. The latter visited the ship on Tuesday and reported that everyone on board was fine and no damage to the vessel had been reported.
Greenland is a semi-independent territory that is part of the Danish realm.