Former president Donald Trump is copping backlash from Republicans after he launched a direct attack on Florida Governor Ron DeSantis and his legislative ban on abortion for pregnancies beyond six weeks of gestation.
Mr Trump appeared on NBC's Meet the Press programme to discuss the run-up to the 2024 presidential election and his policies for his possible second term.
Whilst on the programme, Mr Trump condemned the Bill signed by Mr DeSantis, which prohibits abortions after six weeks; before many women even know that they are pregnant.
Mr Trump said: "I think what he did is a terrible thing and a terrible mistake."
Mr Trump repeatedly refused to be drawn into a discussion as to whether he would support a federal ban on abortion but did say he could "live with" the procedure being banned by individual states or nationwide through federal action.
However, he said, "from a legal standpoint, I think it's probably better" for abortion legislation to be handled at the state level.
Mr Trump has so far dominated the 2024 campaign field and has, at times, spurned anti-abortion groups that traditionally have a major influence on the Republican primaries.
But his direct attack on the Florida Governor could give his Republican opponent new fodder as Mr DeSantis tries to regain momentum in his campaign and solidify his second-place standing.
Speaking to an Iowa radio station on Monday, Mr DeSantis said he was proud to have signed the Florida legislation, which he called "noble and just".
Mr DeSantis told Radio Iowa: "I don't know how you can even make the claim that you're somehow pro-life if you're criticising states for enacting pro-life protections for babies."
He went on to slam the former US president's statement that both sides of the abortion debate could be worked with to come up with the best possible policy.
Mr DeSantis said: "I think all pro-lifers should know that he's preparing to sell you out."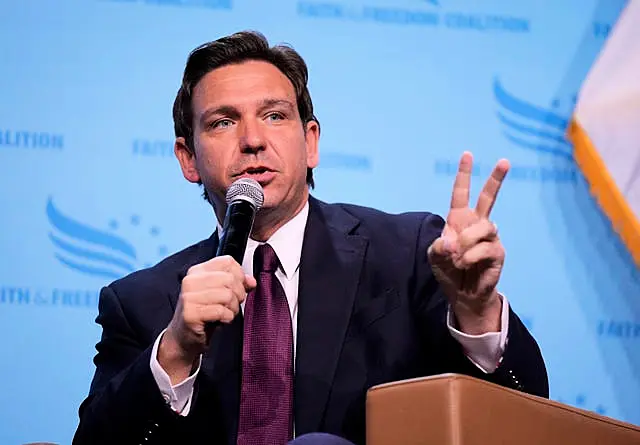 On Monday, Republican senator for South Carolina Tim Scott specifically named Mr Trump while discussing abortion legislation at a campaign stop in Mason City, Iowa.
He mentioned other unnamed Republican candidates but specifically accused Mr Trump of retreating on the issue.
Mr Scott said: "Frankly, those pro-life folks that we really want to stand with us are not standing.
"President Trump said he would negotiate with Democrats and walked back away from where I believe we need to be, which is a 15-week limit on the federal level."
Other Republicans in some key states, including those backing his rivals, expressed displeasure after the interview with NBC.
South Carolina state representative John McCravy, who sponsored the most recent, restrictive abortion measures, said he was "certainly disappointed" with Mr Trump's words.
Mr McCravy said: "It sounded completely out of step with his staunch support for life while he was president."