Both Russia and China are sending government delegations to North Korea this week for events marking the 70th anniversary of the armistice that halted fighting in the 1950-1953 Korean War.
The visits suggest North Korea is further opening up after years of pandemic isolation and is eager to showcase its partnerships with authoritarian neighbours in the face of deepening nuclear tensions with Washington, Seoul and Tokyo.
North Korea's state media said on Wednesday that a Russian delegation led by defence minister Sergei Shoigu arrived in Pyongyang on Tuesday evening, where they were greeted by senior North Korean officials including defence minister Kang Sun Nam.
Mr Shoigu's ministry said the delegation's visit will help strengthen relations and mark "an important stage" in the development of bilateral co-operation.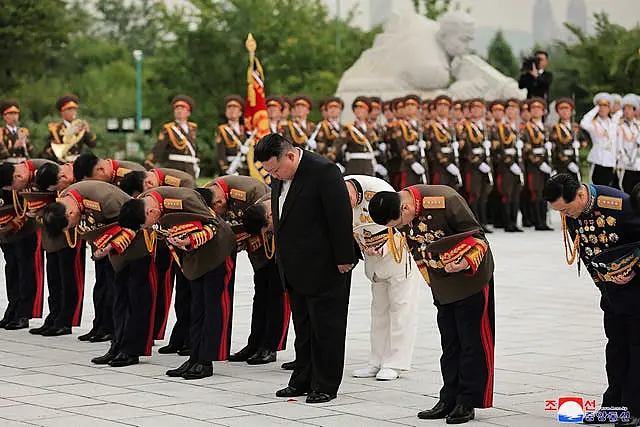 China's ruling Communist Party is also sending a midlevel official, Li Hongzhong, in hopes of restoring exchanges between the allies.
North Korea has been preparing huge celebrations for the anniversary that are likely to be capped off by a military parade in the capital, Pyongyang, where leader Kim Jong Un could showcase his most powerful, nuclear-capable missiles designed to target neighbouring rivals and the US.
Pyongyang's official Korean Central News Agency said that Mr Kim and his top defence and foreign policy officials visited two cemeteries, including one for Chinese troops who died while fighting alongside North Korea during the war.
Mr Kim expressed gratitude for the Chinese soldiers who dedicated their lives to repel imperialist aggression, calling them "martyrs" who would be "immortal in the hearts of the Korean people".
North Korea launched the Korean War, an unsuccessful attempt to conquer its southern rival. No peace treaty ending the conflict has ever been signed, and the border between the Koreas remains one of the most tense in the world.
The North still celebrates the armistice as a victory in the "Grand Fatherland Liberation War".
The conflict brought in forces from the newly created People's Republic of China, aided by the then-Soviet air force, while South Korea, the US and troops from various countries under the direction of the United Nations battled to repulse the invasion.
Some experts say North Korea might ramp up its weapons tests around the anniversary of the armistice on Thursday, July 27th.
North Korea has conducted three separate rounds of missile firings since last week, apparently in protest of the United States sending naval vessels, including a nuclear-armed submarine, to South Korea in a show of force.