US president Joe Biden made a robust case before the UN General Assembly on Tuesday that the world must remain united in defending Ukraine against Russian aggression, warning that no nation can be secure if "we allow Ukraine to be carved up".
He called on world leaders not to let support for Ukraine diminish, arguing that Russia is counting on countries to grow tired of prolonged conflict in Kyiv which will "allow it to brutalise Ukraine without consequence".
Russia alone is standing in the way of a resolution, Mr Biden argued, saying that Moscow's price for peace was "Ukraine's capitulation, Ukraine's territory and Ukraine's children".
"I ask you this: if we abandon the core principles of the United States to appease an aggressor, can any member state in this body feel confident that they are protected?" Mr Biden said in his address. "If we allow Ukraine to be carved up, is the independence of any nation secure?
He continued: "I'd respectfully suggest the answer is no." He implored the leaders to stand up to "this naked aggression today to deter other would-be aggressors tomorrow".
During his address, Mr Biden described the partnerships that the US government was fostering around the globe — from Africa to the Indo-Pacific — that he said were creating economic and other advancements, even as he stressed that those relationships were not absut "containing any country" — a clear reference to Beijing.
"When it comes to China, let me be clear and consistent," Mr Biden said. "We seek to responsibly manage the competition between our countries so it does not tip into conflict."
In his 30-minute address, Mr Biden repeatedly emphasized the value of institutions such as the United Nations and international coalitions that has helped the world confront significant challenges such as poverty and disease, as well as echoing his defence of democracy, a common theme of his presidency.
"We will not retreat from the values that make us strong," Mr Biden said. "We will defend democracy — our best tool to meet the challenges that we face around the world. And we're working to show how democracy can deliver in ways that matter to people's lives."
The annual forum is a chance for Mr Biden to showcase to other world leaders — and the 2024 US electorate — that he has reestablished US leadership on the world stage that he says was diminished under former US president Donald Trump.
Mr Biden previewed his thinking in a pair of fundraisers on Monday evening, telling supporters that he stood up to Vladimir Putin's invasion, and questioning whether Mr Trump, the 2024 Republican presidential front-runner, would have even attempted to help Ukraine stop the Russian land grab if he were in power.
"I will not side with dictators like Putin. Maybe Trump and his MAGA friends can bow down, but I won't," Mr Biden told supporters at a Broadway fundraiser.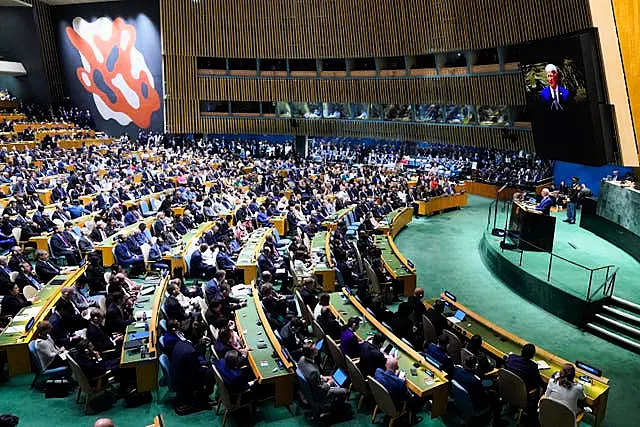 There were some notable absences as Mr Biden made his case before the General Assembly: British prime minister Rishi Sunak, French president Emmanuel Macron, Chinese president Xi Jinping and Mr Putin are all skipping the gathering.
For Mr Biden, the more important audience for Tuesday's speech could be closer to home as he looks to make the case to voters that he has skillfully handled a complicated foreign policy agenda and that the experience that comes with age has proved to be an asset.
It is an argument that the 80-year-old president is likely to continue to make to try to counter skepticism — even in his own Democratic Party — among voters who are concerned about his age.
"We rallied the world to support Ukraine and united Nato because I was convinced from the beginning that Putin's counting on Nato not being able to stick together," Mr Biden said at another Monday fundraiser. "He's still trying. And our allies know once again, the United States can be counted on."
Mr Biden's message of unwavering support for Ukraine will play out as Congress is increasingly divided over providing additional funding for Kyiv.
Mr Biden has sought a package of $13.1 billion in additional military aid for Ukraine and $8.5 billion for humanitarian support. But conservative Republican lawmakers have been pushing for broad federal spending cuts and some of those allied with Mr Trump are specifically looking to stop money to Ukraine.
Mr Biden also asked the UN Security Council to immediately authorise the Kenya-led multinational force to help fight gangs and restore peace in Haiti.
In his speech at the General Assembly he thanked Kenyan president William Ruto for his "willingness to serve as lead nation of UN security support mission" in the Caribbean nation where growing gang violence has killed many.
Kenya's decision to lead that mission has been criticised by Mr Ruto's opponents and Haitians have been skeptical about that mission.
"I call on the Security Council to authorise this mission now," Mr Biden said. "The people of Haiti cannot wait much longer."
After the speech, Mr Biden planned to meet Antonio Guterres, the UN secretary-general, as well as leaders from the so-called C5 group of Central Asian nations, which include Kazakhstan, Kyrgyzstan, Tajikistan, Turkmenistan and Uzbekistan.
The meeting was expected to focus on regional security, trade, climate change, ongoing reforms to improve governance and other issues.
Mr Xi has stepped up his own courting of those countries. During his own summit in May with the Central Asian leaders, Mr Xi promised to build more railway and other trade links with the region and proposed jointly developing oil and gas sources.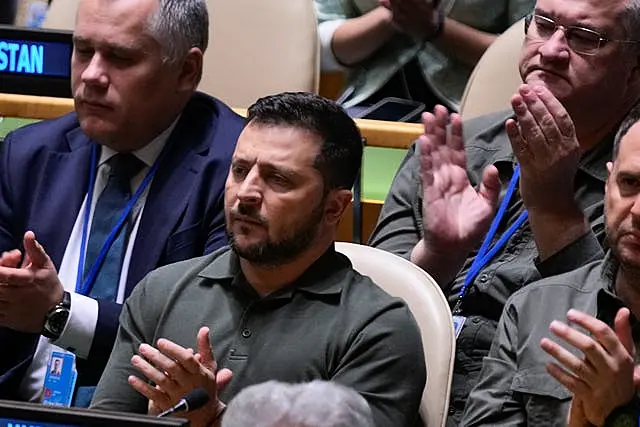 White House national security adviser Jake Sullivan told reporters last week that Mr Biden's meeting with those leaders should not be seen as an effort to counterbalance Chinese influence in the region.
The officials played down the fact that the leaders of the other permanent members of the U.N. Security Council – the UK, France, Russia and China — won't be in New York this week and instead emphasised the importance that Mr Biden attaches to showing up at the annual diplomatic forum.
However, Mr Biden does not plan to attend a special summit on climate that Mr will host on Wednesday, where countries are encouraged to bring new ideas and proposals on how to further cut emissions and combat climate change. John Kerry, the US climate envoy, is to attend in Mr Biden's place.
Mr Biden plans to meet Brazilian president Luiz Inacio Lula da Silva on Wednesday, as well as Israeli Prime Minister Benjamin Netanyahu. Senior administration officials said the two leaders will discuss issues including Iran but declined to elaborate further.
Mr Biden is scheduled to host talks on Thursday at the White House with Ukrainian president Volodymyr Zelenskiy.