Stand-in captain Steph Catley said Sam Kerr still played a vital role in Australia's 1-0 win over Ireland, despite the totemic striker being ruled out of the Women's World Cup opener by injury.
Kerr was sidelined by a calf injury sustained in training on Wednesday and will also miss the co-hosts' second Group B match against Nigeria in Brisbane next week.
Catley said the players were "heartbroken" by the news, but the defender replaced Kerr as captain as well as penalty taker, converting a 52nd-minute spot kick to give the Matildas the win.
"We had to really gather ourselves pretty quickly. But we used her spirit and used the fact that she wasn't able to be out there with us to help us push on," the defender told reporters at Stadium Australia.
"That all adds to what we already bring and I think that's what it's going to take for as long as maybe she misses, but she's got a role still whenever she plays, she's a master for us.
"She's so, so important, she's our spiritual leader. Sam was involved non-stop, from the first chat in the locker room to the last chat."
Kerr, who is the all-time leading goalscorer for her country with 63 goals, watched the game from the bench at Stadium Australia, which was filled with a record crowd of 75,784 fans.
"I wanted to share this with everyone, so there is no distraction from us doing what we came here to achieve," Kerr posted on Instagram barely an hour before kickoff.
"Of course I would have loved to have been out there tonight, but I can't wait to be a part of this amazing journey which starts now."
The team said she would re-assessed by the medical team after the Nigeria match.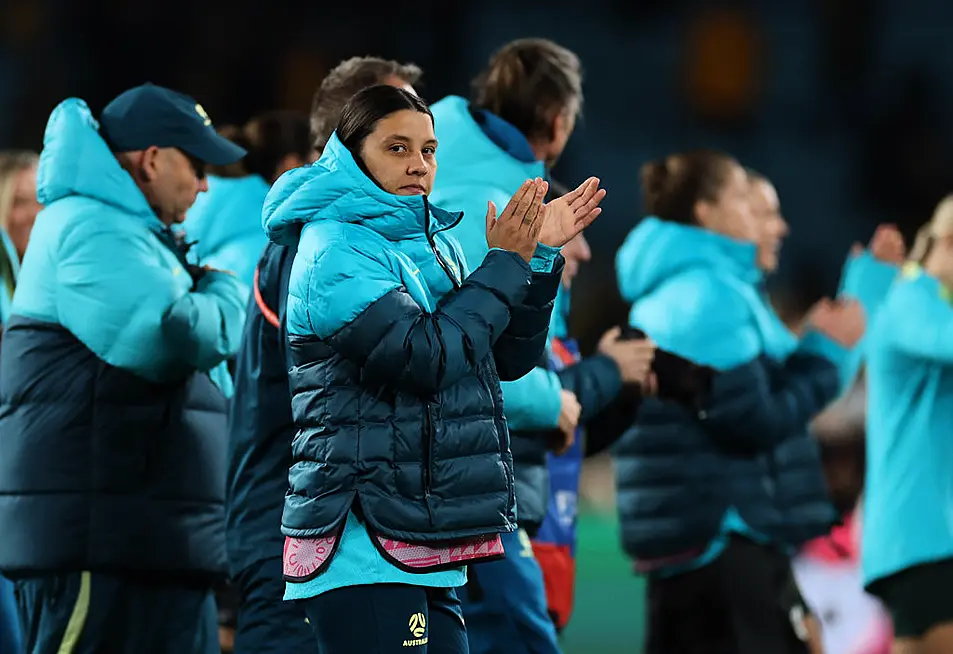 Australia kicked off the tournament on a wave of momentum having won nine of their previous 10 games, including a 1-0 win over France in a friendly last Friday and a 2-0 win over England in April that ended the Lionesses' 30-game unbeaten streak.
There was some injury speculation around Kerr after the France game when she was spotted with an ice pack on her hamstring after she was taken off in the 62nd minute.
This is the fourth World Cup for Kerr, who spoke about the pride of playing on the global stage in front of a home crowd.
The match did not go entirely Australia's way, with Ireland defending defiantly and pouring forward in search of an equaliser in the last 20 minutes.
"We were expecting there'd be moments where there was a little bit of nerves and a little bit of sloppiness," Catley added.
"So we overcame that, we were still able to get the job done. And it's thanks to a lot of believers in the dressing room, as well as Sam and everyone constantly talking and fixing problems as they sort of came up." -Reuters