Australia captain Sam Kerr confirmed she will be available for the Matildas' final group stage encounter with Canada after missing their first two World Cup matches with a calf injury.
The Matildas' chances of progressing from Group B hang in the balance after Thursday's surprise 3-2 defeat to Nigeria in Brisbane, and only victory over the Olympic champions on Monday will see Tony Gustavsson's side qualify for the last 16, barring a draw scenario that will still rely on the Republic of Ireland beating Nigeria.
Kerr, her country's top goal-scorer of either gender, is not just Australia's strongest weapon – she is more symbolically the poster-woman for this tournament both in her native country and, arguably, around the world.
The Chelsea striker would not confirm if the encouraging update would mean the home support would see her start in Melbourne, telling a press conference: "I feel good. The plan has always been the same, miss the first two games then reassess.
"I'm feeling good, I was out on the pitch today. As good as I can be.
"I would love to tell you guys everything – but you know being in sport a long time, that that's a massive thing the opposition wants to know.
"And like Tony said yesterday it's going to go down to the wire. I'm definitely going to be available, but how we decide to use that is not to be given to the opposition, I think is the main thing.
"Obviously the plan for me is to be involved and I'm excited. I've done everything I can, and no matter what happens I know that I've given everything just in the last 10 days, in the last four years, I've given everything to be here."
Mary Fowler, Australia's other most potent attacker, was also forced to sit out the Nigeria match with a concussion, but team-mate Ellie Carpenter confirmed the forward would also be available for Monday's meeting.
🗣️ "I'm definitely going to be available but how we decide to use that is not to be given to the opposition,"#Matildas #FIFAWWC #TilitsDone @samkerr1 pic.twitter.com/n55vguCaSF

— CommBank Matildas (@TheMatildas) July 29, 2023
Kerr, who has scored 63 goals across 121 caps for Australia, joked: "I have the biggest calves in the world, so I'm not sure why it decided to play up the day before the World Cup, but that's sport for you, isn't it?"
On a more serious note, the Football Writers' Association women's footballer of the year and FIFA 23 cover woman confessed she found it mentally challenging not to be involved in the opening matches, but was grateful her injury was not more serious.
On Friday night, England midfielder Keira Walsh was stretchered off the pitch with an apparent knee issue, with many wondering if she could be the latest female footballer to suffer an anterior cruciate ligament (ACL) injury.
That injury, for which women are at a three-to-six times higher risk than men, has already deprived this World Cup of top talents like England's Beth Mead and Leah Williamson, the Netherlands' Vivianne Miedema, Canada's Janine Beckie, the USA's Catarina Macario and Christen Press, New Zealand's Katie Rood and Zambia goalkeeper Hazel Nali.
The recent independent Women's Football Review, led by retired Lioness Karen Carney, recommended the FA introduce a centrally-funded research unit with a dedicated research budget for issues affecting female footballers.
Kerr added: It was obviously disappointing, and then I had to kind of suck it up. I'm part of a team, I'm not part of an individual sport.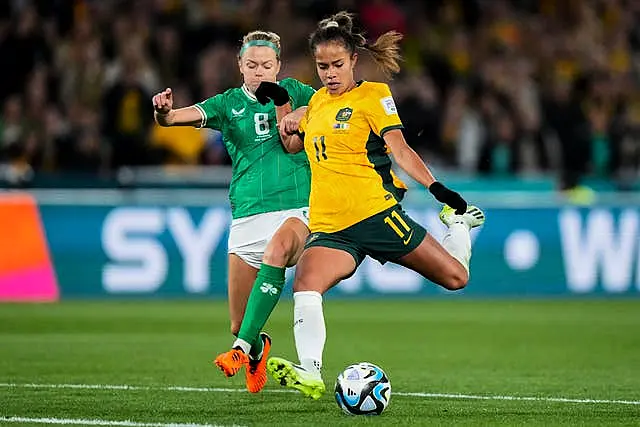 "It's not about me, and that's what I've done over the last however many days it's been.
"I've had to put the team first, and I've been lucky enough over the past couple of years, I've always been on the pitch for this team, and I've always had team-mates that have not been on the pitch and supported me and got me over the line.
"That's been my role the last 10 days and to be honest with you, it's an honour to be here. I feel really lucky and privileged to be here.
"I look around women's football at the moment and I'm lucky that it's only a small injury compared to some other people. You look at Keira Walsh last night, so you have to look at the bright side on everything.
"It kind of sucks but there's always someone worse off."