Ukrainian president Volodymyr Zelenskiy denounced Russia as "a terrorist state" at the UN Security Council in New York.
Mr Zelenskiy and Russian Foreign Minister Sergei Lavrov avoided each other on Wednesday with Mr Zelenskiy leaving the meeting before Mr Lavrov arrived.
Mr Zelenskiy called Russia "a terrorist state" while Russian Ambassador Vassily Nebenzia sat facing him.
Mr Zelenskiy left before Mr Lavrov's arrival, which came as US Secretary of State Antony Blinken was accusing Russia of having "shredded" key provisions of the UN Charter.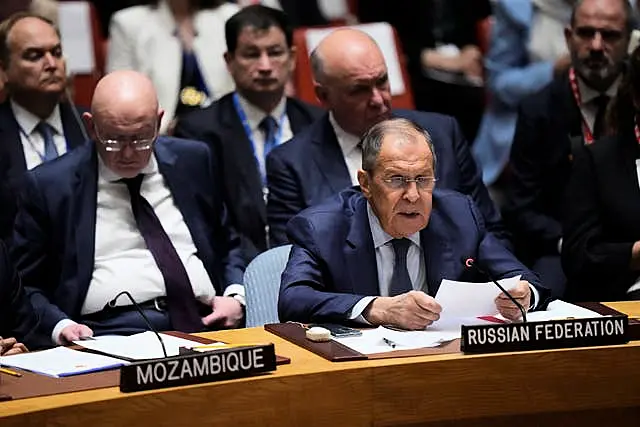 Mr Lavrov, in turn, reiterated his country's claims that Kyiv has oppressed Russian speakers in eastern areas, violating the UN charter and getting a pass on it from the US and other western countries.
Before Mr Zelenskiy's arrival, Mr Nebenzia objected to a speaking order that put the Ukrainian president before the council's members, including Russia.
There is a long history of delegates walking out on rival nations' speeches in the council and other UN bodies, and it is not unusual for speakers to duck in and out of Security Council meetings for reasons as simple as scheduling.
The group's member countries must have a presence during meetings but can fill their seats with any accredited diplomat.
Ukraine is not a member but was invited to speak. Ahead of the meeting, Mr Zelenskiy suggested that UN members needed to ask themselves why Russia still has a place on a council intended to maintain international peace and security.