Russia has launched a massive drone attack on the western city of Lviv, burning down a warehouse said to be storing humanitarian supplies and killing a man, Ukrainian authorities have said.
Ukraine intercepted most of the 30 Shahed drones overnight, the air force said on Tuesday.
But drones that got through air defence systems sparked a blaze at the industrial storage facility, governor Maksym Kozytsky said.
The UN humanitarian co-ordinator for Ukraine condemned the drone strikes and said they burned down a charity's warehouse containing vital relief supplies.
Denise Brown said the attack violated international humanitarian law protecting workers, facilities and supplies.
Latest Defence Intelligence update on the situation in Ukraine – 19 September 2023.

Find out more about Defence Intelligence's use of language: https://t.co/wN3SDU2h5D

🇺🇦 #StandWithUkraine 🇺🇦 pic.twitter.com/yAcwFfJcIa

— Ministry of Defence 🇬🇧 (@DefenceHQ) September 19, 2023
"Attacks impacting humanitarian assets have escalated throughout the year and ultimately impact those who are suffering the horrific consequences of the war," Ms Brown said.
"Direct attacks or indiscriminate attacks are strictly prohibited. International humanitarian law is not an option, it is an obligation and must be upheld."
In other Russian strikes, an artillery strike in Kherson in the south hit a bus, killing a police sergeant and wounding two men, said Ihor Klymenko, Ukraine's minister of internal affairs.
That strike also set a warehouse on fire.
The developments in the war front come as Ukrainian president Volodymyr Zelenskiy is in New York to address the UN General Assembly and Security Council before going to Washington on Thursday to meet with politicians and US president Joe Biden.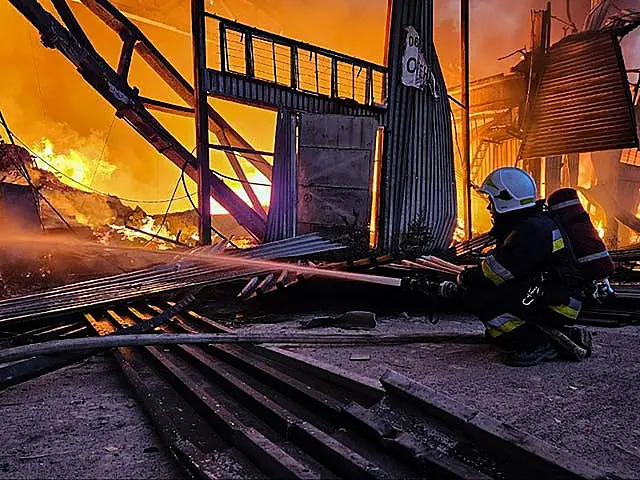 Mr Zelenskiy has continued to drum up funding and support for new weapons as the counteroffensive Ukraine launched in June approaches what could be its final weeks before wet weather slows progress.
Ukraine has made small advances but no major breakthroughs.
Meanwhile, US defence secretary Lloyd Austin said, while in Germany attending the meeting of the Ukraine Defence Contact Group, that the 31 M1 Abrams tanks it promised will soon begin arriving in Ukraine, as was expected.
Norway said it will donate approximately 50 tracked cargo carriers to Ukraine.
In a statement on Tuesday, Norwegian defence minister Bjorn Arild Gram said they will help get supplies to areas without roads.