Ukrainian air defences shot down more than 30 Russian cruise missiles and drones in Moscow's sixth air attack in six days on Kyiv, local officials have said.
The Ukrainian capital was simultaneously attacked from different directions by Iranian-made Shahed drones and cruise missiles from the Caspian region, senior Kyiv official Serhii Popko wrote on Telegram.
A 68-year-old man and an 11-year-old child were wounded in the attack, with private houses, outbuildings and cars sustaining damage from falling debris, according to Ukraine's Prosecutor General's Office.
A recent spate of attacks on the capital has put strain on residents and tested the strength of Ukraine's air defences while Kyiv officials plot what they say is an upcoming counteroffensive to push back the Kremlin's forces 15 months after their full-scale invasion.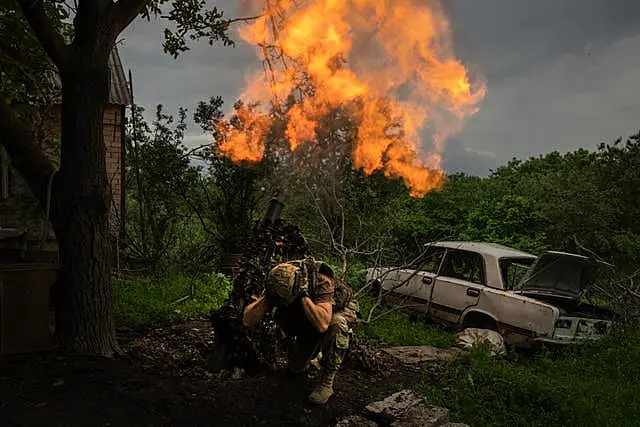 Kyiv was the target of drone and missile attacks on 17 days last month, including daylight attacks.
Moscow's strategy could backfire, however, according to the Institute for the Study of War, a Washington-based think tank.
The air campaign aims to "degrade Ukrainian counteroffensive capabilities, but … the Russian prioritisation of Kyiv is likely further limiting the campaign's ability to meaningfully constrain potential Ukrainian counteroffensive actions", it said in an assessment late on Thursday.
Ukrainian air defences intercepted all 15 cruise missiles and 21 attack drones, Ukraine's chief of staff Valerii Zaluzhnyi said.
Meanwhile, border regions of Russia once again came under fire from Ukraine.
Recent cross-border raids have also rattled those regions of Russia and put the Kremlin on guard.
That could be a Ukrainian strategy to disperse Russian forces before a counteroffensive begins.
Latest Defence Intelligence update on the situation in Ukraine - 2 June 2023.

Find out more about Defence Intelligence's use of language: https://t.co/dwsU9aVZyB

🇺🇦 #StandWithUkraine 🇺🇦 pic.twitter.com/9nv2nfUo3S

— Ministry of Defence 🇬🇧 (@DefenceHQ) June 2, 2023
"Russian commanders now face an acute dilemma of whether to (strengthen) defences in Russia's border regions or reinforce their lines in occupied Ukraine," the UK Ministry of Defence said on Friday.
Air defence systems shot down "several Ukrainian drones" overnight Thursday in Russia's southern Kursk region, which borders Ukraine, regional governor Roman Starovoit wrote on Telegram.
In the neighbouring Bryansk region, which also borders Ukraine, regional governor Alexander Bogomaz said that Ukrainian forces shelled two villages on Friday morning.
No casualties were reported.
Two drones also attacked energy facilities in Russia's western Smolensk region, which borders Belarus, in the early hours of Friday, officials said.