The UK-Ireland bid to host Euro 2028 has been submitted to UEFA, with Croke Park excluded from proposed stadiums from the tournament.
The Aviva Stadium, and the redeveloped Casement Park, are the stadiums from Ireland that are included in the bid.
The Junior Sports Minister, Thomas Byrne, says he "pushed hard" for Croke Park to be included in Ireland's joint submission to host Euro 2028.
Mr Byrne said Dublin was deemed two small to be home to two tournament stadiums, so Croke Park was omitted from the list.
"The bid steering board has put forward our best shot at it. It's not just ourselves, it's an all Ireland bid with Great Britain as well, so obviously there would have to be some representation of Northern Ireland and Casement Park is deemed the best place to do it."
Wembley Stadium, Tottenham Hotspur Stadium, St James Park, Villa Park, the Etihad and the new Everton stadium are the proposed venues from England.
Scotland's Hampden Park and Wales' Millennium Stadium make up the proposed venues.
Speaking on the bid, Taoiseach Leo Varadkar said "I am happy that the Government has agreed to support the Ireland and UK joint bid for UEFA EURO 2028. This tournament represents a huge opportunity for Ireland to welcome Europe and the world to our shores, to display our world-class facilities and to host an event that benefits all. It is also an opportunity to ensure long-lasting benefits for League of Ireland, local and youth football.
"I am particularly pleased that the collaborative effort has worked well and has served to strengthen ties with our partners, north-south and east-west."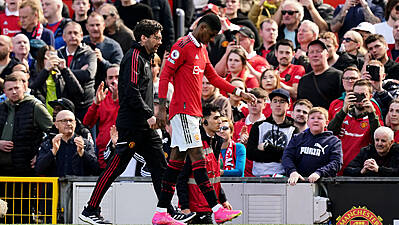 Sport
Marcus Rashford to miss a 'few games' before Manch...
Lord Mayor of Dublin Caroline Conroy welcomed today's announcement of the submission of the EURO 2028 bid to UEFA. She added it will also provide an opportunity to shine a light on Dublin's vibrant and welcoming culture and invite fans from across Europe to enjoy Dublin and all it has to offer.
"If successful, Dublin City Council will work alongside the Government, FAI and other partners to host a landmark celebration that will captivate the whole continent and beyond to increase participation and engagement.
"As the host city Municipal authority, Dublin City Council has had a major role to play in the project to date and if the bid is successful it will be responsible for the provision of a number of elements which will be an integral part of the event.
"The hosting of UEFA EURO 2028 in Dublin will realise significant benefits for the city and its businesses. It is estimated that the tournament would have an economic impact of up to €238m for matches to be played in Ireland. It will also give the city an opportunity to showcase our world-class tourism infrastructure and sustainable travel options as well as the city's world-class stadium to huge audiences.