Stefanos Tsitsipas has denied comments he made about Nick Kyrgios following last year's heated Wimbledon battle were racist in nature.
The Greek has been criticised on social media for saying during the Netflix documentary series Break Point that Kyrgios' approach to tennis was "uneducated" and that he brought an "NBA basketball attitude" to the sport.
Writing on his Facebook page, Tsitsipas said: "Today, I want to address a matter that has been weighing heavily on my heart; an unfortunate misunderstanding that has a distorted picture of my intentions.
It was a very heated battle 🙏🏽 sometimes as players we go into these press conferences without digesting the match…. We've had some crazy battles and I know deep down you like my brand of tennis 👀🤷🏽‍♂️ we are all good @steftsitsipas https://t.co/5y6dwP5zSM

— Nicholas Kyrgios (@NickKyrgios) June 24, 2023
"It has come to my attention that some individuals have misinterpreted my comments regarding Nick Kyrgios, labelling him as uneducated and accusing him of bringing a basketball mentality into tennis, insinuating racism where none exists.
"Let me take this opportunity to provide clarity and rectify any misconceptions that may have arisen.
"Firstly, I want to emphasise that I harbour no prejudice towards anyone based on their background, ethnicity, or interests. I deeply regret if my words were misinterpreted or caused offence, as that was never my intention.
"My previous remarks regarding Nick Kyrgios were not meant to undermine his intelligence or abilities. Instead, I simply intended to express my perspective on certain aspects of his playing style, drawing comparisons to the passion and intensity often associated with basketball.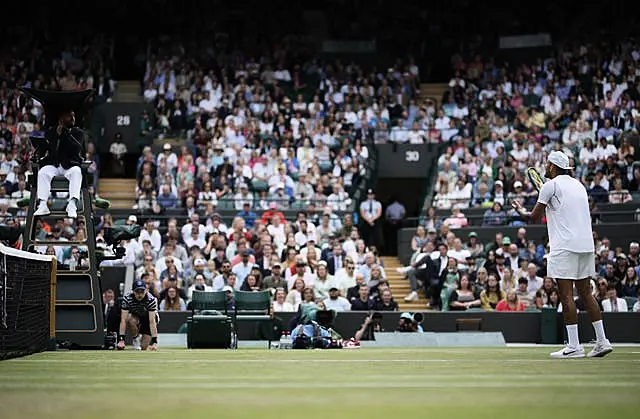 "It was an attempt to highlight the dynamic and captivating nature of his approach to the game, not a criticism of his character or capabilities."
The pair clashed in the third round at the All England Club, with Kyrgios engaged in a running dialogue with the umpire and calling for Tsitsipas to be defaulted after he swiped a ball into the crowd.
The Greek lost his cool and received a point penalty for recklessly hitting the ball before appearing to aim a shot straight at Kyrgios, who eventually won in four sets.
Kyrgios accepted Tsitsipas' apology, writing on Twitter: "It was a very heated battle sometimes as players we go into these press conferences without digesting the match…. We've had some crazy battles and I know deep down you like my brand of tennis we are all good @steftsitsipas"