Ronnie O'Sullivan claimed he was close to conceding his dramatic second-round match with Ross Muir at the BetVictor Welsh Open after twice losing his tip.
The seven-time world champion overcame the frustrating cue issues and forfeiting a frame due to violating the three-miss rule to scrape into the last 32 with an enthralling 4-3 success.
He had looked set to cruise to victory at Venue Cymru in Llandudno as he began with a superb break of 108.
Have you ever seen a tip fall off not once, but twice in the same match 😬

📺 @BBCWales | @discoveryplus | @Eurosport | #HomeNations 🏴󠁧󠁢󠁷󠁬󠁳󠁿 pic.twitter.com/o94u8Ht6ND

— World Snooker Tour (@WeAreWST) February 14, 2023
But his tip flew off when potting the final pink of the first frame and again midway through the second, causing two delays to the match.
Scotsman Muir seized on the disruption to move 2-1 ahead courtesy of a pair of half-century breaks before O'Sullivan seemed to have sufficiently regained his rhythm as he moved back in front with knocks of 58 and 78.
But there was a further twist as, having appeared to disagree with a warning from referee Luise Kraatz, an exasperated O'Sullivan fouled for the third successive shot by wildly smashing into the pink and sending the cue ball flying from the table to gift his opponent the sixth frame.
The world number one took a scrappy decider to edge through before saying he had been ready to sacrifice his place in the tournament.
DECIDER!

Incredible drama as O'Sullivan violates the three-miss rule and Muir takes the frame to draw level at 3-3!#HomeNations 🏴󠁧󠁢󠁷󠁬󠁳󠁿 pic.twitter.com/Fk4Rm9dqj9

— World Snooker Tour (@WeAreWST) February 14, 2023
"The tip's great, it just keeps falling off," he told BBC Sport. "Every time I played a shot, I just kept thinking 'is it going to fall off?'.
"It was hard because you've got no trust basically. I said to the guy (Muir), 'if it comes off once more, I'll have to just pull out' because I can't keep changing my tip every five or six shots, it's just not fair on the opponent, or even the crowd.
"It stayed on, so we'll have to just wait and see (how it is in the next round). It's never happened to me before."
O'Sullivan will face world number 114 Rod Lawler next after his 4-3 victory over two-time Crucible finalist Matthew Stevens.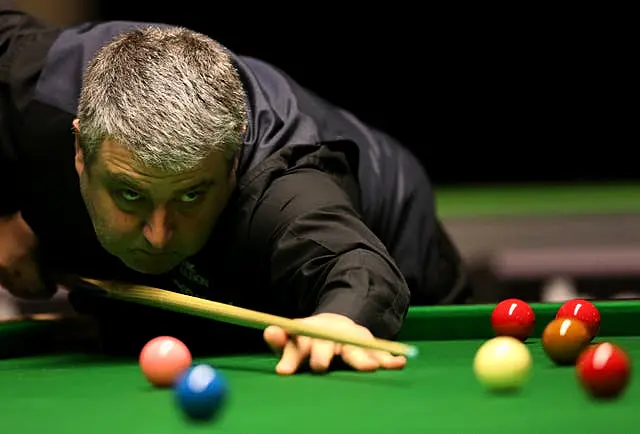 O'Sullivan continued: "The tip was beautiful, it's nothing to do with the tip, maybe I need a new ferrule (the small band of metal below the tip) – I'll probably get a new ferrule on after this tournament.
"I'm just pleased that I was able to put it to the back of my mind, still play. It's not all about talent, it's about resilience, about mindset."
While O'Sullivan survived a scare, Neil Robertson, Ding Junhui and Mark Williams were high-profile casualties.
Robertson and Ding suffered 4-0 defeats to Dominic Dale and Cao Yupeng respectively, before Williams lost 4-3 to fellow Welshman Jak Jones, despite producing a break of 122 in frame three and twice leading.
Rising Chinese player Pang Junxu, the 2021 rookie of the year, defeated Kyren Wilson 4-2, with his countryman Si Jiahui later falling 4-3 to four-time world champion Mark Selby.
Reigning champion Joe Perry dispatched Mark Joyce 4-1, while Shaun Murphy was among the other players to progress on Tuesday after beating Peng Yisong by the same scoreline.