Mikel Arteta sees record signing Declan Rice as Arsenal's "lighthouse" as the north London club look to win the Premier League.
Fresh from completing big-money moves for Kai Havertz and Jurrien Timber, the Gunners completed their British record £105million acquisition for the West Ham captain on Saturday.
Rice's arrival is a huge shot in the arm for Mikel Arteta's improving side, who beat perennial Premier League champions Manchester City to the England international's signature.
It is a deal that Arsenal hope can next season help topple Pep Guardiola's men at the top as they look to win a first league title since 2004.
A new chapter begins. pic.twitter.com/ha5Btd8I2h

— Arsenal (@Arsenal) July 15, 2023
"I see him like a lighthouse – that he is willing to put light in others and improve others and make the team better and that is a huge quality," the Gunners boss said.
"For me, to be a midfielder you have to have that and he's got it 100 per cent.
"The way he talks and presents himself, the ambition he has and the passion towards the game. That is exactly what we needed.
"It's his leadership, his aura, the experience he already has in the league he is going to bring and the team to a different dimension I think."
#AFC new boy Declan Rice preparing for training in Washington DC pic.twitter.com/hbbJgtYr2l

— Simon Peach (@SimonPeach) July 17, 2023
Rice flew to the United States with his new team-mates on Sunday and the following morning worked on an exercise bike next to the pitch where many of the group trained.
The 24-year-old laughed and joked with Eddie Nketiah in the sweltering Washington DC sunshine and Arteta has been impressed by the way he has adapted to a new set-up.
"I think you all know his leadership, his personality, the experience that he already has at 24," the Gunners boss said of Rice.
"Very smooth (transition into the group). He's already very close already with a few of the boys, he obviously knew a few of the boys from the England camp as well. He seems very happy."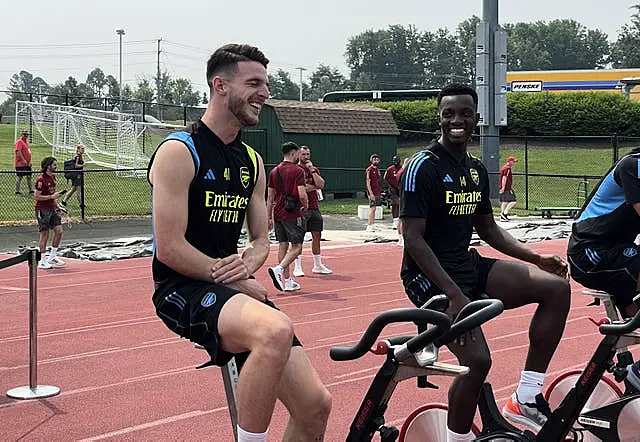 Arteta has brought a 29-man squad to the United States, where Arsenal's tour gets under way against Wayne Rooney's Major League Soccer All-Stars on Wednesday evening.
Friendlies against Manchester United in New Jersey and Barcelona in Los Angeles follow, with Arteta grateful to have key acquisitions Rice, Timber and Havertz over the line in time to work with them Stateside.
"Very pleased obviously as you can imagine," he said. "We signed the players that we wanted, we signed them early and they start to adapt to the team really fast.
First day at our new home 🏡 🏟️ pic.twitter.com/82ag3wnSsk

— Kai Havertz (@kaihavertz29) July 8, 2023
"We have some time now to prepare and for them as well to gain the best chance to express themselves in the right way.
"To adapt obviously they need to experience a few days how it looks like (at) Arsenal."
Arsenal have spent nearly £200million already this summer but Arteta suggested there could yet be more to come.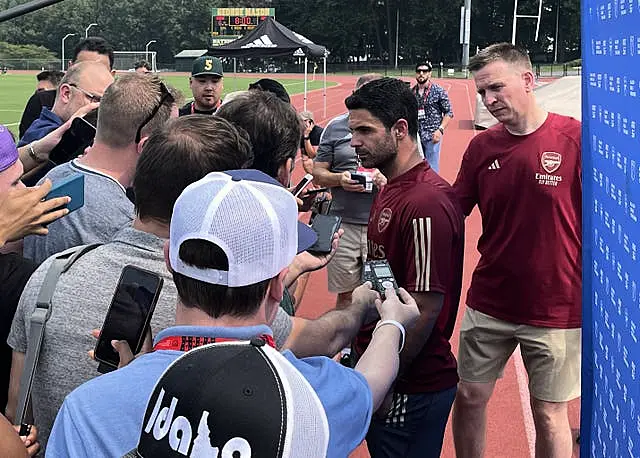 "Let's see," he said pitchside at George Mason University.
"It's a lot of time still in the market and a lot of expectations are in some of our players as well, so we will have to see and how things develop in the next couple of weeks.
"We will be alert, there's still time do things, there's still time as well for exits obviously. I'm sure things will move."
Arsenal have crossed the Atlantic at an exciting time for football in North America, where Lionel Messi's mammoth move to Inter Miami should take the sport to new heights.
Pure joy.

Welcome, Leo Messi. #InterMiamiCF pic.twitter.com/3smtpPcJ4L

— Major League Soccer (@MLS) July 17, 2023
"I think the attention it's going to do, the level, the attraction, I think it's incredible for the league to bring a player with such a status here," Arteta said.
"It tells you the ambition of the league, where they want to take it and the direction this has taken I think is extremely positive for the league."
On facing Rooney's All-Star team at Audi Field on Wednesday, the Arsenal boss added: "Great, a lot of expectations. It'll be a special atmosphere and something we haven't done before so looking forward to it."