Manchester City celebrated with their fans after being crowned Premier League champions for a fifth time in six seasons.
City were presented with the trophy for a third season in succession after comfortably beating Chelsea 1-0 in their final home match of the campaign at a sun-drenched Etihad Stadium on Sunday.
Their latest triumph could be the first leg of a treble with City still having the FA Cup and Champions League finals – in which they will face Manchester United and Inter Milan respectively – to come next month.
Supporters were in party mood after the title was confirmed on Saturday evening following second-placed Arsenal's loss at Nottingham Forest.
Thousands of fans waited outside the stadium entrance to welcome the team prior to the game. Blue flares were set off and there were chants of 'champions' as the players stepped off the bus.
The celebrations continued throughout the game and for long after the final whistle.
The trophy presentation had to be delayed after thousands of fans poured on to the pitch following the conclusion of the game, which a much-changed City side won courtesy of an early Julian Alvarez strike.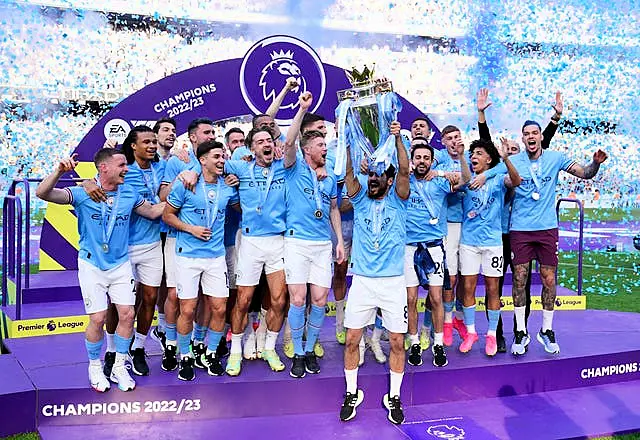 After being handed the trophy on a podium set up in the centre circle, manager Pep Guardiola and the players embarked on a lap of honour to acknowledge the supporters.
Before kick-off, Chelsea formed a guard of honour to welcome City to the field.
The 'Poznan' fan dance was seen on a number of occasions during the game as fans made the most of the occasion.
The players, who were joined by their families, seemed to enjoy themselves both on the field and, as pictures showed, back in the dressing room afterwards.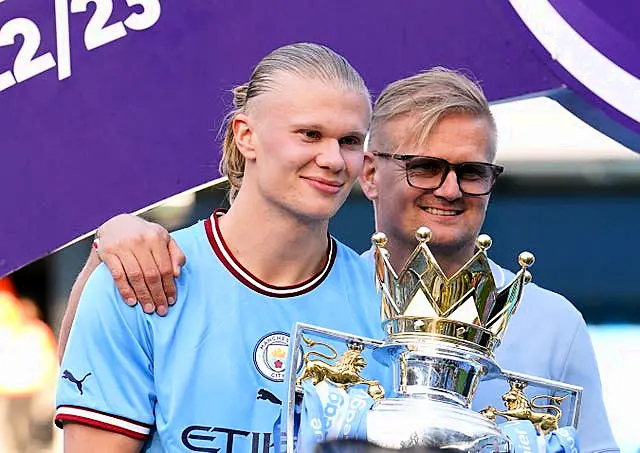 Kevin De Bruyne, who had been a substitute against Chelsea, was one of number of players to run around the field playfully with his children.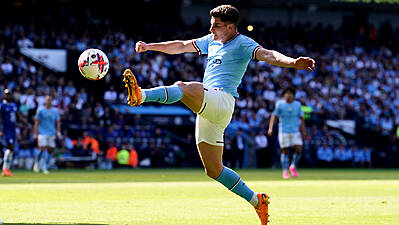 Sport
Julian Alvarez goal ensures champions finish with...
Yet, as full-back Kyle Walker said, with two big matches still to come, celebrations would remain modest.
"We're not finished, we've got the FA Cup against our bitter rivals and the Champions League final on June 10," Walker told Sky Sports.
"We will enjoy it today, we will have a few glasses of champagne but then we move on to June, which is the big one and hopefully we can create history with this great club."