George Russell believes this season has been his best ever in terms of performance as he refused to dwell on his last-lap crash in Singapore.
Russell put his Mercedes into the barriers as he chased down Lando Norris and race winner Carlos Sainz on the draining street circuit.
The 25-year-old was visibly emotional afterwards following a strong weekend where he qualified second and held the edge over his team-mate Lewis Hamilton but is keen to move on quickly.
"In terms of pure performance I feel that this has been my best season ever," Russell said ahead of the Japanese Grand Prix.
Heartbreaking end to the race. We went bold and it so nearly paid off, but it's these tiny margins that make the difference between victory and defeat. Proud of the team tonight and gutted I didn't deliver the result they deserved. I'll be back stronger. pic.twitter.com/hwTmqvETYk

— George Russell (@GeorgeRussell63) September 17, 2023
"But I reckon there is over 60 points that we have lost this season for a number of different reasons.
"I have got an objective this year to secure P2 in the constructors' championship for the team. It was quite clear this year from the beginning that we were not going to be fighting for a championship and I don't know if that's had an impact on my mentality or not.
"There is a reason for all mistakes and that is just pushing to the limit and in some instances pushing over the limit to try and achieve what is possible. I think when I look at my championship-winning years in junior formulas I was the driver who kept on getting results, it's the long game.
"I can assure you once we are in a position again to win a championship I will be back to the ways that I know how to win a championship."
A new week with new opportunities. I always love coming to Japan, seeing the culture and beautiful sights.

I saw my first sumo wrestling match too which was such a cool experience.

Can't wait to be racing this weekend in Suzuka! 🇯🇵 pic.twitter.com/K6BqxZT879

— George Russell (@GeorgeRussell63) September 19, 2023
Russell has no regrets over pushing to try and claim the victory over the ailing Sainz and Norris.
"If I knew it was the last lap and I took it easy and Lewis overtook me I would equally be kicking myself," Russell added.
"We are on to the next one, and it is behind us. In life, you can let these setbacks dwell on you. You can overthink and let it consume you, but ultimately, that brings nothing. You have to have that moment when it knocks you down.
"Shov (Mercedes' chief race engineer Andrew Shovlin) called me Sunday evening and said 'the only reason we were in that position to fight for a win was because of how incredibly you'd driven all weekend'.
"He said 'you gave us that feeling of what it is like to fight for victory again so take that away from the weekend'.
"I take the positives, really pleased with the overall performance. I'm not going to let a mistake of 2cm cloud my whole weekend."
Norris clipped the barriers just ahead of Russell but survived the impact and the Mercedes driver feels it played a part.
"When Lando hit the wall, the thought process is so quick in your brain because I saw him hit the wall and I thought 'Oh my God he hit the wall' and then I hit the wall," Russell added.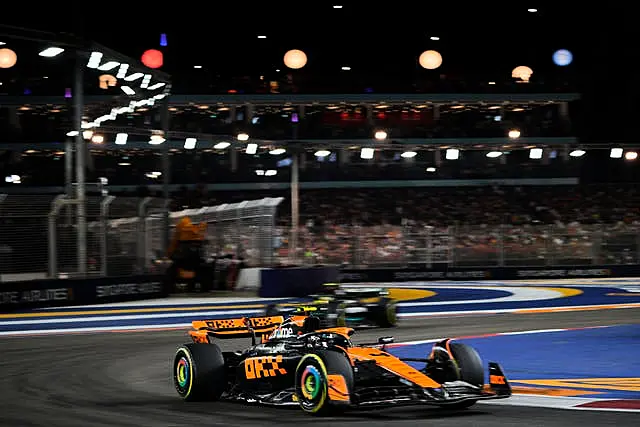 "Either the distraction of him clipping the wall was a factor, or I was following his tracks or it was just a silly mistake, but it seems a bit too much of a coincidence."
Mercedes' strong pace in Singapore may be hard to replicate around the high-speed corners at Suzuka – where Russell believes McLaren are best placed to challenge Red Bull.
But Hamilton is excited to return to the Japanese circuit.
"I don't anticipate us having the performance we had in Singapore. We are continuing to try and push the envelope that we have," Hamilton said.
"It (Suzuka) is one of the favourites for all the drivers. It is that historic circuit and an incredible track to drive on. It is one of the greatest layouts that we get to experience in the calendar."