Carlos Sainz blasted his penalty at the Australian Grand Prix as the "biggest Formula One disgrace for many years".
Ferrari's Sainz was hit with a five-second sanction for colliding with Fernando Alonso at the opening bend following a late restart at Albert Park.
After he was informed of the punishment, an emotional Sainz pleaded with his Ferrari team to instruct the stewards to reconsider their decision.
Chaos. Chaos?! 🤯

An absolutely insane race restart in Australia 🙃#AusGP #F1 pic.twitter.com/hjGrjWBixS

— Formula 1 (@F1) April 2, 2023
"No, it cannot be," he said over the radio. "Do I deserve to be out of the points? No. It is unacceptable. Tell them that it is unacceptable.
"They need to wait until the race is finished and discuss it with me. Please, please, please, please, please, tell them to wait and discuss with me. The penalty is not deserved. It is too severe."
Sainz took the chequered flag in fourth, but the penalty dropped him to 12th and last.
🇦🇺 Good start and solid comeback after an unlucky situation with first red flag. Good race overall, but the penalty ruined it all and I don't agree with it. Very difficult to digest, but I'll take the positives and focus on the next race

👉https://t.co/F4eJ8EI3Uq

-#CarlosSainz pic.twitter.com/dt3Protmh4

— Carlos Sainz (@Carlossainz55) April 2, 2023
Speaking after the race, the Spaniard said: "I'm not going to speak or comment on it until I go to the stewards and they revert this penalty.
"It is the biggest disgrace I've seen in the sport for many years and whatever I'm going to say now, I'd rather not say it."
A statement from the FIA read: "We determined that Sainz was wholly to blame for the collision.
"Alonso was significantly ahead of Sainz at the first corner and nevertheless Sainz drove into Alonso, causing him to spin and leave the track.
"For avoidance of doubt, we took into account the fact that this collision took place at the first lap of the restart, when, by convention, the stewards would typically take a more lenient view of incidents.
"However, in this particular case, notwithstanding the fact that it was the equivalent of a first-lap incident, we considered that there was sufficient gap for Sainz to take steps to avoid the collision and he failed to do so."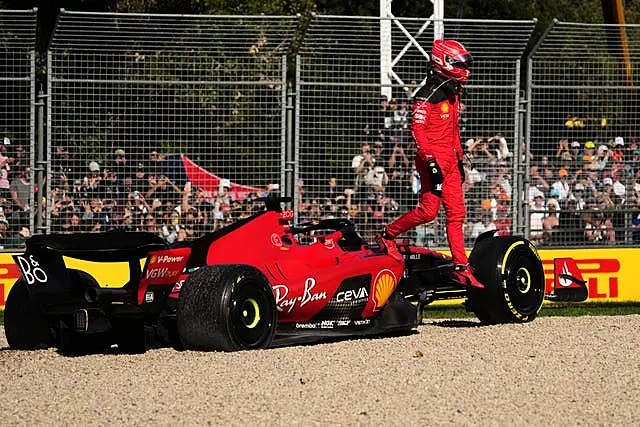 Sainz's punishment capped another miserable afternoon for Ferrari after Charles Leclerc tripped over Lance Stroll on the first lap and beached his machine.
The Monegasque has now failed to finish at two of the opening three rounds, leaving him on six points, 63 behind championship leader Max Verstappen.