Eccentric designer Pam Hogg dedicated her latest fashion show to the late Sinead O'Connor.
Entitled 'Apocalypse', Hogg's spring/summer 2024 collection was debuted on Sunday night at London Fashion Week.
Models walked the runway in front of a screen emblazoned with words that seemed to evoke Catholicism, including 'Redemption', 'Atonement' and 'Judgement Day', and crucifixes were a common motif throughout the pieces – perhaps a reference to O'Connor's fierce stance on child abuse in the Catholic Church.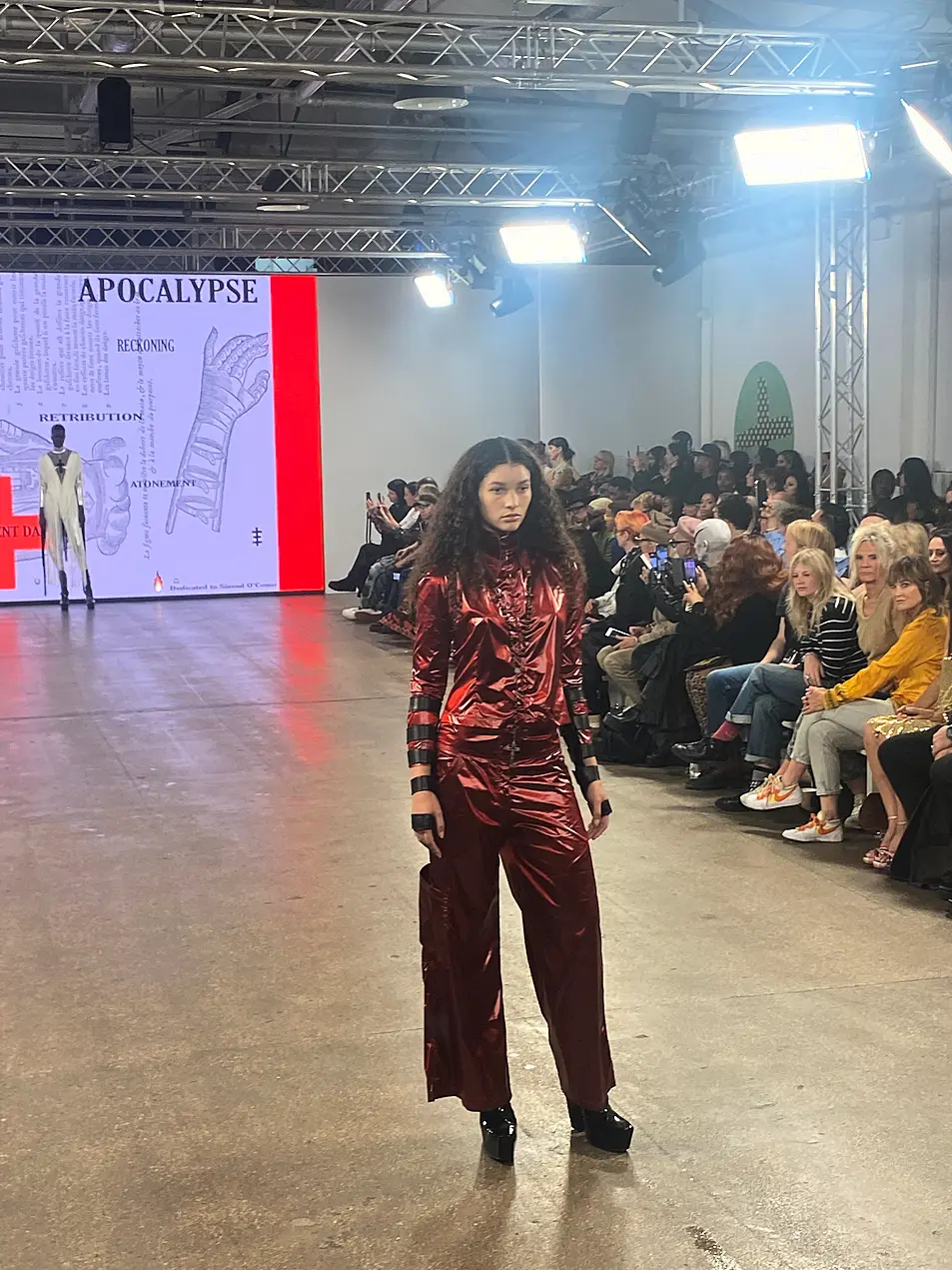 When Dublin-born singer and activist O'Connor died at her London home in July aged 56, Hogg posted emotional tributes on Instagram.
"This one truly hurts. she was everything. my all time inspiration," Hogg wrote. "The voice the beauty the passion the determination .. the fight .. the not backing down no matter how hard they tried to break her.. and she stood firm. dignified. How can all of this not take a toll [sic]."
Hogg said the collection she debuted in February, called 'They Burn Witches Don't They', was inspired by O'Connor.
View this post on Instagram
"Last November I was far too unwell to even think of making a new collection but I'd had a powerful vision of Sinead burning at the stake like Joan of Arc. Everyone advised to get well.. wait till the next year to present it.. but it felt urgent.. that the time was now and it couldn't wait," she wrote on Instagram, referring to O'Connor as "a modern day saint".
Scottish designer Hogg rose to fame in the 1980s post-punk scene, making a name for herself with unconventional designs and dressing rockstars like Debbie Harry and Siouxsie Sioux.
Many of Hogg's signatures were present in her latest collection, including skin-tight latex jumpsuits and disco-inspired mini dresses.
White, red and black hues dominated the runway, with many of the opening looks evoking old-school nurses' outfits – complete with white hats featuring red crosses.
The show closed on a more ethereal note, with a string of floaty gowns in candy colours.
Hogg walked out to applause, hand-in-hand with models, wearing a silver long-sleeve dress, big sunglasses and her unmistakable yellow hair.
The front row was full of creative figures, including British artist Tracey Emin, costume designer Sandy Powell and Austrian designer Andreas Kronthaler, who is Vivienne Westwood's widower.