Bright and bubbly Georgia 'Toff' Toffolo puts the fizz into any TV situation, whether it's taking part in a reality show or presenting a light-hearted daytime report.
But the effervescent presenter, influencer and, most recently, romantic novelist, gets serious for a moment when the conversation moves to the public's perception of her.
The 26-year-old ex-Made In Chelsea (MIC) star who captured the hearts of the nation when she won I'm A Celebrity… Get Me Out Of Here! in 2017, agrees people may underestimate her when it comes to talent and business acumen.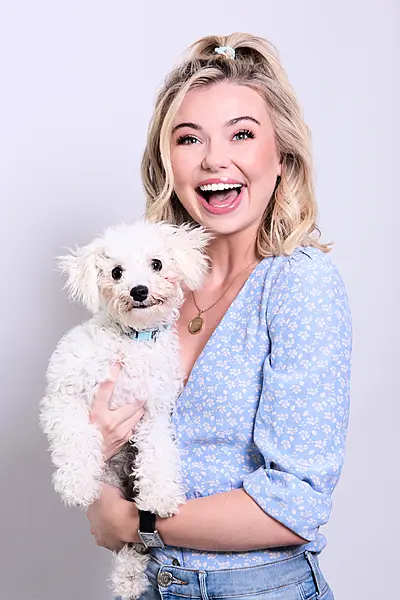 "I find it quite frustrating. I'm not just a vacuous reality TV star who's had a bit of luck," she observes.
"You can also be intelligent and have an interest in things you wouldn't normally think someone like me would have an interest in.
"I would never want to be put into a box and told, 'That's your lot, now. You can only do a bit of presenting and go to really luxurious places and show off, and that's you'. I like to prove people wrong."
She may have done her fair share of reality TV – MIC, Celebs Go Dating, I'm A Celeb – but Toffolo is also interested in weightier issues, including politics.
As a member of the Conservative Party since her teens, Toffolo was at one point tipped to be the poster girl for the Tories. She's still pally with Stanley Johnson, who she met in the jungle and teamed up with on Celebrity Gogglebox and Celebrity Hunted, and is also 'loosely friends' with his son, UK prime minister Boris Johnson, and his fiancée Carrie Symonds.
She hasn't always agreed with everything the Tories have done though. "It's been very hard for the Conservative government to navigate through this pandemic – I get that," she offers. "However, it is a source of frustration for me that if you have mentioned previously that you are a Conservative, it really doesn't mean you are aligned to all their beliefs and way of governing.
"There have been a load of things the Tories have done that I've thought, 'God, that's insanity! What are you doing?' But I don't want to go into details."
Of one thing, though, she is sure. "Westminster is full of middle-aged men who are not representational of the rest of the country, which is why people of my age predominantly are completely disinterested in what's going on in Westminster."
Sounds like she might like to become an MP? "Maybe one day, maybe in the meantime I should pen a new fiction novel about the workings of Westminster, before I ever think about making a ludicrous jump like that."
Discussing her new book,
Aside from her interest in politics, Toffolo has also turned her hand to writing. Now on her second romantic fiction novel, part of a four-book deal with Mills & Boon, Meet Me In Hawaii follows a young surf instructor who falls for a millionaire philanthropist.
"I'm a TV presenter, an influencer, I do so many different things and now, with these books, I hope I can prove to everyone that I'm very multi-dimensional," she says. "I have lots of passions I hope I can make into a really long and successful career."
After winning I'm A Celeb, Toffolo was in huge demand as she became a roving reporter and regular guest on ITV's This Morning, and did more reality shows including The Great Celebrity Bake Off for Stand Up To Cancer and Channel 5's My Famous Babysitter.
"The first six months after I came back from Australia were immensely overwhelming," she recalls. "I came into a world where everyone seemed to know me and everyone was putting me on this pedestal, which sounds quite nice, but in reality, no-one was treating me like I was just Georgia."
While her higher profile was exciting, she reached the stage where she just yearned for a bit of normality, she admits.
"Even at the supermarket checkouts it's quite nice when people just ignore you. But people were going, 'Oh look, is it Toff?' and I just thought, 'Don't make a fuss over me'."
Things have calmed down in some ways, she agrees, although she remains busy with work. "For the first year [after her jungle win] I was just throwing myself into every opportunity, which of course you have to do. I made a decision to streamline my career after that."
Unlike her MIC peers, Toffolo wasn't born into high society. An only child, she was born and brought up in Torquay. Her father, Gary Bennett, has a background in the scrap metal trade, while her mother Nicola set up a property development company.
After going to private school, she went to the University of Westminster to study politics, but dropped out to follow other ambitions, and joined MIC at 19.
She's come a long way in the last seven years and while romantic fiction is her latest foray, she remains tight-lipped about her own private life when asked if she is dating.
"I suppose you could call it that," she says cagily. "Am I walking out with anyone? I might have a best friend. I wouldn't mind moving on from this question actually, as I feel embarrassed.
"Privacy is really important to me," she continues. "I'm an open book, but I have to keep a bit back for me, because if not, I would go insane. I've been in the public eye since I was 18 or 19. If I didn't protect myself emotionally with my private relationships, I don't think I'd be able to do what I do, and love and enjoy it for as long as I plan on doing it."
She confesses, however, to being a hopeless romantic and is not a fan of online dating. "Online dating is not me. I've got to look people in the eyes so I can sense who they are as a person. However, I don't want to talk it down because lots of my girlfriends have met wonderful men and I do think it increases your chances of meeting someone.
"However, the hopeless romantic in me is very traditional. I'm partial to a blind date, I love that concept. When you look in someone's eyes you can see whether they are a kind man and if there's a physical attraction. How can you see that through an app?
"I did once go on the Raya app [a celebrity dating app] so long ago, which was meant to be for famous people. I hate that concept, but I did go on it for a bit of a laugh. It was a wonderful way of making friends, but I am quite traditional in all of my mindsets and the romantic trope of bumping into someone and the unknown of it really excites me."
Despite lockdown limiting her social life, Toffolo seems to have an eternal sense of optimism. "We are on the cusp of being able to travel again. You are not far away from going to picnics in the park and potentially meeting the man of your dreams. Let's get excited about that!"
Meet Me In Hawaii by Georgia Toffolo is published by Mills & Boon on March 18th.