After a difficult period, Dubliner Keith Russell is determined to get back to his role as a mental health advocate, with a particular focus on male eating disorders.
Mr Russell suffers with body dysmorphia, and since his diagnosis in 2020 he has looked to spread awareness about the condition.
Body dysmorphia, also called body dysmorphic disorder (BDD), is a mental health disorder that leads to distress over your appearance.
People who suffer with BDD may feel certain parts of their bodies are defects. Other people may not be able to see the things those with BDD perceive as flaws.
BDD is complicated by the fact it is closely related to anxiety and obsessive compulsive disorder.
After years of suffering in silence, Mr Russell was diagnosed with generalised anxiety disorder (GAD) in 2018, and BDD in 2020.
After finding blogging was therapeutic and a release for him, Mr Russell set up a podcast called The Endless Spiral. In it, Mr Russell speaks to people from various fields about their mental health struggles, as well as mental health professionals.
Mr Russell has learned tools to cope with BDD, and looks to help others who may be suffering.
After a bad spell recently, he took a "sabbatical" from the podcast.
He spoke to BreakingNews.ie about his return, and why he is more determined than ever to raise awareness about eating disorders.
"I fell into old routines where I started to withdraw myself and close up again. As soon as I started blogging again, talking to my therapist, and getting stuff out of my head… it was amazing how much better I started to feel.
"So many people reached out to me asking where the podcast had gone. I ended up finishing season five with two episodes.
"What I always do on social media is, I don't just show my good days, I show my bad days as well.
"I said I'd see how I am after the two episodes, and it gave me a purpose again and helped me feel I was making a difference. I've done four blogs since, and I've started getting ready for season six."
Mr Russell, 42, explained: "I lost my teens, my 20s and most of my 30s. That's why I'm trying to talk about body dysmorphia so much, because I don't want anyone else to lose that much time from their life… it doesn't need to be that way and didn't need to be for me."
Mr Russell feels that dialogue around mental health issues has improved "massively" in recent years. However, he still thinks men are often reluctant to ask for help.
"I feel a responsibility to say 'I haven't been doing great for the last while, but I'm doing a lot better now and here's why'.
"For 25 years I had never heard the term. One of the reasons I spend so much time advocating for men to open up and share is I don't want kids, especially young men, not knowing that their lives can improve and be better because they're living with something that they may not even understand."
He added: "By trying to explain body dysmorphia to people, share my story, hopefully people can listen and, if it sounds similar to their experience, seek help.
"When I looked up the characteristics, I was going through saying 'yeah, that's all me'. That's why I advocate for people to share their story. Not writing a blog or making a podcast, but by talking to somebody they trust.
"If I hadn't spoken with a professional I might never have learnt how to manage it and what works for me. What works for me may not work for anyone else. That's when you have to talk to a professional, to figure out what works for you.
"We all give into these negative thoughts sometimes, and it can be easy to do that. I try not to do it anymore, but it's an ongoing battle... and it took a while to try and re-train my thoughts.
"When it comes to body issues and food issues, a lot of men won't talk. They still don't have proper statistics for eating disorders or body dysmorphia in men because they don't have the information from men willing to come forward and talk.
"The general mental health conversation is so much better now.
"So many men will have body issues and self-confidence issues and won't speak. That's why I am so passionate about continuing to try and raise awareness of body dysmorphia and food and body issues for men."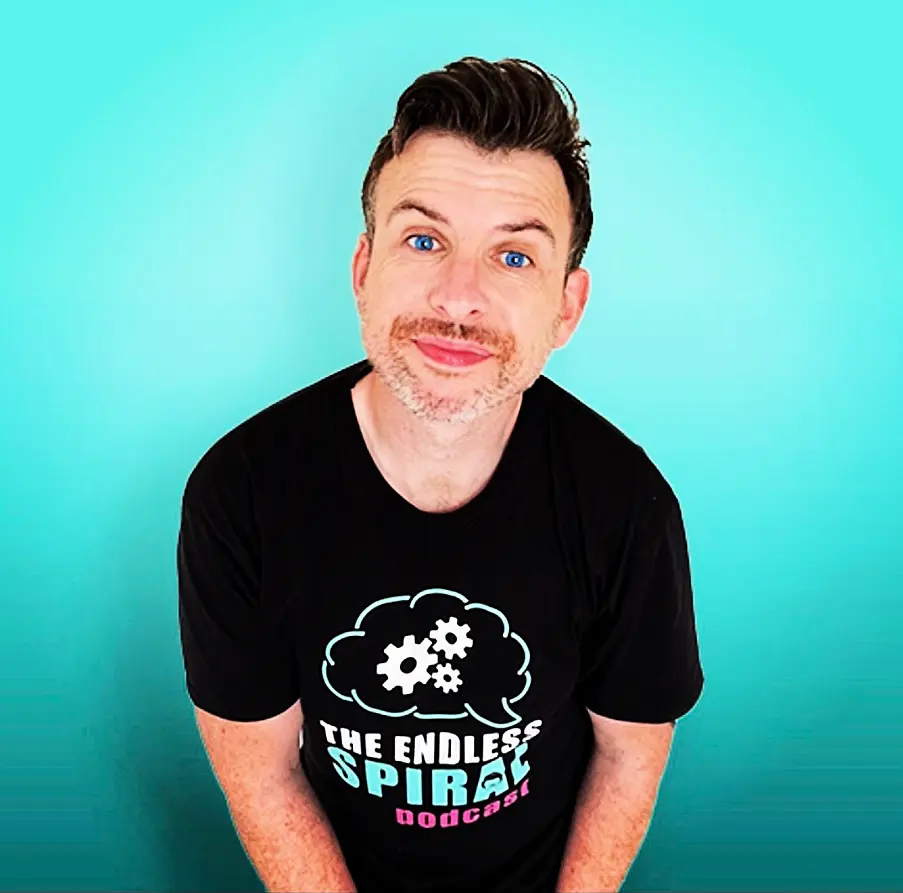 Mr Russell does work with Bodywhys, the Eating Disorders Association of Ireland, and he said conversations with the organisation have confirmed men are often more reluctant to speak about their problems with eating disorders.
"One psychologist I spoke to last week specialises in eating disorders, and she told me practically all of her clients are female.
"When I was younger I didn't have social media, thank God. Look at it all now… Love Island, reality TV stars on social media, throwing this at kids all the time, and you can't get away from it.
"It's more important than ever now to keep the conversation going around young men and teenagers when it comes to body positivity issues.
"This trope that men have to be masculine, not open up, that's still very much a thing. When people say to me 'you're so brave', I don't want to be called brave, I know they mean well and I do appreciate it, but men shouldn't feel they have to be brave to talk about their issues. That's partly where the stigma comes in.
"Nobody says you're so brave for talking about a sore back, but it's immediately used when it comes to mental health.
"It's still all part of your wellbeing, it shouldn't be categorised like that, but it is unfortunately. There are very few specialists for eating disorders and if you live in a rural area it's even worse.
"All this can make people feel very lost, and unable to see a way out. I'm trying to help in some way and having these conversations can help."
Mr Russell has appeared on Ireland AM on Virgin Media, national radio, and spoken at various charity events in aid of mental health.
Having been "afraid to leave the house" a couple of years ago, he said this is proof "anyone can get through their lowest points".
As for his plans for the future, he will continue to advocate and spread the message about BDD and other mental health issues, "as long as people aren't sick of listening to me... I'm just getting started".
"I'll continue to talk about body dysmorphia for as long as I have to. It ruined my life for a long time and I don't want it to ruin anyone else's. Not many people speak about body dysmorphia and a lot of men are afraid to. I'll do it if nobody else wants to."
If you have been affected by any of the issues raised in this article, you can freephone the Samaritans 24 hours a day for confidential support at 116 123 or email jo@samaritans.org.
Alternatively, the contact information for a range of mental health supports is available at mentalhealthireland.ie/get-support.
In the case of an emergency, or if you or someone you know is at risk of suicide or self-harm, dial 999/112.