With Beyonce, Rihanna, Zendaya and more sitting front row, Pharrell Williams' first show as creative director of Louis Vuitton menswear was suitably star-studded.
Kicking off the first day of Paris Fashion Week Menswear, the show was held on the oldest stone bridge across the Seine in Paris, the Pont Neuf.
Rihanna was unveiled on billboards modelling the brand's first advertising campaign last week, and she was front row with her partner, rapper Asap Rocky.
The singer and Fenty Beauty entrepreneur – who is pregnant with her second child – wore a denim jumpsuit emblazoned with the print from Williams' new collection, with a matching bra and buttons undone to reveal her growing bump.
Beyonce took a break from the Renaissance world tour to watch the show in Paris. She wore a slouchy yellow pyjama-style outfit with oversized sunglasses, while her husband Jay-Z – who gave a performance after the show with Williams – wore a crisp white shirt with a chocolate brown three-piece suit.
Euphoria actor and new Louis Vuitton ambassador Zendaya sat next to Beyonce for the show. Her outfit was relaxed and slouchy: a sparkly loose patterned shirt with matching trousers, and her curly hair was left long.
The star-studded front row did not stop there: reality TV star Kim Kardashian was in attendance in a camouflage bralette and leggings set with an oversized furry belt bag, as well as supermodel Naomi Campbell, who wore a chic leather mini dress and matching blazer in the Louis Vuitton logo pattern.
The celeb-heavy front row was topped off with the likes of rapper Jaden Smith, actor Jared Leto, rapper Megan Thee Stallion and singer Anitta.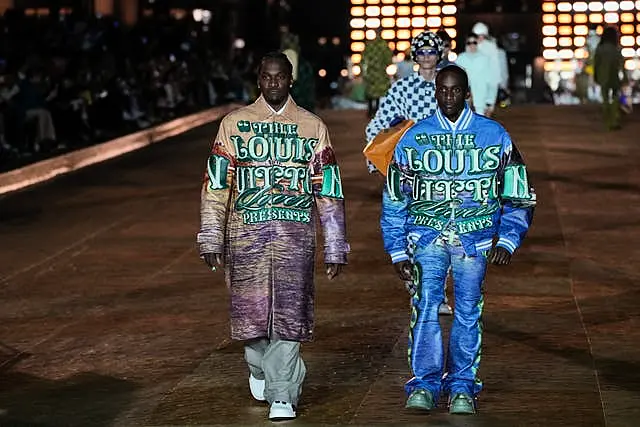 When the show started nearly an hour late, star power translated onto the catwalk – with UK rapper Dave and American rappers Pusha T and Big Sean walking the runway.
The collection itself was themed around the word "Lovers", and saw Williams, 50, display a thoughtful aesthetic – not only for menswear, but for clothes for all genders.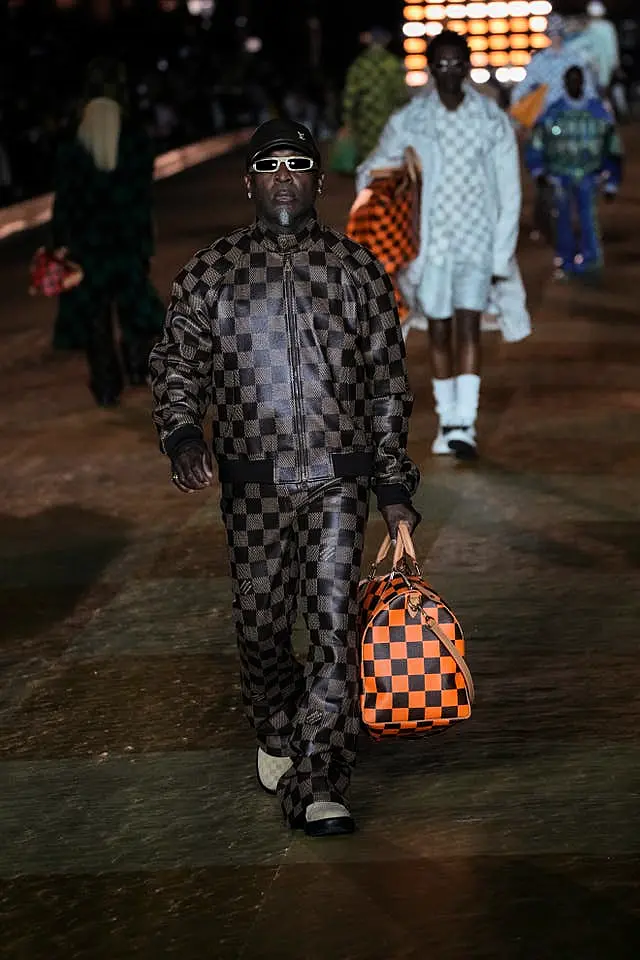 The main throughline of the collection was Louis Vuitton's famous Damier check pattern, which Williams subverted in various ways (such as a camouflage version he's dubbed 'damouflage').
The colour palette was predominantly camouflage-inspired, with brown, green, grey and black hues splashed across a lot of sharp tailoring. Williams injected an element of preppiness into his designs, with shorts and skirts worn with knee-high socks and chunky shoes.
While most of the collection leaned more towards formalwear, there were certain elements of streetwear – including hoodies, embellished denim pieces and a modern take on football and rugby tops.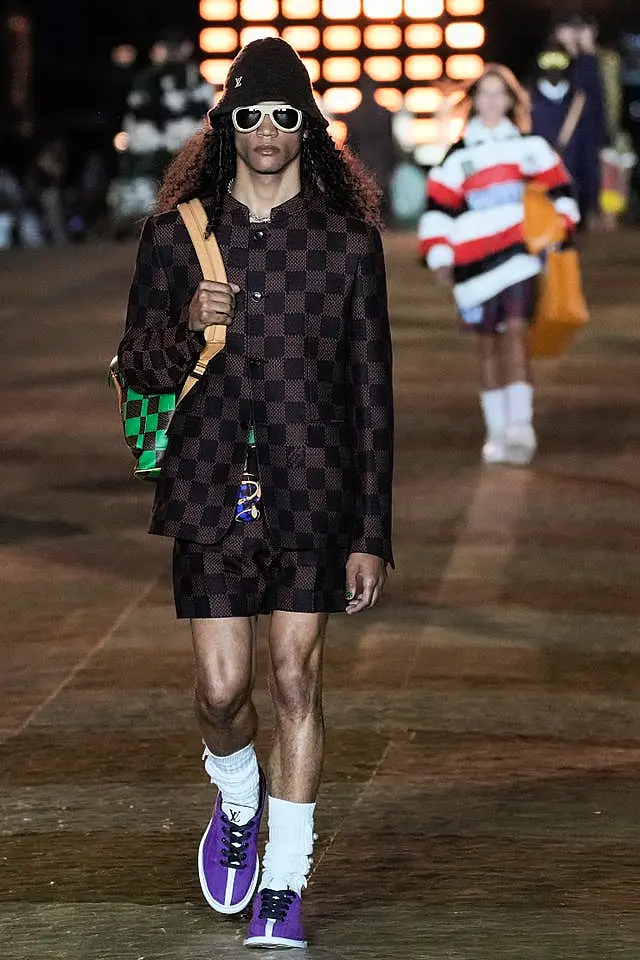 As can only be expected from a Louis Vuitton show – a brand which started life making bags – the accessories were beautifully considered, from the exaggerated holdalls in primary colours to the smaller leather bags attached to belts.
Using all of his skills as a multi-hyphenate, Williams also produced the music accompanying the show. Models walked to the backing of a full orchestra, with a soundtrack including a new song from Pusha T and another track sung by a live gospel choir.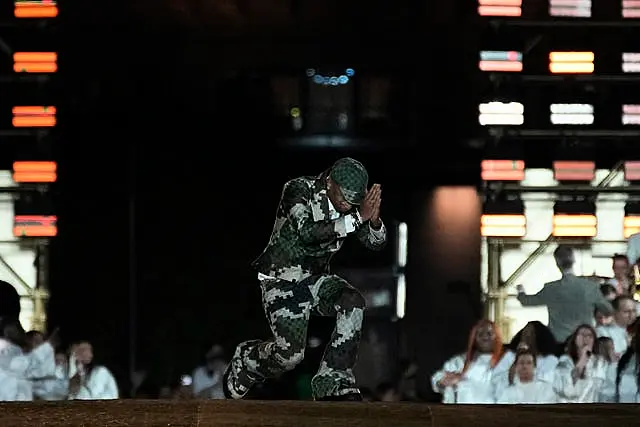 At the end of the show, Williams took a bow in a "damouflage" suit, then gave hugs to his family – who were all wearing matching suits.
And to finish off the show, the newly minted creative director brought out what looked to be the atelier – the people who helped make the collection a reality.
In an interview with Vogue ahead of the show, Williams said it was "inspired by the love and support of the people here that I've just been blessed to be able to experience over the past 30 years".
Williams was announced as the new creative director of the menswear division in February this year, following the death of designer Virgil Abloh of cancer at 41 in November 2021.
Abloh – who also helmed the brand Off-White – was a groundbreaking voice in fashion, and the first black director of menswear at Louis Vuitton.
The news of Williams' appointment was met with a mixed reaction as he is not a trained designer, and is predominantly known as a musician with 13 Grammy wins under his belt.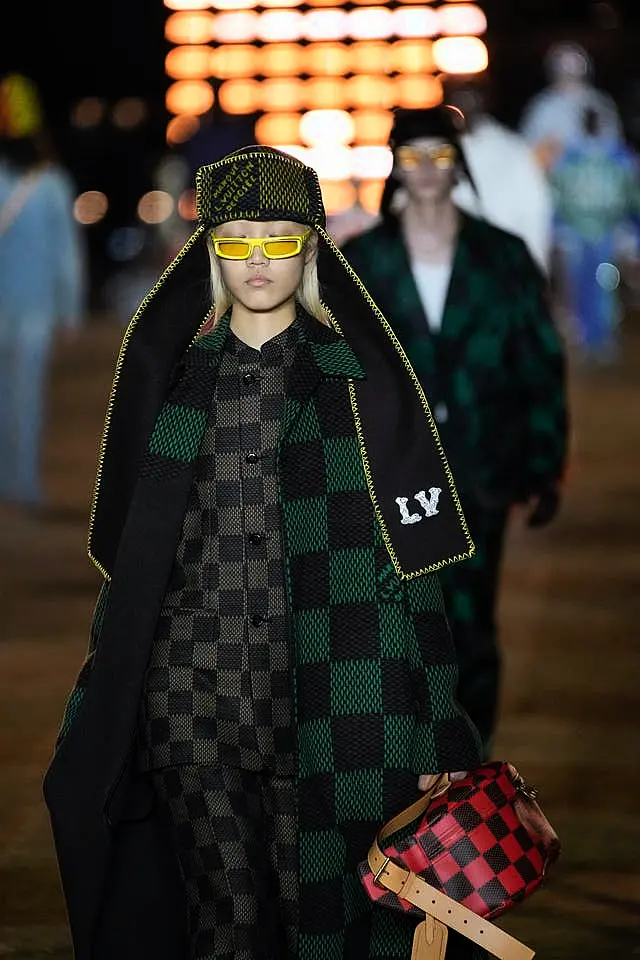 In the Vogue interview, he responded to criticism by saying: "I didn't go to Central Saint Martins. But, you know, I didn't go to Juilliard either to study music. And I've done alright."
Williams has a long history with the French luxury fashion house – he first collaborated with Louis Vuitton on a line of sunglasses in 2004.
Over the years, Williams has been slowly building his fashion credentials. He co-founded streetwear brand Billionaire Boys Club with designer Nigo in 2003, and has collaborated with luxury houses including Chanel and Tiffany.