Forrest Gump actor Tom Hanks finds success in his first full-length work of fiction…
Fiction
1. The Making of Another Major Motion Picture Masterpiece by Tom Hanks is published in hardback by Hutchinson Heinemann. Available May 9th.
Pre-order a SIGNED copy of "The Making of Another Major Motion Picture Masterpiece", the new novel by Tom Hanks.

TOM HANKS!

It's published at the beginning of May and I only have 5 signed copies available.

BUY HERE. https://t.co/9BuXbKHard pic.twitter.com/TYqTNWYipZ

— Big Green Bookshop (@Biggreenbooks) March 13, 2023
Tom Hanks's debut novel offers exactly what it says on the tin – an access-all-areas ticket to experience the peculiar magic of the "business of show". Following up on his charming volume of short stories, Uncommon Type, the Hollywood legend appears to pour a great deal of his experience in film straight onto the page. Unlike the fast-paced action flick at the centre of his story, Hanks has a gently meandering style, which he uses to showcase a diverse cast of characters. The plot is frequently relegated to a back row as Hanks spirals off into stories within the story before bringing the reader back on set for the latest dramatic twist. There is Hollywood glamour, back-room intrigue, serendipity and just enough industry acronyms to make the reader feel like they might just be a real movie insider now. This is a thoroughly likeable gem of a novel with hidden depths – rightly securing Hanks' place in the literary world.
9/10
(Review by Emily Pennink)
2. #panic by Luke Jennings is published in hardback by John Murray.
Brilliant book post thanks to @johnmurrays & Luke Jennings#Panic is out in April pic.twitter.com/GIekXlHPSQ

— Sarah Hilary (@sarah_hilary) February 7, 2023
Penned by Killing Eve writer Luke Jennings, #panic is based around superfans of a TV show – Jaleesa, Kai, Ilya and Dani, who all share their love of the show online. It's initially quite difficult to get into, but gets better as the action moves forward. When the foursome are told the lead of their favourite show is in danger, they take their online fandom to real life. While the plot can feel a bit farfetched, the characters are believable and engaging – each bringing different perspectives, making the book even more interesting. There's enough in this book to keep you reading until the end, shining a light on online communities and the strong ties you can forge within them. You will definitely want to read another book by this author.
7/10
(Review by Oyinda Bishi)
3. The Memory Of Animals by Claire Fuller is published in hardback by Fig Tree.
Endpapers appreciation post: LOOK how beautiful the hardbacks of #TheMemoryOfAnimals are!

The new novel from @ClaireFuller2 publishes on April 20th. pic.twitter.com/rWAZ4Cq1VM

— Fig Tree (@FigTreePenguin) March 31, 2023
The latest in what will probably be a long line of pandemic-inspired novels tells the story of Neffy, a young woman who has volunteered to test a vaccine for a virulent new virus. But while the trial is taking place, the virus gets out of control and she finds herself trapped in a clinic with an ill-assorted and untrustworthy group of fellow volunteers. As she ponders whether to venture into a disintegrating outside world or starve to death, Neffy relives her past through a sort of virtual reality memory gizmo a fellow volunteer has handily brought along with him. In this way, we learn about the traumatic experiences that led her to become a medical guinea pig. It's a very readable novel with plenty of tension to draw you in. But at times if feels too flimsy – and, particularly in the last section – too unconvincing to support its weighty themes.
7/10
(Review by Jackie Kingsley)
Non-fiction
4. Dear Prudence by Daniel M. Lavery is published in paperback by Scribe UK. Available May 11th.
If you're not familiar with the Dear Prudence agony aunt column in Slate, the first thing to know is Prudence isn't a singular person. Instead, Prudence is a fictional agony aunt figure, who has resident writers answering letters under her name. This book is a compilation of letters answered by Daniel M. Lavery, who assumed the mantle of Prudence between 2016 and 2021. The letters are reliably entertaining – covering all the classic topics, from relationship troubles to family dramas – with problems ranging from the relatable to the utterly absurd. The real power comes from Lavery's answers – he doesn't claim to be a psychologist, but still replies to real problems with wit and empathy. As you read more letters, you learn more about Lavery himself – who transitioned partway through his tenure as Prudence, giving an extra dimension to his replies. This isn't necessarily a book to read all in one go – instead, it's perfect for picking up and reading a few letters whenever you want a bit of insight, or even a chuckle.
8/10
(Review by Prudence Wade)
Children's book of the week
5. Skandar And The Phantom Rider by A.F. Steadman is published in hardback by Simon & Schuster Children's UK.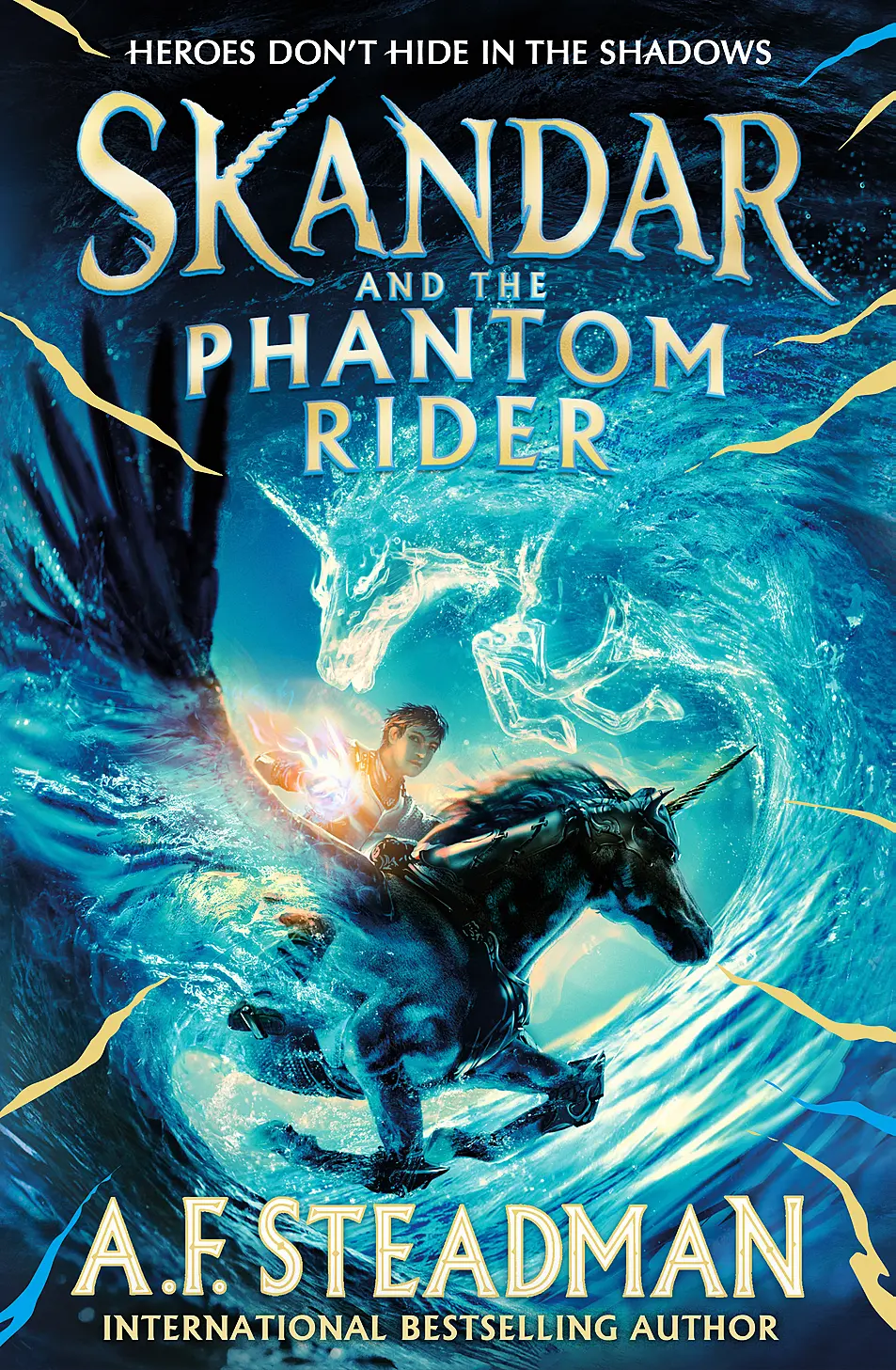 A.F. Steadman's Skandar series fills the magical hole left by Harry Potter and the battles for survival of Maze Runner. Skandar And The Phantom Rider is the sequel to Skandar And The Unicorn Thief. In a world where children at the age of 13 take a test to see if they are worthy of hatching and bonding with a unicorn (think of the Hogwarts letters, but with a little more admin – and if you took a blood oath with the Sorting Hat). Skandar is now in his second year of school and is slowly starting to shape his craft, but his continued presence is unsettling the higher-ups, and now someone is killing the island's wild unicorn population. Without any evidence, the blame is set at Skandar's door. The big mystery is behind the murders, upsetting the status quo of the island. This is a dark tale of betrayal and family loyalty, suitable for all magical fantasy lovers.
8/10
(Review by Rachel Howdle)