With Christmas around the corner, the pressure is mounting to tick off items on lengthy shopping lists.
Criminals know we're often feeling stressed, distracted and desperate during this time of year – and might use it as an opportunity to steal cash.
Online shoppers lost £15.4 million (€18.20 million) to bogus bargains last Christmas, according to the UK's Action Fraud (actionfraud.police.uk).
⚠️28,049 victims lost a total of £15.4M to online shopping fraud during last year's festive shopping season.

Here are some top tips on how to shop online safely this Christmas: https://t.co/VOvnSIAhrN #FraudFreeXmas pic.twitter.com/AsLGNmqfNM

— Action Fraud (@actionfrauduk) November 22, 2021
Jackie Barwell, director of fraud product management at ACI Worldwide (aciworldwide.com) says: "In the run-up to the holiday season, we can expect to see a plethora of online price cuts on the nation's favourite brands.
"As such, we will see opportunistic fraudsters looking to take advantage of excitable festive punters scouting for deals – with fraud attempts in gaming, travel and ticketing sectors expected to increase in particular."
To minimise the risks, here are some questions to ask yourself while Christmas shopping…
1. Is the website trustworthy?
#BlackFriday is next week and there are fewer than six weeks until #Christmas. How's the shopping going? Please make sure you read our top tips on #safeshopping, and let's make it a happy Christmas for everybody apart from the fraudsters https://t.co/AGsuiawOtl pic.twitter.com/zEPwYVqboZ

— GetSafeOnline.org (@GetSafeOnline) November 16, 2021
After trawling through websites, you may feel relieved to suddenly find what appears to be exactly the item you were looking for – but is the site genuine?
Get Safe Online (getsafeonline.org) says if there is no padlock in the browser window or "https://" at the start of the web address to signify a secure link, don't enter personal information.
It's also important to check for contact details on websites in case there are issues with orders. You could also try sending the website an email or phoning up before making a purchase if you are unsure.
Warning signs that a website is not genuine could include spelling mistakes, or the business being called something other than what you had expected.
2. Are the reviews genuine?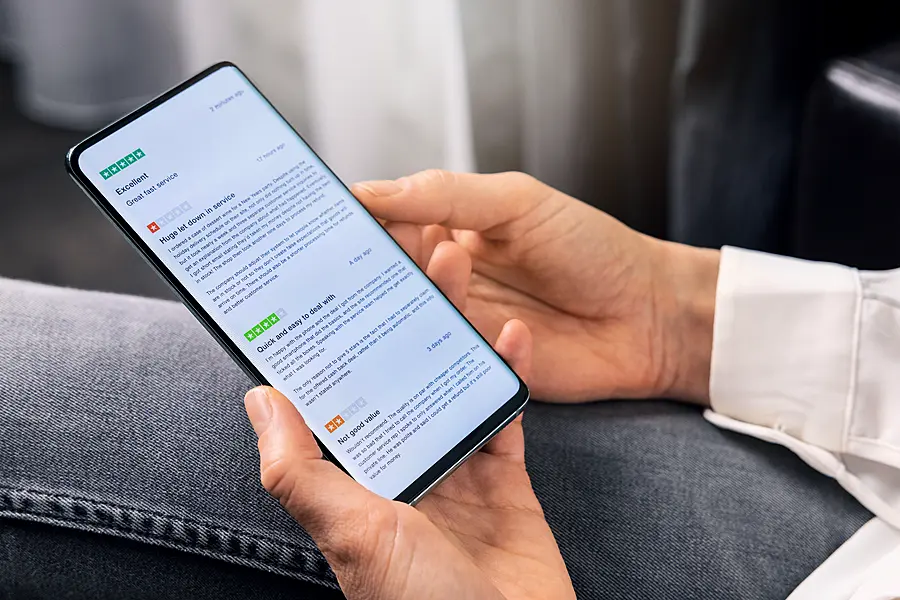 Checking online reviews to see what experiences other shoppers have had with retailers can be wise – but watch out for fake reviews.
Telltale signs could be a glowing review with little to say about the actual product. Some fraudsters will also use fake celebrity endorsements to make products more appealing.
3. Is an out of the blue offer real?
Received an email which you're not quite sure about? Is it asking you to login to your account, or maybe to "confirm" your payment details?

If you are suspicious, you should report it by forwarding the email to: Report@phishing.gov.uk #CyberProtect pic.twitter.com/qQbkVPKjQk

— Action Fraud (@actionfrauduk) November 18, 2021
Your inbox may be overflowing with "special offer" emails – but watch out for ones phishing for personal details and requesting more information than you would normally give. Some emails or texts might even claim you've won a prize.
Barwell says fraudsters "can pretend to be anyone these days and they're very convincing – from selling gifts or collecting money on behalf of a charity on social media channels, to congratulating you on winning the latest iPhone via text".
She suggests before transferring any money, consumers must ask themselves: "Do I really trust the person I am sending my money to? Are the payment instructions I have received solicited or unsolicited? And am I 100 per cent confident I am paying for services or goods that I will receive? Only when happy with the answers to these questions should any payment be made."